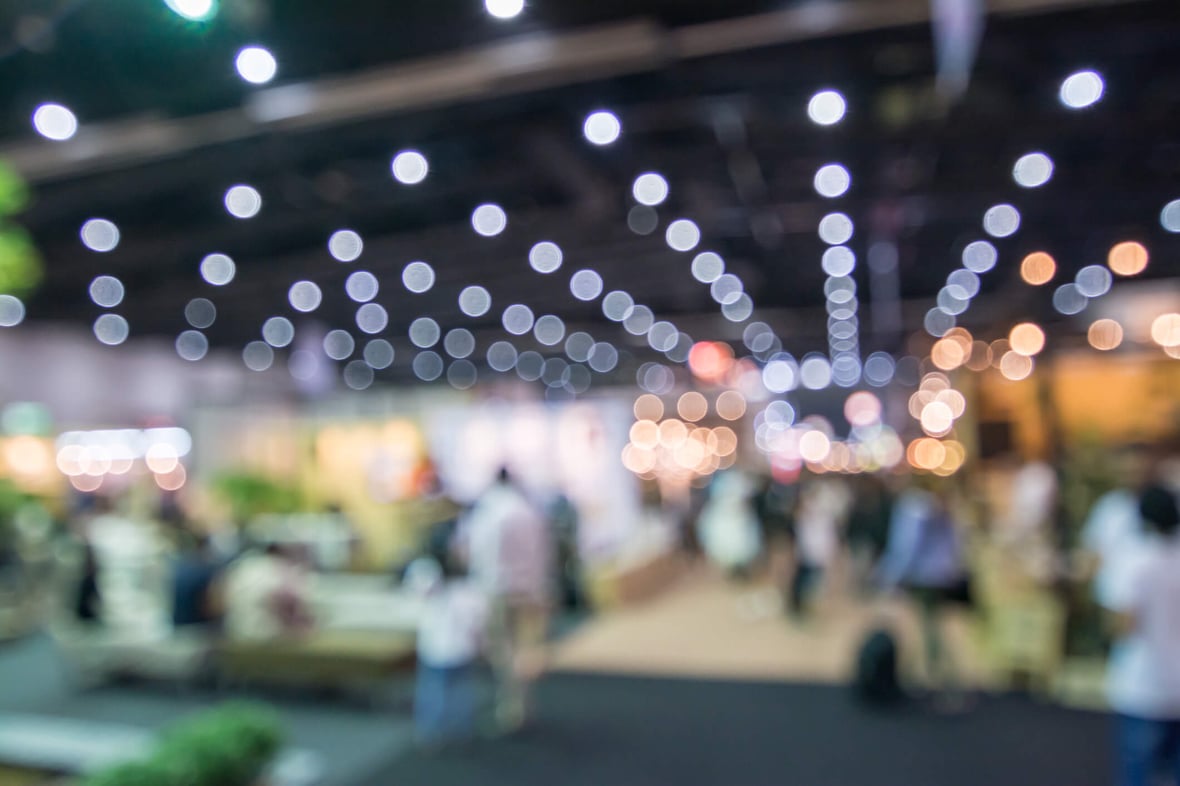 Further Qualifying Your Trade-Show Leads with Inbound Marketing
September 15, 2017
---
What's more important to your organization: generating as many "leads" as possible at a trade show or generating just a handful of truly qualified leads?
There's no right answer to that question. However, the answer you'll receive will most likely depend on whom you ask. Sales reps (particularly those who are responsible for engaging with these "leads" after the trade show) want sales-qualified leads: leads ready to sign up for a demo, start a trial, or even make a purchase. Marketers, on the other hand, may be more apt to analyze leads from the funnel perspective: While sales-qualified leads are always preferred, from a mathematical standpoint, the more new contacts generated, the better the chance for a sale in the long run.
While that may be true in terms of website-generated leads, that's definitely not the case at trade shows.
Not all trade-show leads are created equal
.
It is possible that many contacts who stop by your booth are interested in your company and its product or service—and when you consider the fact that 81 percent of all trade-show attendees have buying authority, those certainly aren't bad odds. However, the unfortunate truth is that some of these contacts were probably just trying to pick up some of your swag. And while there are steps that you can take to keep these swaghounds out of the lead category (Pro Tip #1: Don't give away swag for free! Give away your goodies only after a focused conversation or after a form submission—simply saying hi shouldn't be enough!), chances are, it's too late for that now.
After the trade show
Let's say your last trade show was an enormous success. You had some of your most seasoned, knowledgeable sales reps at the booth, but you also had some newbies there, too. And with a disparity in experience on the floor, it's only natural that there will be a disparity in the quality of the leads.
So, what do you do when you return from your trade show, with an abundance of new contact information under your belt?
You follow up.
But so does everyone else. What can you do that not only sets your follow-up activities apart from all other vendors at the trade show, but that productively helps you qualify your leads? You leverage email marketing—specifically, lead nurture workflows and the all- star content that you've already created.
And as you have high-, medium-, and low- priority leads, it's important that your follow-up activities—which do double duty as qualification efforts—vary as well:
High-priority leads
These leads, for all intents and purposes, are the ones that your sales team qualified on the spot: Meaningful conversations were had, demos were discussed, and either a BOFU form was submitted, or firm next steps were laid. (Pro Tip #2: If your sales team will be encouraging qualified contacts to sign up for demos at the trade show, be sure you have follow-up emails already set up to go! Learn more here.)
Your team already knows that these leads are sales-qualified and should be working to confirm and finalize previously laid plans.
Medium- to low-priority leads
These are the leads that you have in your all-encompassing database; they come from either business cards collected at your booth, or name tags that were scanned throughout the event. These leads are the questionable leads, and this sizeable category is where you will see the greatest benefit from lead qualification activities.
At a minimum, you probably have access to these pieces of contacts' information:
Name

Email address

Company

Job title
If you're lucky, or if your team was aware of this strategy from the get-go, you might also have some other helpful pieces of information, such as:
Specific solution of interest

Estimated time frame for implementation

Organizational pain points
Either way, you have enough information to set up and implement a cold lead qualification workflow. The goal of this workflow is simple: to reach out to trade-show prospects as soon as possible and determine their level of interest in your company, its value, and the services that it can provide.
At a minimum, this workflow should consist of three different emails—one per week, for three weeks:
Email 1:

Reminder of who you are, your product/service, and an educational resource such as a blog post or two for these contacts to read (

bonus points if you can use smart content to send resources truly relevant to these contacts!)

Email 2

: Have a most popular offer for new contacts? This is your chance to send it out. Sending out educational resources that not only establish you and your organization as a thought leader but also help keep you top of mind is an all-around win.

Email 3

: There's no better

disqualification

than a lack of reciprocity/engagement from your contacts. If even after sending a third piece of content (your best case study, perhaps?), you don't hear back from your contacts, it's time to disqualify them. Now, I'm not saying you should get rid of them entirely—especially if they're opening and/or reading your emails—but they're just not ready for you yet.
Now, your follow-up workflow doesn't have to end after just three distinct emails—in fact, there's a point to be made for sending cold lead engagement emails that can last for up to six months! But, depending on your average sales cycle and the behavior of your recipients, you should have an idea of when it's time to stop. (Pro Tip #3: If your team already uses HubSpot Sales, the Sequences tool might be a great way to keep these follow- up qualification activities within your sales department!)
And if this seems like a lot of work—setting up a nurturing workflow to contacts who aren't even ready to buy—it's not for nought; after all, it has been reported that lead nurturing can convert 15 percent to 20 percent of "not yet ready to purchase" opportunities into sales.
Low-priority leads: trade-show attendees
Now, while it's completely that this category of contacts is completely disinterested in both you and your organization (after all, they didn't even stop by your booth at the trade show!), if the event administrators send out all attendees' email addresses, it's imperative that you reach out. A simple reminder—this is who I am, this is how my organization can help you—will either generate or rekindle interest, or it won't.
Are your leads qualified?
While the simplest measurement of lead quality is willingness to 1) purchase your product or service, or 2) sign up for a demo, these are not the only ways.
When it comes to trade-show lead qualification, it's all about engagement. A contact can be interested in your service and the value it adds, but he or she just may not be ready to sign up for demos; or even provide information at this time. That's why watching his or her online behavior is critical. As with any other prospects, you should be carefully monitoring his or her digital footprints. Does he or she open all your emails; and even click through? Does he or she visit your website frequently? Has he or she signed up to receive all your blog articles?

If so, don't lose faith; and definitely don't purge that contact them from your system; after all, 67 percent of trade-show attendees represent new potential customers for companies. So don't forget about them—these engaged contacts are still qualified; they're just not sales-qualified… yet. But that doesn't mean that they're not valuable; it's just a matter of time.

FREE DOWNLOAD: The Inbound Marketer's Guide to Maximizing Tradeshow ROI

About the author
Kristen Patel was formerly a CRO Strategist at SmartBug Media. She joined the team with years of inbound agency experience under her belt, and two Bachelors of Science in International Marketing. While technically based in Maryland, she's often on the move (2018 will bring her to Guatemala, Belize, Mexico... and that's only through February!). Read more articles by Kristen Patel.
Subscribe to get our new blogs delivered right to your inbox
Other insights you might like