By Ryan Malone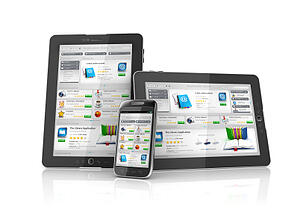 Mobile website development used to be an optional activity for marketers, but the changing technological landscape is making it an essential component of a solid marketing strategy. More and more people use smart phones and tablets to find information on the fly, including locating businesses, making reservations at restaurants, and making purchases online. As consumer behavior evolves, it's up to you to find new ways to reach potential and existing customers.
According to the Pew Research Center, more than 50% of adults with cell phones use them to browse the Internet. This is almost twice as much mobile Internet activity as there was three years ago. Even more interesting to marketers is that about a third of these users only use their smart phones to go online, meaning that the only place they will ever see your website is from a mobile device. These numbers are on the rise and are expected to continue to increase. If your site is not optimized for mobile viewing, you could be missing valuable consumer interactions.
Four Reasons You Need to Consider Mobile Website Development
Mobile marketing can be used for almost any type of business, both large and small. Consider these four reasons to invest in mobile website development for your business:
Millions of mobile users - It is estimated that more than 150 million Americans use smart phones, and more than half of these people use their devices to connect to the Internet. This represents a large segment of any target market and you shouldn't ignore it if you want to stay competitive.

Short attention spans - One of the greatest complaints about mobile browsing is slow download speeds. The same Pew Research Center report indicated that about three quarters of all users experience slow download speeds. If your mobile site is not optimized it will load slowly, potentially losing a valuable customer to a competitor.

Better mobile site rankings - Search engines like Google and Yahoo differentiate between regular and mobile sites, giving preference to mobile sites when the user is searching from a smart phone or tablet. If you own a local business, you can benefit even more from the location and mapping services found on mobile devices.

More sales conversions - Websites that are optimized for mobile browsers are easier to navigate, have larger text, and provide an overall better user experience. When customers who visit your mobile site have a positive experience, they are more likely to respond to your calls to action, increasing your conversion rate and boosting sales.
Mobile website development is not as expensive or time consuming as it once was. Small businesses now have access to more use-friendly tools, affordable consultants, and other resources that make it more accessible than ever. Of course, what you put on your website is still important. Make sure you leave room in the budget for content marketing and building a robust social media presence. Not sure how to do that? Get in touch with SmartBug Media today.
Have you looked at your website on a mobile device lately? If you didn't like what you saw it might be time to learn more about mobile website development.