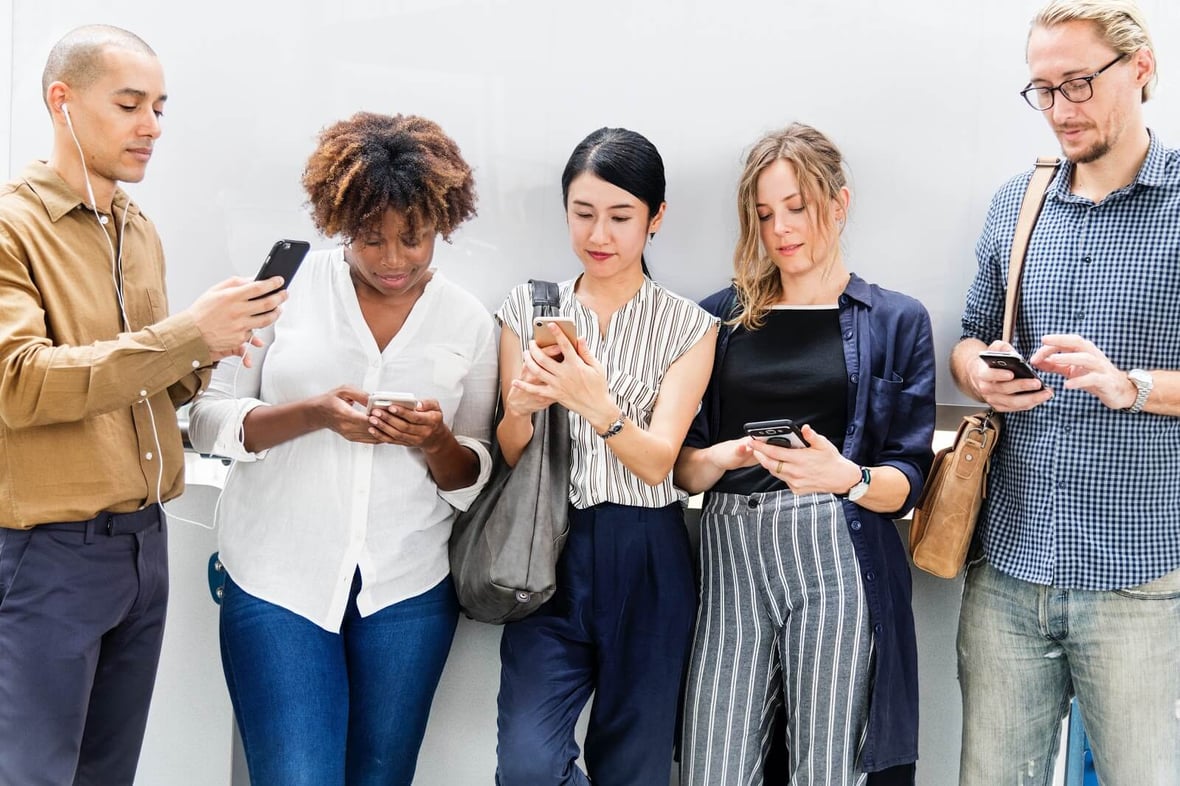 5 Tips for Leveraging Your Most Powerful Marketing Tool: Your Employees!
July 17, 2019
---
Whether you're selling hang gliders in Hawaii or lead generation services in Georgia, marketing is everyone's job—and we mean everyone.
Although the belief that customer-facing employees are the only ones responsible for marketing your company has been around, basically, forever, this strategy couldn't be further from the truth or best practices. Yes, it's crucial for the C-suite, marketing, and sales to pitch your product and sell your service like pros, but the rest of your team plays a crucial role, too.
Even if everyone on your roster never interacts directly with a single customer, the person handcrafting your glider and the writer crafting your lead gen content play a vital role in marketing your company.
So, how do you leverage your dedicated workers to extend your organization's reach and build brand awareness? Here are five ways to take your most under-tapped marketing resource to the next level.


1. Create a positive company culture.
If employees are happy, they'll be your most willing and eager brand evangelists. No one knows your company better than the people who are embedded in it every day, so it's important to focus on creating and maintaining a positive workplace.
In a Jobvite survey, 32 percent of respondents said they left a job within 90 days because of the company culture. In another study, roughly one-third of adults surveyed said they'd leave their job for a better company culture! Organizational culture is a huge motivator for productivity and happiness in the workplace, especially for millennials—and, let's be honest here, what's good for millennials is good for everyone.
If you want your workforce to help market your company and show the world the transparent, positive side of your business, consider an employee recognition program or more team-building and learning initiatives. According to 85 percent of HR leaders in a Globoforce study, employee recognition programs have positively affected organizational culture. Once your team is happy, you can start leveraging their passion and excitement to market your organization.
2. Put employees in your customers' shoes.
We're big believers in engaging the entire staff in content creation—from sales to creative to dev, everyone at SmartBug Media is on the blogging roster. We all bring different skill sets and passions to the table, so we all have something valuable to share with readers like you.
But you want your employees to be writing meaningful content for your personas and to understand where potential customers are in the Buyer's Journey. What's the best way to do this? Put your employees in your customers' shoes! Develop strong personas and make sure everyone has access to them. Encourage your employees to embed themselves in those personas as they create blog articles and other content so they can cater their unique points of view to where your customers are in the Buyer's Journey.
Also, many of your employees are on the front line of customer interactions, so marketing and sales hear regularly about your clients' pain points and the questions your customers are asking. So even if they can't write the content as a subject matter expert themselves, your workers can suggest topics for e-books, pillar pages, blog articles, social media posts, webinars, and more.
If your sales team finds a lot of potential customers asking about paid Facebook ads or why infographics are worth the spend, pull in your paid team and your designers to work on blog content that hits on those questions.


3. Launch a referral program.
If you've got the budget for it—and you should definitely make the budget for it—consider setting up a referral program for new deals and customers. If someone on your web team is at a networking event and lands a connection that turns into a customer, your referral program could offer the staffer a percentage of the closed deal, a cash bonus, or PTO days.
Referral programs are also great for pulling in new, qualified candidates for open job positions. After all, your team understands your company and its culture better than anyone, so when a new spot opens up, your employees probably know a qualified person who fits the bill.
Make sure you're using an HR system that creates custom tracking links so when your employees share a job listing and their recommendations are chosen, they can get the credit due for helping grow your company.


4. Encourage social media engagement.
Chances are, everyone at your company has a few social media accounts—and if they don't, you should encourage them to be on LinkedIn (at the very least). Social media is a powerful place for brands to reach customers new and old and to show the world how awesome your company is, too.
Have your employees link their social media account profiles back to your company's main brand accounts on Instagram, Twitter, LinkedIn, and any other accounts that might be relevant—and make it easy for them to engage! We recommend a tool such as Gaggle to make social sharing a painless process.
With Gaggle, you can queue up messages, your employees can connect all of their accounts, and social sharing and engagement such as responding or liking a post can all be done with one click of the mouse. There's also a leaderboard, which gamifies the entire experience—and gamification can be a powerful motivator in the workplace.
Along with having your teams link back to your corporate account, you should also spend some time talking about professional etiquette and best practices for social media. Make sure you have a solid social media policy in place so your employees know the dos and don'ts.


5. Give your employees branded swag!
The easiest way to encourage your employees to market your company? Give them all the branded swag—shirts, hats, stickers, coffee mugs, you name it. We have yet to meet an employee who hasn't taken a free T-shirt in order to turn it into a marketing opportunity.
A coffee mug or hat can be a conversation starter in the most unsuspecting of places—from poolside in Orlando to the dog park in NYC—and those conversations will lead to connections, leads, closed deals, and referral rewards for your workers.
You never know where you might run into the lead who has all the right connections and turns your company from a small startup into a major corporation. So, encourage your workers to always be ready to talk about who they are, what they do, and why your company is worth raving about.
Although achieving 100 percent involvement in an employee marketing program is a noble goal, don't make it mandatory. Remember: Make it fun, memorable, meaningful, and you'll reap the endless benefits of empowering, engaging, and leveraging your most powerful marketing tool: your employees!

About the author
Chaviva Gordon-Bennett was formerly a Senior Copywriter for SmartBug Media. She graduated from the University of Nebraska-Lincoln with a bachelor's degree in journalism. As a Senior Copywriter, Chaviva writes inbound marketing content for SmartBug's clients. Read more articles by Chaviva Gordon-Bennett.
Subscribe to get our new blogs delivered right to your inbox
Other insights you might like