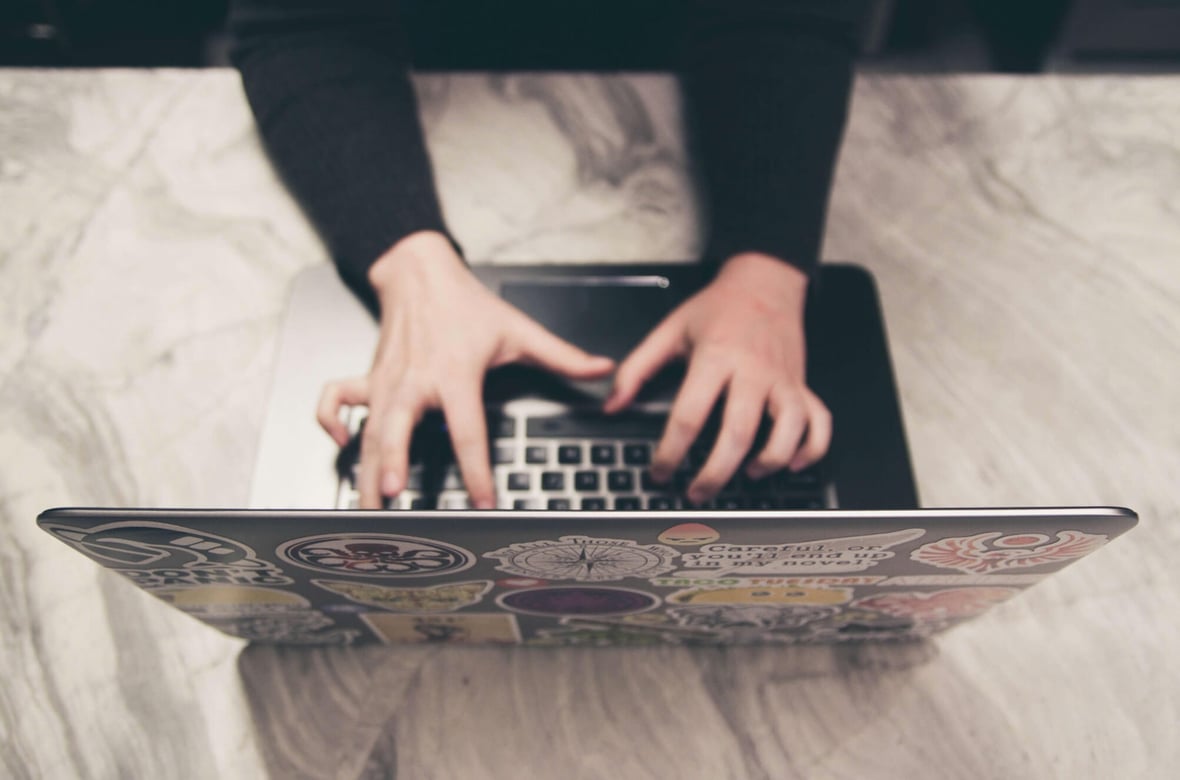 5 Creative Re-Engagement Emails
June 21, 2019
---
Remember the honeymoon stage with your email subscriber list? Your open rates were high, people were clicking on your calls to action, and they might have even forwarded your email to a friend! All was good in your little email marketing land until suddenly, now, you're sitting in the trash bin. Your subscribers won't even look at your subject line anymore!
Let's be real: With so many emails hitting subscribers' inboxes these days, it's easy to get pushed to the trash folder without being read. Over time, you'll find that subscribers fade, get bored, and grow distant. In fact, 25 percent of your email list will drop off each year. It's your duty to make sure you're only sending content to people that want to read it. In order to do this, you must rekindle that initial spark and take the time to re-engage your email list. Take a look at these five great examples of re-engagement emails to get you thinking about your next move:


Starbucks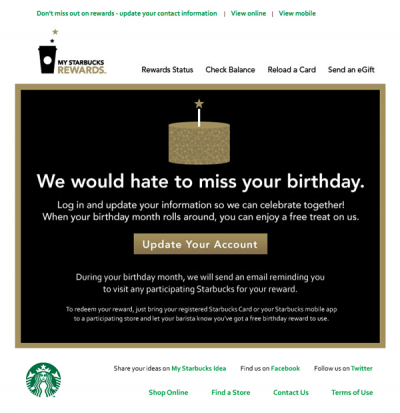 Free coffee—what could be better? This re-engagement email by Starbucks does a good job of balancing calls to action with a giveaway. They're asking for more precious data about their subscribers, but in return, they're giving a free birthday treat. I'd say that's fair.
The data they obtain from anyone who updates their account will allow them to understand their audience better so they can continue to engage them and send them relevant email offers. This will keep their open rates up and continue to warm their subscribers with free coffee.
Thrive Market

Thrive Market checks all boxes when it comes to re-engagement. You'll notice right away that the message is personalized and framed around an abandoned cart. This indicates that they have a warm lead that was about to purchase but needs a little push with additional freebies. You'll see in this re-engagement email that the abandoned cart also contains a handful of extra items listed with a price tag of $0. And wait—they've included one more promotion at the bottom: a coupon offering 25 to 50 percent discounts on other website items. Why not upsell customers after you've closed the original deal?


Urban Outfitters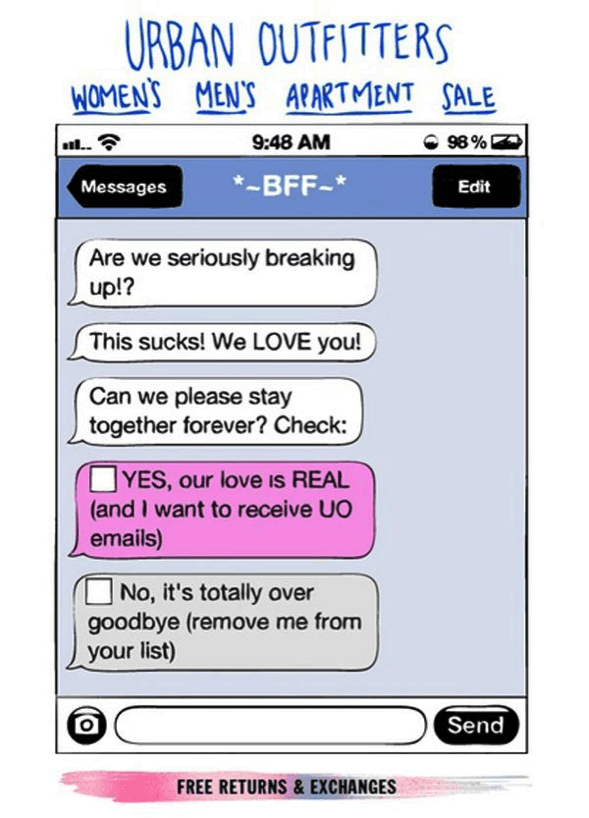 Appealing to their audience, Urban Outfitters understands that most of their email subscribers are heavy mobile users so why not make the email look like a string of text messages? This is a great example of a company that understands their personas and is simply trying to clean out their database so they're emailing only engaged users.


SimpliSafe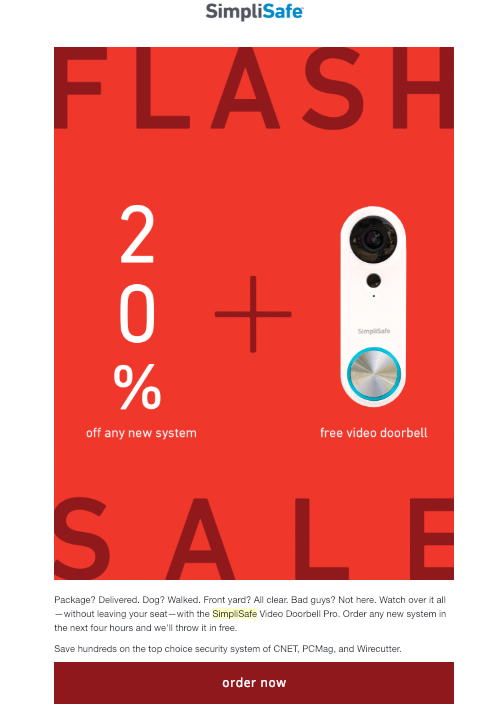 SimpliSafe does a good job of engaging people by adding a sense of urgency to their copy: "Order in the next four hours and you'll receive a free video Doorbell with your purchase." Urgency is widely used in marketing campaigns because it works. We've all experienced FOMO at some point in our lives—just take a look at Cyber Monday. According to Forbes, American's spent a whopping $7.9 billion in online shopping on that single day in 2018. Urgent situations push subscribers to act fast and hopefully boost conversions or increase engagement. And that's exactly what SimpliSafe is doing with this re-engagement campaign.


Grammarly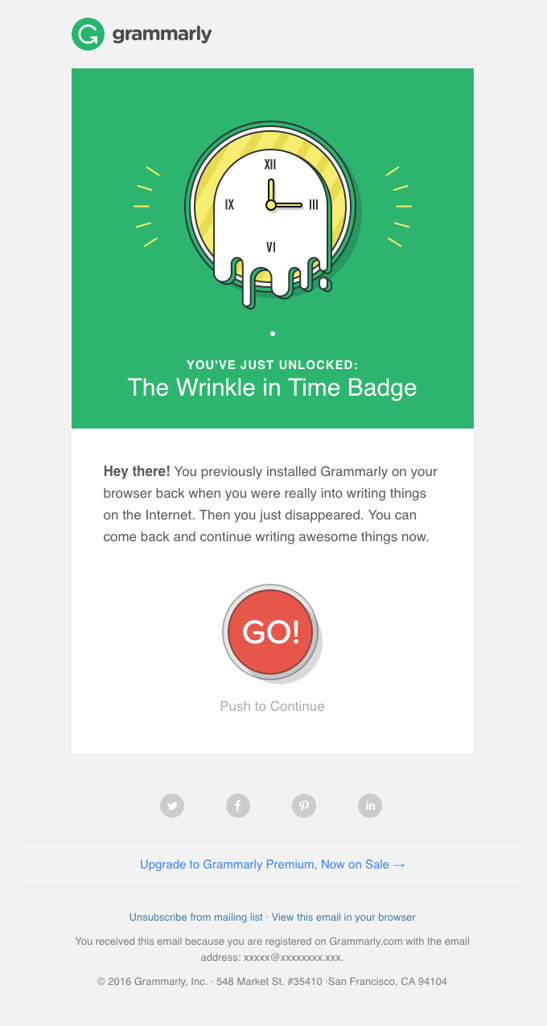 Grammarly does a great job of re-engaging inactive subscribers by enticing them to use their tool again with a prominent CTA that directs people to the app. They also include a secondary CTA asking people to purchase the premium product on sale.

Now that you have a pocket full of creative examples to help you re-engage your subscriber list, take the time to test a handful of these approaches. Don't forget to practice the following:

1. Don't rely on a single email to reactivate your database. You'll want to use marketing automation to send a chain of emails that feature different subject lines and offers.
2. Segment your database into different lists based on recent activity or buyer behavior.
3. Don't wait too long to engage or win back your subscribers. Create a system of checks and balances that has you re-engaging your database every month or quarter.
4. Don't be afraid to break up with unengaged users. There is a time to say goodbye. Sometimes, things are better off if you go your separate ways. Be sure to clean your email database by setting engagement criteria or a threshold to indicate that it's time to delete a subscriber from your list.

About the author
Hannah Vergara was formerly a marketing consultant at SmartBug Media and a firm believer in holistic living and marketing. Using her creative passion and love for technology, she recognizes the importance of interactive engagement through a steady flow of relevant, user-oriented content in today's fast-paced digital world. She specializes in digital and inbound marketing methods, to help clients grow their businesses. Read more articles by Hannah Vergara.
Subscribe to get our new blogs delivered right to your inbox
Other insights you might like