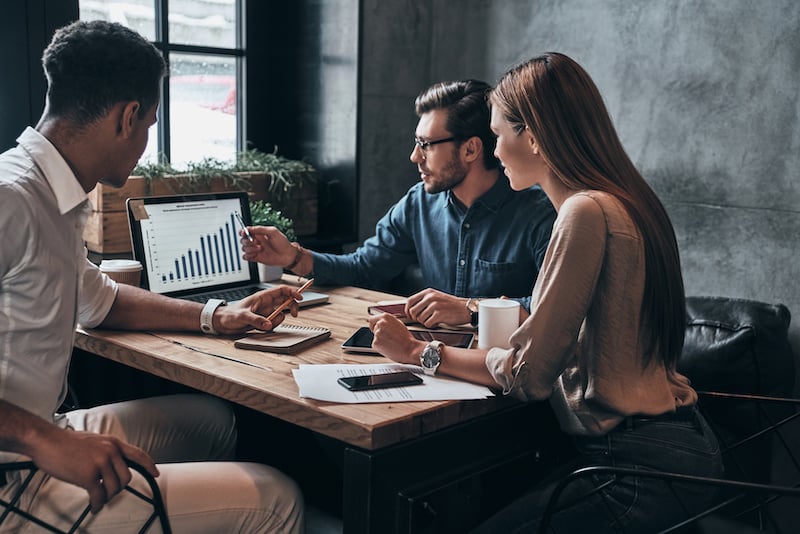 In paid media, there are some things that are crucial to your account's performance that can be easily missed, especially when you're just looking at just one part of the whole picture.
Google Ads can be a little complex to navigate if you don't fully know your way around. Even though the platform usually provides some guidance on how to improve certain things, it doesn't quite tell you which are the best things to do.
If you're planning on running a paid media campaign on Google Ads, the first thing you should know about is ad rank and ad extensions and how they help your business increase the return on ad spend (ROAS) and decrease the cost per click.
But first things first ...
What is ad rank?
Ad rank is a value that's used to determine where ads are shown on a page relative to other ads, and whether your ads will show at all.
This can be affected by things you can control inside the platform and things that are part of the algorithm. All of these elements are packed inside the Ad Rank Threshold, which is based on:
Ad Quality
This covers the quality of assets in your ad, which could include titles, descriptions, images, or videos. The lower the quality of these elements, the bigger the threshold for your ad to show.
Ad Position
If you want your ad to be at the top of the page, the threshold is bigger than bottom-of-the-page ads. This is where your ad quality comes into place.
User Signals and Attributes Such as Location and Device Type
If you have a broader positioning, such as the whole country and both mobile and desktop, it could be easier to appear on search results than an overspecific campaign in just a certain narrow geographic or platform radius.
The Topic and Nature of the Search
Google Ads are based on search intent, so the keywords you're competing against take on a crucial role in this section because this directly correlates with your budgeting and positioning strategy.
Related Auctions
Google also has the ability to mix and match search queries so it stays relevant to the user. Pay attention to new keywords that are driving traffic to your site that you didn't consider before.
What are ad extensions?
Ad extensions are extra lines of code added to your ad when it's shown in the search engine result pages (SERPs). They give your ad an extra advantage when competing with other ads in the same category. Basically, they are features that show extra business information with your ad such as the address, phone number, store rating, or more webpage links.
Let's say you want people to visit your e-commerce site, but the final URL for your original ad is the homepage. With ad extensions, you can add categories to your ad so that when a user clicks on those extensions, they get redirected not to your homepage but to that specific category landing page they selected. This makes your ad more relevant to users, increasing the chances of people clicking on it.
How does the algorithm work?
The short answer: Like any auction platform works! With users generating demand and a budget in place, the algorithm tries to make the perfect match.
But if you want more in-depth information about it, then there are some things you need to consider:
What is your maximum bid (i.e., how much money are you willing to spend in order to appear in the search results)?
What is your quality score? To Google, this translates into three main factors: user experience (quality of ad assets), keyword relevance, and expected click-through rate (CTR).
In other words, Bidding Budget x Quality Score = Ad Rank. The higher the quality and the budget, the more likely it is to appear on the first page.
Wondering how much to invest in your paid media campaign? Download our Free Paid Media Calculator.
What's the correlation between ad rank and extensions?
At this point, everything's coming together. As mentioned before, your ad rank is what Google mostly takes into account when positioning your ads. In order to get a higher ad rank, you need to add relevant extensions to your campaign ads.
This is where the strategic part comes into play. Let's say you own an e-commerce site that sells jewelry. Where do you start?
1. Research.
You should first identify your main customers, what is relevant to them, how they search the web, and even how they usually find your competitors in order to get relevant keywords for your campaign.
2. Dive into Google Analytics.
It's important to know which pages on your site are receiving the most traffic and generating the most revenue. Which categories make the most sense to advertise?
3. Determine how much budget you have.
It's important to understand how much money you can invest in your campaign in order for it to be profitable.
4. Create some ads.
OK, here is where you can create ads with relevant titles using your previously researched keywords. You can also create relevant ad extensions to your most visited pages or product categories.
With these simple four steps, you can create a higher-ranking ad that not only drives traffic to your homepage but also to the most relevant pages on your site—without the need to create multiple ad sets or campaigns. The higher the relevancy for the users, the more likely it is to convert.
Now what?
Once your campaign starts running and you've got traffic coming to your site, you'll need ways to translate those clicks into revenue. But how do you actually measure success on your campaigns?
Here's a blog post that talks all about three effective ways to measure the revenue from your ad campaigns.
Need a hand?
Here at SmartBug®, we're passionate about e-commerce and paid media. We're also heavily invested in finding new ways to measure success so you get the best of creative and data-driven results. Schedule some time with one of SmartBug's representatives.
About the author
Gabriel Garza Marketing Specialist @ SmartBug Media with +5 years in Digital Marketing with experience in Paid Media, DTC, BTC, and Email Retention Strategies. Marketer & Software Engineer. Read more articles by Gabriel Garza.
Subscribe to get our new blogs delivered right to your inbox
Other insights you might like