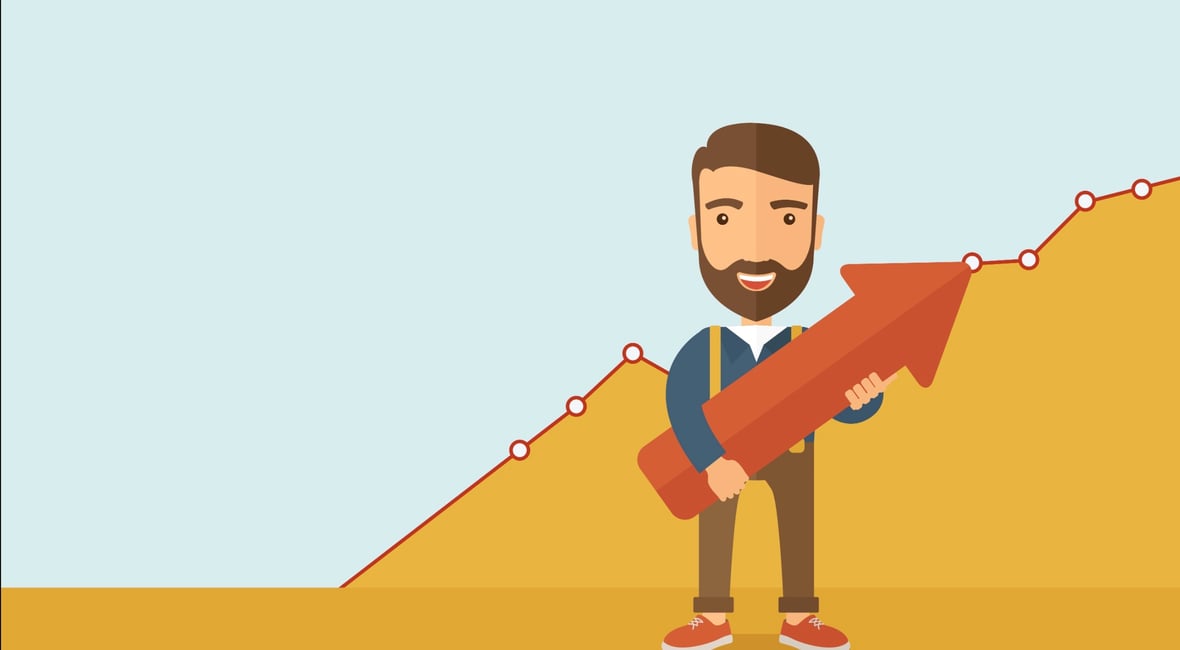 Organic Search: Using the HubSpot Keyword Tool Like a Boss
March 8, 2016
---
By Mike Wolfe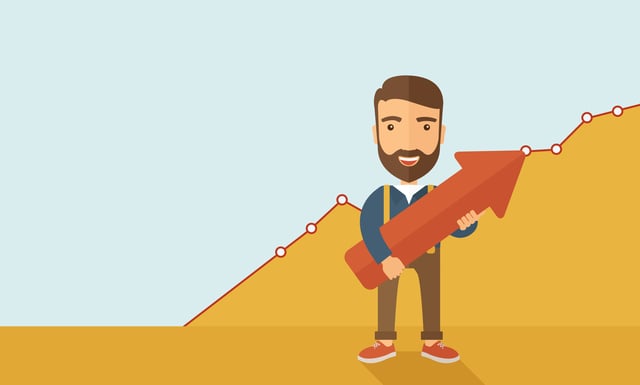 Are you using the right keywords in your inbound marketing strategy to leverage organic search?
Discovering and using the right keywords will boost your organic traffic, add more qualified prospects into your marketing funnel and increase the success of your inbound marketing strategy. Use the wrong keywords and your inbound marketing success can come to a screeching hault. This is why it's so important to do research, find the right keywords and manage you use of those keywords - and it helps to have the right tools.
The HubSpot Keyword Tool can help you research and manage the keywords that are important to your inbound strategy by giving you visibility into which keyword phrases and inbound content is driving organic traffic to your site and converting into leads and sales.
By following these best practices, you will get the most out of HubSpot's Keyword Tool and lay the foundation for inbound success:
Get Familiar with the HubSpot Keywords Tool.


Go Through the Tutorial - Whether you're brushing up on keyword fundamentals or new to developing a keyword strategy, HubSpot provides a step-by-step tutorial in the HubSpot Academy. The tutorial will help you understand keywords and how to get started with your own initial list.
Take a Tour - Within the tool is a quick visual tour feature that shows you how to use the tool. The tour highlights each of the dropdown menus you'll use to discover and track optimal keywords for your strategy.
Stumped? Use the Help Feature - If you're ever stuck when using HubSpot, the Help feature can be a great resource for quick answers. You can search the Knowledge Base, read through commonly asked questions about the Keyword Tool, and if you're still stuck you can contact HubSpot Support.
Understand the Metrics - The metrics dashboard at the top of the Keyword Tool shows you the number of your selected keywords that rank in the top 3 and in the top 10, as well as the number of contacts added from organic traffic and the total number of organic traffic within the last 30 days. This information provides a snapshot of how your keywords are currently performing when it comes to SEO rankings. Obviously, you want these numbers to increase so refer back to this dashboard often to track your progress.

Begin Your Research
Know Your Personas - When finding the right keywords, it's important to think in terms of your audience. What personas are you targeting? What are THEY searching for related to your products or services? You may find a keyword that's effective for driving traffic to your content and adding contacts into your funnel, but if those new contacts aren't part of your target audience then you're wasting your efforts.
Avoid Broad Keywords - If your keywords are too broad, you'll likely have a lot of competition when it comes to SEO ranking. Plus, even if you do rank high, you'll probably get a lot of unqualified traffic.
Example: If you're a manufacturing company that makes widgets and sells to widget resellers, simply using "widgets" as a keyword is too broad and will result in a wide range of unqualified traffic such as widget end-users. While this may not necessarily be a bad thing, think how much more efficient it would be to use keywords like "selling widgets", "widget selling tips" or "the best widgets for resale". These are long-tail keywords would likely result in more relevant traffic.
For additional information on keyword research, check out 6 Keyword Research Ideas for Improving Your SEO.
Start Using the Keyword Tool!
Add and Review Your Keywords - Enter your keywords into the Keyword Tool. Still need some ideas? Use the Get Suggestions feature and HubSpot will recommend additional keywords from a search term or URL.
Sort Keywords by Monthly Searches - This approximation of monthly searches suggests the popularity of the keyword as a search term people use to find information. The higher the monthly searches are, the better as this is an approximation of the audience size you can reach with a high ranking.
Sort Keywords by Rank - Rank displays your keyword's approximate search engine ranking. When a word is ranked in the top 10, that means it shows on the first page of search results.
Sort Keywords by Difficulty - Consider how difficult it is to rank for the keywords you're targeting. If you already rank high for certain difficult keywords, consider the importance of protecting those rankings. If you rank low for certain difficult keywords, consider what it would take to rank higher and whether or not it would be worth it based on the monthly searches and potential to drive leads.
Take Some Shortcuts
The Keyword Tool also provides some shortcuts for monitoring and evaluating your keywords: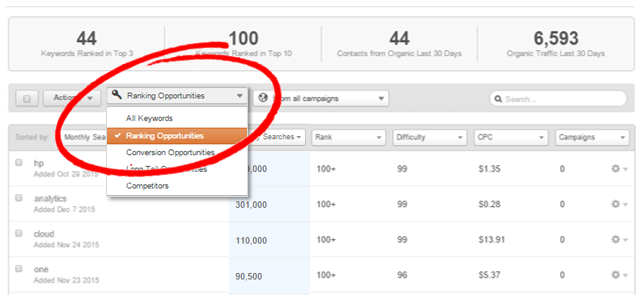 Sort Keywords by Ranking Opportunity - This sort displays higher ranked keywords (ranked greater than 10 but less than 70) with relatively low difficulty scores (less than 70). This is the most important view of keywords within the tool when deciding which ones to target. It presents the most efficient opportunities to boost traffic. Think about the keyword ranking in terms of search engine results pages and don't forget to consider the monthly searches.
Example: If you can increase your ranking for a particular keyword from 51 to 50 in search engine results, you've just moved from the sixth page of results to the fifth - which may seem minor, but the closer you get the first page of results, the more clicks you're going to get to your website.
Sort by Long Tail Opportunities - Sorting by long-tail opportunities shows you broad keywords that you have selected that could probably be more focused towards your business and your target audience. These keywords have a very high search volume (over 1,000), but a high difficulty rating too (greater than 70).
View Your Competitors - The Competitors option in the Keyword Tool shows you which keywords your competitors rank for (from those that are entered in HubSpot's Competitors tool). This view can you help you overtake competitors in the rankings when it comes to targeted keywords that your competitors rank high for.
Let the Keywords Guide Your Content
Write Content with Keywords in Mind - The whole point of finding and selecting the right keywords is to build a library of content around them in order to boost SEO rankings and attract your audience organically. So, remember these keywords EVERY time you plan your content. Whether it's a blog article, infographic, tip sheet or whitepaper, it should include a targeted keyword.
Monitor Results
Repeat the Process - Look for keyword wins and losses each month. Which keywords are performing well? Which ones are falling in ranking? How are competitors doing? Managing your keywords should be an ongoing process that never ends and you should always be looking to improve.
Replace Unused Keywords - Remove clutter and clean up your list of keywords by deleting low-search volume keywords and replacing them with new ones. New keyword opportunities come up every day as industries develop and trends emerge forming new search terms and terminology.
Sort by Conversion Opportunity - While ranking for keywords and attracting your audience is important, it's even more important that those visitors convert into leads. The Conversion Opportunities sort in the Keyword Tool shows you keywords that are driving traffic to your website, but not converting those visitors into leads - most likely because they are not presented with a call-to-action or a form to convert on. Consider adding a call-to-action and conversion form to capture these leads.
Identifying the right keywords to attract your target audience is only the first step of inbound marketing. For more tips on inbound marketing, and to develop the best inbound strategy for your business, check out The Tech Marketer's Guide to Achieving Inbound Success.

About the author
Mike Wolfe is an Inbound Marketing Strategist at SmartBug Media helping clients find success through inbound marketing. Read more articles by Mike Wolfe.
Subscribe to get our new blogs delivered right to your inbox
Other insights you might like