Client: Allbound
Allbound centralizes and connects the people, content and technology for running and growing a channel while providing access to reports and statistics that help accelerate performance through their powerful SaaS toolkit for partner training, content marketing, collaboration and customer success. Allbound reinvents how business is done together, freeing organizations to focus on their customers and replace crippling power struggles with powerful partnerships.
The Challenge
This wasn't just a redesign, we had the challenge of building a new site while Allbound was simultaneously figuring out who they were, how they differ from their competitors and how to showcase this to the world-at-large. The redesign included sitemap and wireframe mockups that were inbound-optimized.
What We Came Up With
Allbound wanted a website that was functional and beautiful, showcasing their modern UI platform. We added large screenshots throughout the site including zoomed-in details of the interface. We also created iconography and custom illustrations to help translate their solutions and additional services. As visitors move down the site, they continue learning about Allbound's benefits and features.
Before & After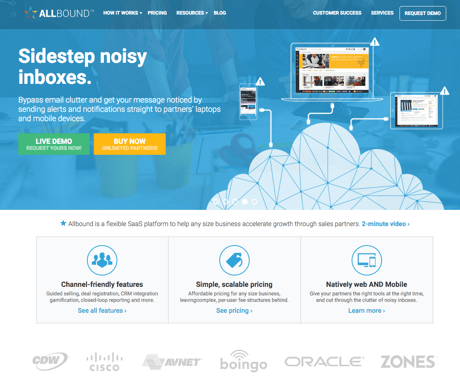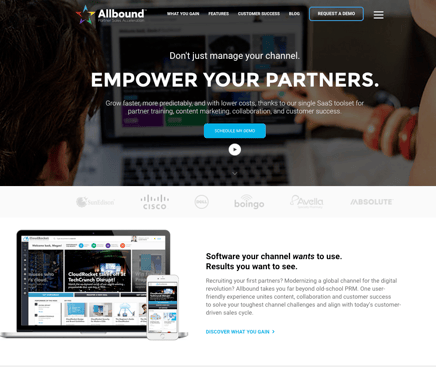 Their old site was a bit confusing and didn't have clear value prop or messaging. For the content, Allbound wanted to focus on value and pain as opposed to features and functionality. Since this is an actual platform with features, we added links within the pain points to make everything cohesive and easier to understand. Under the main navigation, pain points live under "What You Gain". "Features" is broken out into an additional dropdown to separate the two. Their message was all about empowering collaboration so partners don't feel ignored.
The Results
The collaboration between SmartBug Media and Allbound has made this website design a hugely successful and impactful project for Allbound. Allbound was left with a truly remarkable, lead-generating machine. We were able to create a modern website that showcases their platform beautifully with large imagery and clear calls-to-action.