SmartFox K12
---
Creating a Custom-Looking, Fully Branded Online K-12 Site
Background
SmartFox K12 is an all-in-one online learning platform built by educators, for educators. It was created to be a premier choice for K-12 schools nationwide, helping schools promote better learning outcomes. SmartFox K12 provides schools with the power to eliminate frustration for staff and students, and to achieve higher learning outcomes.
The owner of Method Schools, an online charter school, created the SmartFox K12 platform to meet the needs of their school's learning management system (LMS) and student information systems (SIS), while cultivating a more personalized learning experience. The platform was so successful that soon other online schools wanted to implement SmartFox K12 into their learning structure.
SmartFox K12 needed a go-to-market website to support current client schools and make new sales. They had already engaged SmartBug® for inbound marketing, so our senior designer created a branding moodboard to help them get started. The SmartFox K12 team loved what they saw so much, they asked us to create an intuitive, well-branded website to meet the high expectations of their industry and their customers.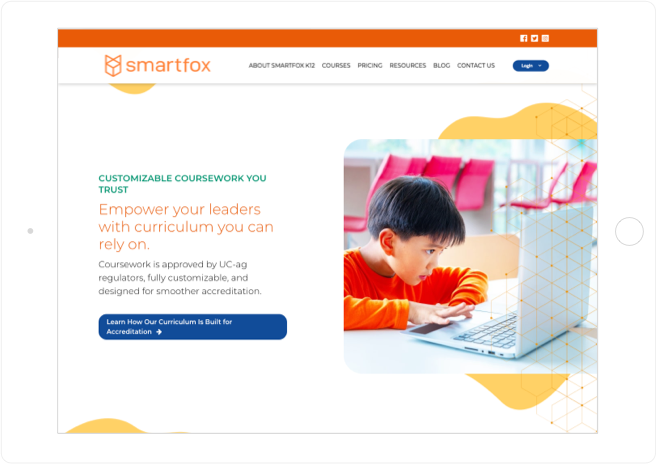 Strong Client Connections
The SmartFox K12 team is obviously, well, smart, so they could certainly create a website for sales and support. However, they couldn't devote the time or resources, and because of our pre-established partnership, they trusted us with the project. They had high expectations but kept open minds so our team was free to create—and they were so happy with the results. The process worked because our team built a healthy, collaborative client relationship based on trust and transparency.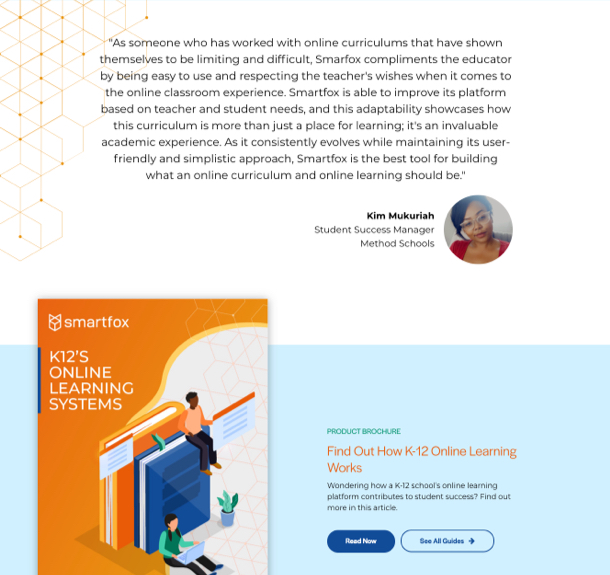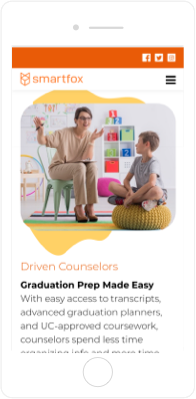 Maximizing Template Flexibility
To meet all of SmartFox K12's expectations, we established distinct branding and created a unique, custom-looking site on a tight budget within a template package. Our developers and designers maximized our flexible templates, carrying branded elements throughout each page.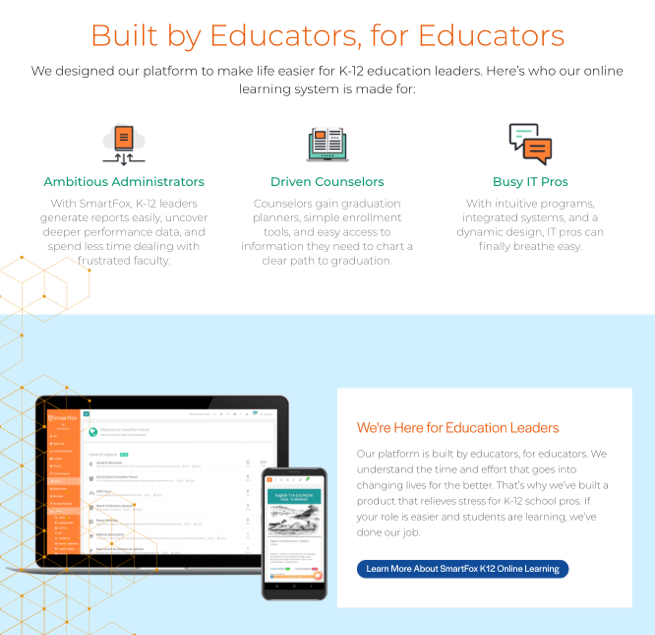 Defining Voice and Tone
Design and copy must align to solidify a brand's voice and tone. Our copy team interviewed the SmartFox K12 team to understand and refine their brand's voice and tone, and we got to know their customers. Our writers created compelling copy for all site pages, including branded pages, premium content, and a blog index.