Inbound Marketing Quick Wins for Lead Generation
Inbound marketing is designed to drive long-term gains. Unfortunately, when an economic downturn shakes up the world, you may need to generate leads now, without sacrificing your long-term strategy. We're here to help.
In this guide, SmartBug's own marketing strategy team unveils tried-and-true quick wins you can use to jump-start your lead generation engine now and feed your long-term inbound marketing strategy down the road.
Want to read this guide offline?
Fill out the form below and get your own copy to read on your own time! Reach your company's goals & get started on the right foot with inbound marketing! After reading this guide you'll have different quick win strategies around:
Website Strategies
Content Strategies
Email Marketing Strategies
On-Page SEO Strategies
Off-Page SEO Strategies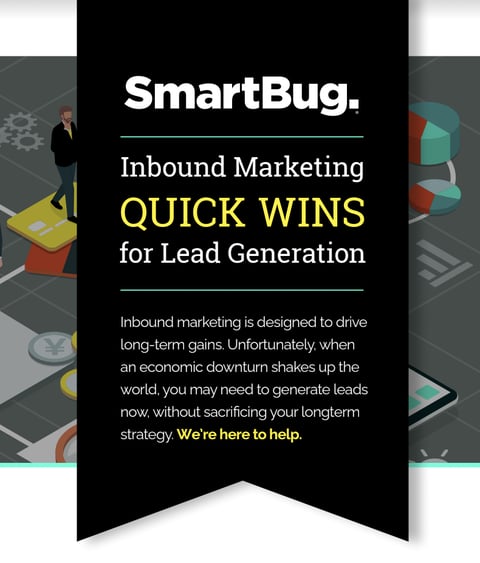 Want to read this guide offline?
Fill out the form below and get your own copy to read on your own time! Reach your company's goals & get started on the right foot with inbound marketing! After reading this guide you'll have different quick win strategies around:
Website Strategies
Content Strategies
Email Marketing Strategies
On-Page SEO Strategies
Off-Page SEO Strategies