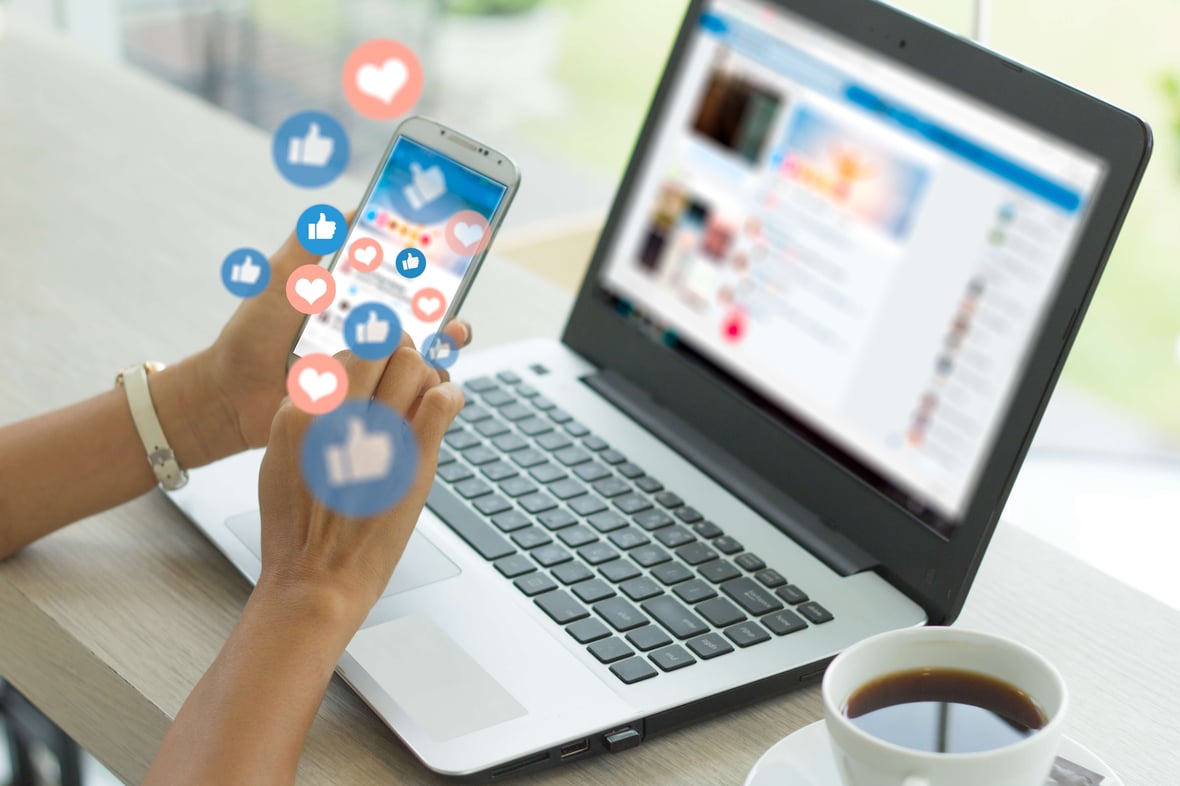 By Megan Golden
Often, social media and inbound marketing are seen as mutually exclusive, but that certainly isn't the case. In fact, social media allows you to connect with your audience in a place they are already engaging—which is the very foundation of inbound marketing.
With this in mind, your organization's organic social media strategy should be part of your overall inbound marketing plan. Here's why.
Your target audience is likely already spending time on social media.
An important part of inbound marketing is developing buyer personas. During that process, you should be finding out where your personas get information and spend a lot of their time. Social media research should be included during this process and will help you understand the specific outlets your organization should be present on.
Social media inbound marketing is an easy way to position your organization as a thought leader in the industry.
Working with the best in the business is often important to decision makers—especially when they're looking for a solution to their problem. They want to understand how knowledgeable your organization is on the topic, so they can confidently trust you when they decide it's time to buy.
An easy way to position yourself as a thought leader in the industry is by sharing what you know about the industry on social media for all to see. Whether it's a hot topic in the industry or a recurring issue your organization helps solve, you should be sharing posts about it and allowing your audience to engage.
Social media is a great avenue to push out content to an audience already engaged with your profile.
As part of your overall inbound marketing strategy, you're likely producing content regularly (or you should be). With this in mind, if you have a new e-book, checklist, case study, or blog post that was just published on your site, you should also be sharing this on your social media platforms.
Even if you don't have a lot of followers, you know the ones you do have are interested in what you have to offer, and that information might be just what they need to convert into a customer. Or perhaps your followers are mostly customers—that's OK too! They may be interested in learning more about what you offer—or better yet, sharing your post with their audience.
Social media allows you to enhance your brand presence.
Social media is an easy way to build your brand. If someone is doing research on your organization, they'll likely want to see how you communicate with customers and how well known your company is. A top place to look for this is social media.
You can enhance or establish your brand by building an identity on social media. Don't share content for the sake of sharing content, this is an easy way to lose followers. Instead, share content that is relevant to your ideal customer, and post consistently to keep readers interested.
Before you start, determine your tone of voice, the type of topics you want to write about, how your images should look, and how often you want to share content. You should also determine how you will engage with those who comment on your posts.
Social media opens the door for two-way communication with your target audience.
Although it can be scary to open communication in a public forum, it can also help strengthen confidence in your brand. Engaging with your audience on social media by responding to their thoughts and questions shows that your organization cares. Whether it's a negative review you're working to resolve or a question about customer support, it's important to show you are listening and responding.
Plus, social media can allow your organization to ask questions, too! Learn how your audience feels about a new product or service you've rolled out, or ask what kind of questions they have about something new in the industry and use that information for a new blog. Social media is a research tool for your target audience, but you can also use it as a research tool for your organization.
BONUS: Use paid advertising on social media to target your top personas.
Social ads can help attract new visitors to your website. Although it's not free, a paid social strategy can get your organization in front of the right people faster and can be a great complement to your overall inbound marketing strategy. If your organization does decide to run a paid social campaign, make sure you choose the social platform where your buyer personas are spending a lot of time.
Your paid ads should inspire your audience to click through to your website or share their contact information in exchange for helpful information. Paid social ads can enhance your overall social media inbound marketing strategy.
Integrate social media into your broader inbound strategy.
Social media is an important part of a successful inbound marketing strategy—but it's just one part. For more tips on how to get the most out of a holistic inbound strategy, check out The Only Inbound Marketing Guide You'll Ever Need.

About the author
Megan Golden is an Inbound Marketing Strategist for SmartBug. She has had previous experience with strategic campaign planning, content development, and implementing inbound marketing campaigns. She really enjoys collaborating with coworkers and clients and seeing new ideas develop into successful marketing campaigns. Read more articles by Megan Golden.
Subscribe to get our new blogs delivered right to your inbox
Other insights you might like