By Dolly Howard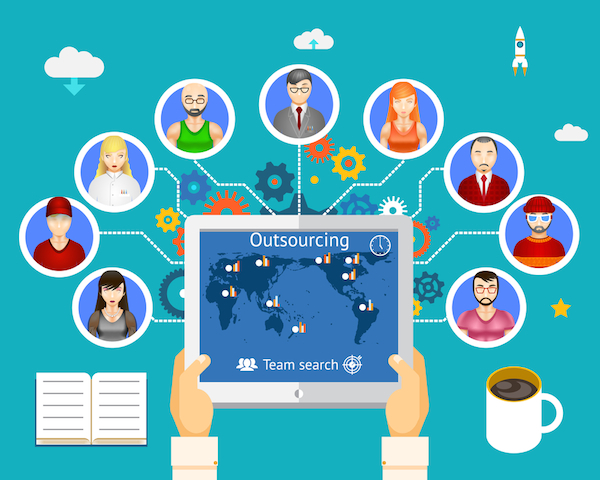 There is not a black or white, one-size-fits-all answer to this question. To be completely honest, this decision depends entirely on your company objectives, budget, and a plethora of other factors. In fact, it may be possible for you to successfully employ a combination of in-house marketing and outsourcing to fulfill your company's needs. In fact, statistically, 72% of large companies and 33% of small companies use a combination of in-house and outsourced resources for content creation. (Content Marketing Institute)
Some critics of outsourcing may voice the following concerns:
Argument #1: Can content marketing be able to effectively capture and convey the voice that is your brand?
Rebuttal 1: While this is a valid concern, there are highly talented writers that can easily adopt the company voice to connect with the different buyer personas effectively. Moreover, these talented writers are typically working for agencies since most creative-minded individuals generally enjoy and prefer the dynamic and diversity of an agency environment to working full time for a corporation. Therefore, even if you wanted to hire a writer for in-house, you might have trouble recruiting and retaining such talent.
Rebuttal 2: We get it—your company brand is your 'precious' (read the last word in the voice of Gollum from Lord of the Rings). And with rose-colored lenses, it can be hard to see your baby in the eyes of the rest of the world. This can easily lead to a partiality that lends itself to an advertiser's slant when producing marketing content. When you do this, the only viewership you'll attract will be spambots. On the other hand, someone outside of your company will have an easier time creating emotional distance from your brand and bringing in a fresh new perspective and produce content that is credible and objective in the eyes of the audience.
---
Argument #2: How hard can it be to write a blog post a week?
Rebuttal 1: It's not a matter of just writing content. There are many layers to content marketing. When you write, you'll need to write content that is aligned with the best practices of SEO. But it goes much deeper than just writing SEO-aligned content. Content is not the goal. It is the means to an end. The ultimate goal is to produce results. To that end, you need to balance consistency, keywords, and innovation.
Rebuttal 2: There are different content types that require different skill sets. For example, there are different best practices to writing white papers, writing an ebook or creating an infographic. When you outsource your content marketing, you get a team of experts in their specific area. Is your in-house writer well-versed in all aspects of content types?
Rebuttal 3: In addition, each blog post can take hours to complete once you consider the time for research, writing, revising, and publishing. Tim Ferriss, time management guru, suggests that outsourcing is key to maximizing your time and productivity. Consider outsourcing the things that you can't call yourself the expert at and instead spend the time doing the things in which you are.
---
Argument #3: There is more control over the process quality when completed by people who care more than an outside agency.
Rebuttal: Marketing is not about grammatical rules, types, etc. but rather it is about connecting with the readers and converting them into customers. Regardless, there is no excuse for bad grammar. Let me repeat: There is no excuse for bad grammar. I can understand the concern for having more control of the process, but this is an unnecessary burden for you to carry. The only control you really need to be concerned with is the outcome — is the content producing results and sales? In addition, if the agency you hired is producing work that does not meet your expectations, are you not partly to blame as well if you did not clearly define your marketing goals?
5 Examples of When to Outsource Your Content Marketing
When you don't want or can't hire a talented in-house writer.

When you don't have enough office space for a team of content marketers.

When you don't have time to write and manage your marketing.

When you don't have well-rounded in-house marketers that are expert in the various content types.

When you don't have time to stay on top of the marketing trends.
If you are still unsure about hiring a content marketing agency, you can test the waters by partnering with them for a set period of time. Once the project or contract is nearing its end, I recommend you try your hand at creating and managing marketing content to compare how the work of the agency with your own to see if you could have done better. If you feel that your work produced better results, then maybe you do have the necessary skills to take your content marketing back to in-house (or maybe it is time to find another agency). Moreover, you can try outsourcing only a small part of your content marketing plan to an agency. For example, if blogging consistently is an annoyance for you and your team, why not outsource this chore to an agency that can deliver consistent output and high quality. Or maybe you enjoy blogging, but want to offer visitors to your website white papers or an ebook to download. This can be easily be a one-off project for a content marketing agency to handle.
Do you have any other reasons for or against outsourcing content marketing?