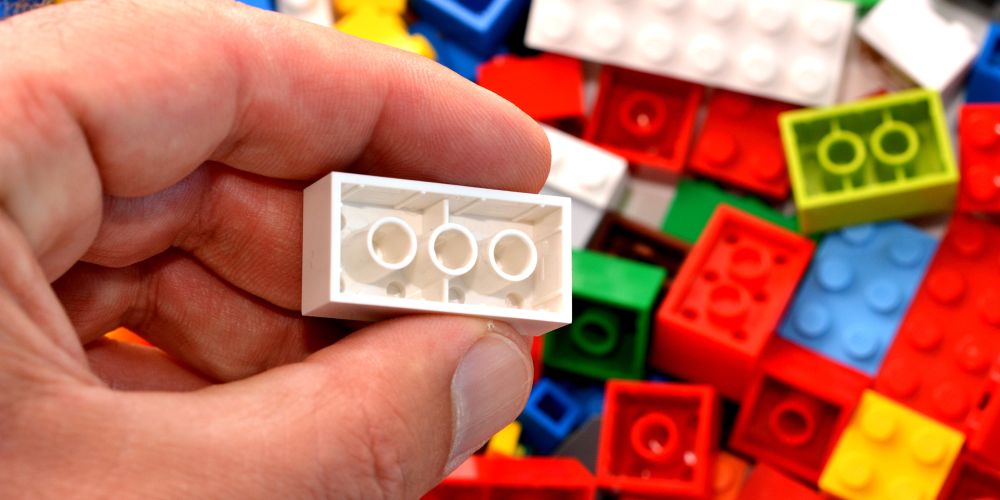 By Tony Do
Think about it: What do you usually do when you want to know more about a company?
You go to Google, search for the business name, and eventually land on the company's website—and many customers do the same.
A 2021 Visual Objects study shows that 76 percent of customers search for a company's website before going to its physical location. This means that a website is a must for your business to succeed. An online presence increases brand awareness and lets you display and sell your services and products to a global audience.
Despite the benefits, a 2022 Top Design Firms survey shows that 27 percent of small businesses don't have a website. The top reasons include the cost and lack of knowledge to create, manage, and update a website.
Free website builders with a drag-and-drop function solve this issue. These cost-effective solutions help businesses quickly create stunning websites with no code required.


The Easiest Way To Build a Website
Using a free drag-and-drop editor is the easiest way to build a website. Its convenience, functionality, and user-friendly interface help you achieve excellent results even if you're just starting out with web design.
The best drag-and-drop website builders come with web hosting and ready-made templates and themes. They have the tools you need to create beautiful landing pages, blogs, and other webpages. They may even come with a free domain name or the option to buy a custom domain.
But what exactly is a drag-and-drop editor, and why should you use it?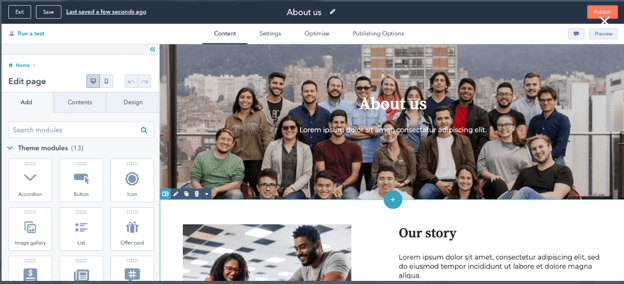 ALT: HubSpot's drag-and-drop website editor
What is a drag-and-drop website builder?
A drag-and-drop website builder—also called a website editor or an e-commerce website builder—is a powerful tool with easy-to-use features. It lets you design and edit an entire website or single webpages by dragging and dropping page elements to where you want them on a template, including:
Icons

and buttons
Content blocks
Pop-ups and

contact forms

Images
Widgets
Videos and slideshows
Lists
Drag-and-drop site builders can range from plugins to one-page website builders to advanced content management systems (CMSs).
Why use a drag-and-drop website builder?
Website building from scratch can be daunting. A drag-and-drop website editor helps you design stunning websites without going through a learning curve to master coding languages like HTML and CSS.
The best free website builders offer a simplified drag-and-drop interface that helps you quickly design a professional website and eliminates the stress of acquiring coding skills.
Using a website editor is also a much more cost-effective way to build a business website than hiring a web developer, especially when starting a small business or online store. For example, the average cost of building a small, professional business website is between $5,000-$10,000. It can rise to $20,000+ depending on how many customization options you want and the number of pages.
The best website builders offer a free version with additional affordable pricing plans if you want to upgrade as your business grows. For instance, HubSpot's paid plans start at $25 per month, which is nowhere close to what you'd pay a web designer.
So, if your budget is tight, a website builder can help you save hundreds of dollars—if not thousands.
Who can use a drag-and-drop website builder?
People with little or no technical skills can use a drag-and-drop page builder. These editors are usually designed for beginners and people with little or no coding experience.
If you're a small business owner or blogger who wants to build a website, you can quickly learn how to use the drag-and-drop elements and design your professional website in minutes.


What Are the Benefits of a Drag-and-Drop Website Builder?
On top of cost-effectiveness, a website builder has many other advantages. We'll look at four of them.
1. It's simple to get started with and use—you don't need to be a developer.
As mentioned, an intuitive website builder helps you quickly design a website by dragging and dropping prebuilt elements to where you want them on the page, and you can do this without a developer.
2. You can use preset themes to make your website look beautiful.
A drag-and-drop website builder usually has a massive library of preset themes and templates.

ALT: HubSpot's themes and templates
You can select the themes based on your company's industry and style. Then, personalize the website templates with your own information and images without needing to understand design or navigation best practices.
Most themes also let you change, add, or remove elements like buttons, images, and pages. You can tailor-make the website to suit your style.
3. Many editors offer built-in security features.
Many drag-and-drop website editors, like HubSpot's free website builder, offer security features like:
Secure Sockets Layer (SSL) certificates
Web application firewall (WAF)
Content delivery network (CDN)
Two-factor authentication (2FA)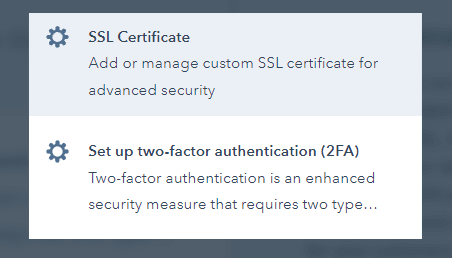 ALT: HubSpot's website builder's security features
These features ensure your website is secure and visitors can access it without interruption. That way, you can focus more on designing unique experiences for your visitors and worry less about your website's security.
4. You can create a website quickly.
As mentioned, a website builder allows you to choose a customizable theme to change the look and feel of your website. After picking your theme, you can leverage built-in custom modules, page templates, style settings, and other features to quickly build and optimize your new website.


Why a Website Continues to Be an Important Marketing Tool
Your website is a crucial tool in your sales and marketing process because it increases your chances of getting leads and boosting conversions. That's why a 2022 HubSpot study found that mobile-friendly website design (33 percent) was one of the top trends marketers leveraged in 2022, just behind influencer marketing (34 percent).
An SEO-optimized website gives you a better chance of appearing in search engine results, letting you increase your customer base significantly. In fact, SEO was the second-most effective channel for acquiring new customers, just behind social media. Also, 17 percent of all website traffic sources in 2022 were from organic searches.
A professional-looking website is crucial because it boosts your brand's credibility and trust. It represents your brand's identity through your content, tone, colors, fonts, photo styles, and customer experience. Plus, some website builders offer easy integration with your customer relationship management (CRM) platform to assist your marketing efforts.
Final Thoughts: What Is a Website Builder? Plus the 4 Benefits of Using One
A drag-and-drop website builder helps you create a responsive and reliable website that reflects your brand identity and makes it easy for potential customers to find what they're looking for.
However, not all website builders are the same. The best drag-and-drop website editors combine ease of use with functionality to help small business owners create stunning websites while saving money, time, and headaches.
Choosing the right website builder for your business will help you design, optimize, and manage your website to cater to your unique audience.

About the author
Tony Do is a graduate from University of California San Diego and is a Marketing Manager, Digital Marketer, and SEO Strategist for HubSpot. Outside of marketing, Tony enjoys exploring the forests of Portland, Oregon and producing content for his marketing firm. Read more articles by Tony Do.
Subscribe to get our new blogs delivered right to your inbox
Other insights you might like