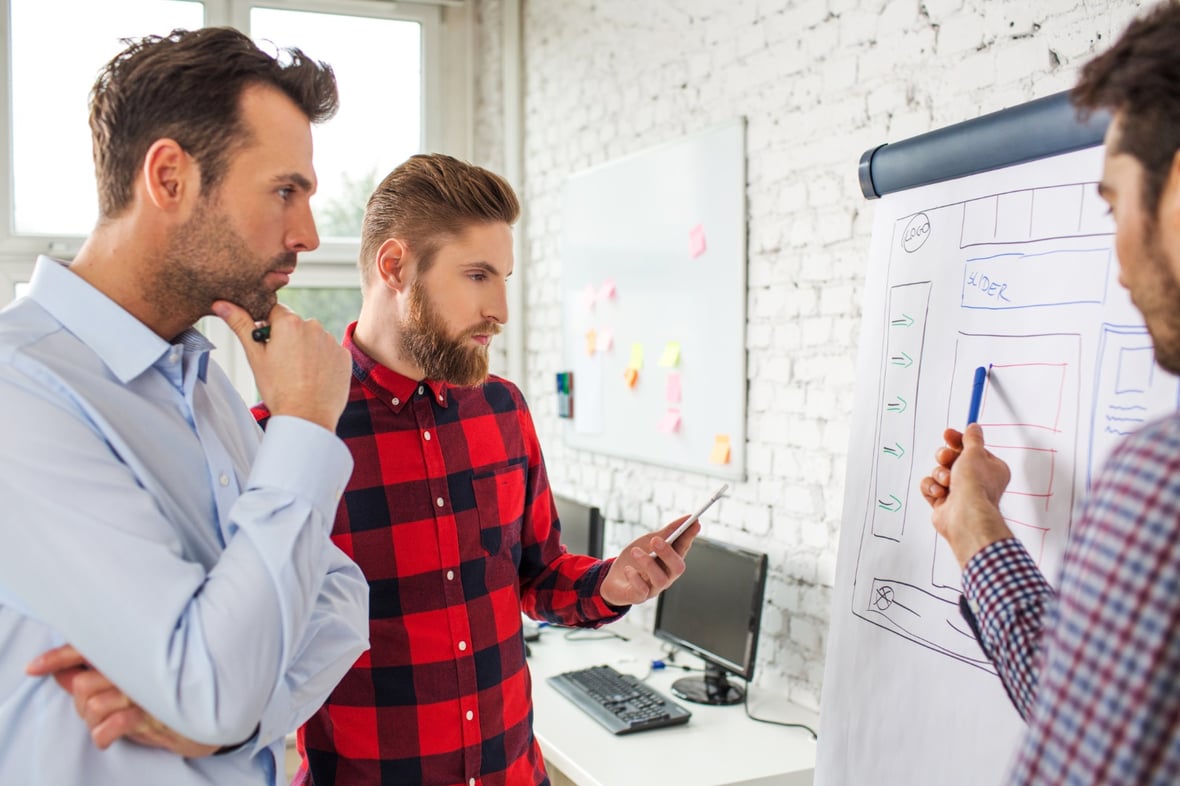 Which Webpages Should Have a Bot Versus Pop-Up Forms?
January 29, 2019
---
By Aaron Riddle
In our world of constant, data-driven website optimization, we are always looking for the next great idea, tool, or hack to help improve bounce rates, time on site, and exit rates; however, too often conversion rates are left untouched. Your website is your 24/7 sales and marketing (and in some cases, customer support) machine, running in the background, keeping the lights on for your organization. If it's not converting, then it's not being utilized to its fullest potential.
One of the tried-and-true methods for quickly improving conversion rates is utilizing pop-up forms in HubSpot, but the conversation on bots is gaining steam across the landscape. What are each of these tools, and how can each of them support your business objectives? Is one better suited for certain webpages?
Let's look at each of these tools in more detail and consider which webpages may be better suited for a pop-up form or bot.
Note: Although this content is more suited to organizations hosted on the HubSpot CMS, some of these tips and descriptions will be useful to any CMS-hosted website.


What Is a Pop-Up Form?
A pop-up form (as defined by HubSpot) is a way to create lead capture forms that engage new leads who are visiting your website. These pop-up forms are can be placed on any blog post, landing page, or webpage hosted on HubSpot.
The pop-up form has gone through many iterations since its start back in the mid to late 1990s (the word "pop-up" still leaves a bad taste in people's mouths). We have seen an improvement to its function over the years. In the HubSpot CMS, it is meant to be an extension of your inbound marketing strategy. When used correctly, pop-up forms can enhance the user experience and help improve conversion rates.
When using pop-up forms with the HubSpot CMS, you have the following four options for placement:
Pop-Up Box: Centered pop-up that goes over page content with an overlay
Drop-Down Banner: Small, thin banner at the top of the page
Slide-In Box Left: Box that slides in from the bottom left corner of the page
Slide-In Box Right: Box that slides in from the bottom right corner of the page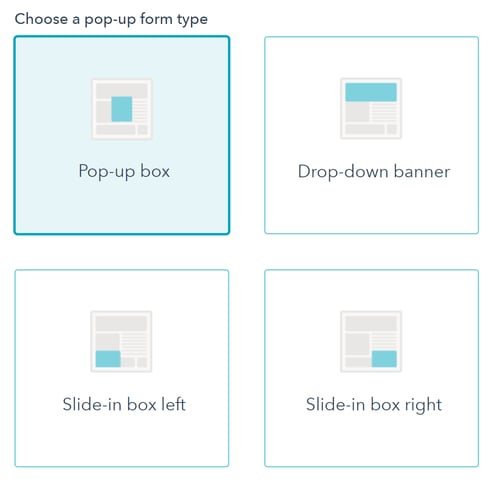 Along with these four types of placement, there are three types of triggers you can display pop-up forms on:
Page Scroll: Shows based on scrolling down the page; currently defaulted to 50 percent in HubSpot
On Exit Intent: Shows based on visitor exiting the page (or tab) they are viewing
After Elapsed Time: Shows based on amount of time visitor is on the page; the minimum time that you can show your pop-up at the time of this post is seven seconds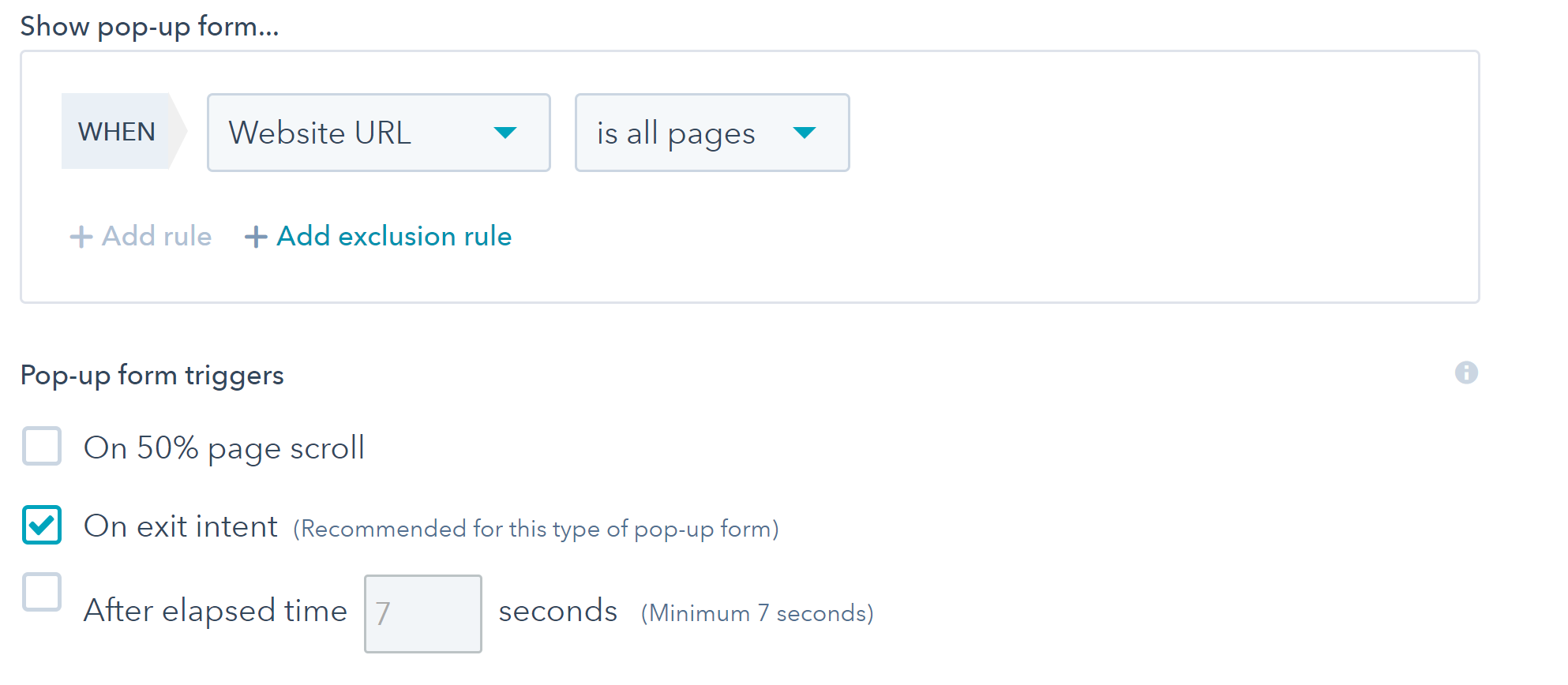 Pro Tip: HubSpot recommends certain triggers for certain pop-up form types:
Page Scroll: Slide-in box left or right
Exit Intent: Pop-up box
After Elapsed Time: Drop-down banner
Along with that, only the centered pop-up box can be used with the exit intent trigger.
What Is a Bot?
Bots (as defined by HubSpot) allow you to set up automated responses when visitors reach out to you via chat on your website.
Bots have stemmed from what we now know as "Live Chat," where an actual human is behind the keystrokes helping assist a user with a particular question. Bots take this a step further and take the human out of the equation by providing automated, yet contextualized answers to users' questions based on their current behavior and past data. When implemented correctly, bots can save time and resources answering common questions about your product or service, or by assisting a customer or prospect with the information they are looking for, whether it is booking a meeting or getting an answer to a support question.
When using bots with the HubSpot CMS, you can set them up as one of the following categories:
Qualify Leads: Assists in qualifying visitors before sending them to sales
Book Meetings: Assists in booking a meeting with a particular employee
Support Bot: Assists in creating a support ticket or access to a particular article to assist with their issue (needs HubSpot Service Pro to enable)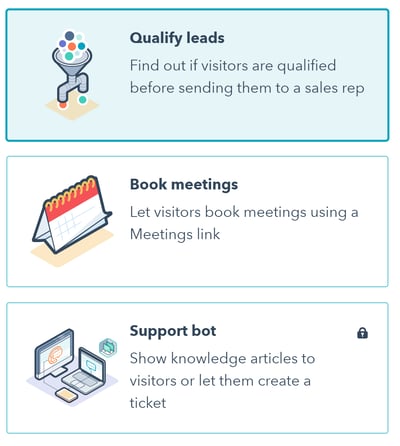 Once you select the appropriate category for your specific bot, you have the ability to set up your responses or actions based on existing data you have about the user or contextual questions in light of how the user is responding.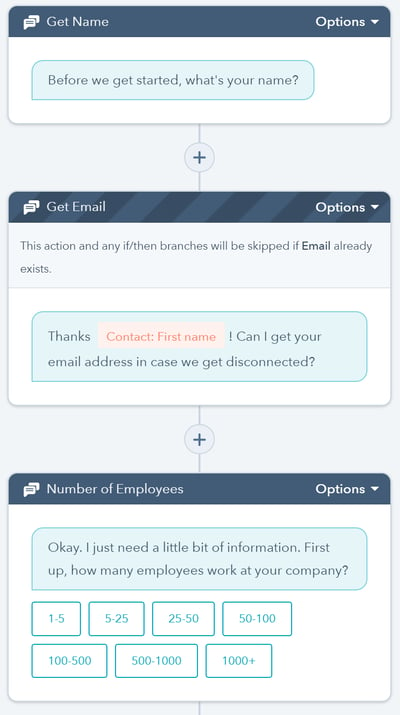 Pop-Up Forms and Bot Differentiators
As we look at both pop-up forms and bots, each of these tools have a lot to offer your organization and can serve a certain purpose or goal on a particular webpage. While their features are immense, there are some pros and cons to consider:
Pop-Up Forms

Bots

Pros

- Quick/ easy to implement
- Can be shown to visitors in multiple ways
- Great for promoting one-time events/ webinars

- Highly customizable
- Contextual to user questions/feedback
- Performs in a 1 > many mindset (if the user does this action, perform this result. If not, perform this action.)
- Ability to direct to human if needed

Cons

- Can be intrusive if used the wrong way
- Poor experience on mobile (recommend hiding them for mobile users)
- Performs in a 1:1 mindset (if the user does this action, perform this result)


- Implementation takes a bit more strategy/ thought
- Requires some testing to ensure all pieces function properly
Which Pages Work Better with Pop-Up Forms or Bots?
Now that we have some differentiators in place and a clear description of each of these tools in HubSpot, what website pages should use a pop-up form or a bot? If the end goal is improving conversion rates on certain pages, then instances with a bot may convert better than a pop-up form. Here's my quick cheat sheet for you to consider for which pages to use a pop-up form or a bot.
Bots

Pop-Up Forms

- Landing pages (any page with a form to help assist with a conversion)
- Pricing pages
- Top-level navigation pages (Home, Services/ Solutions)
- Feature pages
- "Book a meeting" pages
- Support/ knowledge base pages

- Non-landing pages (promotion of one-time event or webinars)
- Blog
- Top-level navigation pages (Home, Services/ Solutions)


As you can see, bots and pop-up forms have a couple of similarities in terms of what pages they can be utilized on. Why? Because each of them (when used effectively and backed by data) can be utilized on those pages to help cater to your specific goals. Your organization could be promoting a brand new e-book or wanting to push more demo submissions or meetings with sales. Each of these tools can help you explore and push your conversion rates to the next level.

About the author
Aaron Riddle was formerly a Digital Project Manager at SmartBug Media. He has more than 9 years of marketing and project management experience helping organizations succeed in their digital marketing goals and objectives ranging from not for profits to large technology-based groups and businesses. Read more articles by Aaron Riddle.
Subscribe to get our new blogs delivered right to your inbox
Other insights you might like