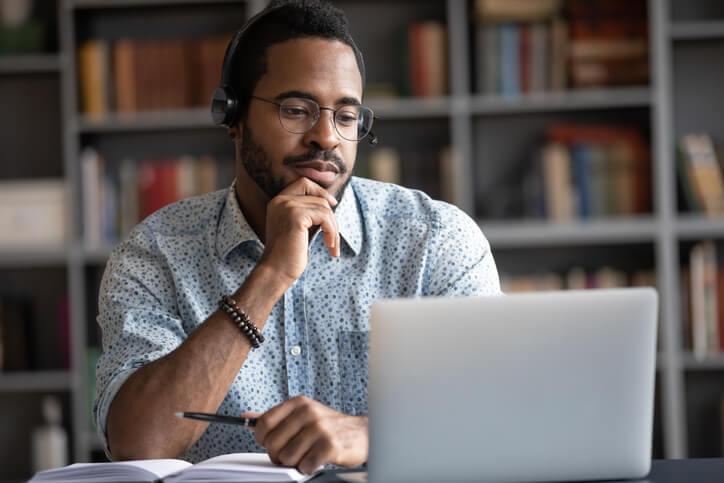 3 Tips You Can Implement Today to Beat Webinar Fatigue
September 9, 2021
---
Webinars are a great tool for marketers to offer valuable information in a convenient format that makes it easy for all to attend. Unfortunately, the pandemic has brought webinars to the forefront of everyone's mind, which in turn can lead to webinar burnout and fatigue for attendees who are inundated with them.
But don't lose hope! There are still ways to make webinars entertaining and engaging for your audience. Follow the below steps to prepare, maintain, and evaluate a webinar your audience will want to attend.


1. Prepare to ensure a quality presentation.

Choice of Topic
The first step in beating webinar fatigue is to make sure that the topic chosen is something that will interest your audience. Avoid too much self-promotion for your business, because that will all but ensure your attendees will tune out and walk away from the webinar without anything to gain.
Focus on topic quality over frequency. As mentioned before, your attendees are most likely joining webinars frequently, so you need to hold their attention.
Practice Makes Perfect
Once your topic is chosen please practice, practice, practice! This step cannot be emphasized enough. Go over what you will be saying, prepare your presentation beforehand, and get familiar with the controls (share, mute, add, and so forth) of your webinar platform.


Tech Details
Not only do you and anyone else moderating, need to be familiar with the platform, but your audience does as well. Try to have someone from your team join as a dedicated tech support to help attendees with any questions that may arise.
Simple technical issues have been the cause of many webinar mishaps. Make sure everyone running the webinar is aware when they are on or off camera or microphone.
Everyone has also had to deal with internet issues from time to time. The host of the webinar should be hardwired to their internet connection in order to minimize any potential issues with connectivity.


Interactive Content
Once you have practiced the flow of your webinar, place some interactive content within your presentation. Use a poll, frequently ask the audience questions, and try to have a dialogue wherever possible. Also, don't forget the power of visuals—if possible, lead with imagery and infographics. Having a text-heavy presentation won't keep them engaged.
Another option is to have your audience submit questions prior to the webinar. This will help two-fold. Not only will this encourage engagement with the presentation, especially as they wait for their question to be answered, but it will also help you understand what information is truly useful to your attendees.


2. Incentivize webinar attendees.
Because your audience is likely receiving webinar invitations all the time, try to make yours stand out. If possible, in your invitation include an incentive.
This can be a simple gift, like a gift card to a popular store. Or you can tie the incentive to your business, like X percent off your product or an opportunity for attendees to schedule a one-on-one with someone from your company. If you would rather not offer an incentive to everyone who attends, you can randomly select however many winners from your attendee list.
Incentivizing could help increase your attendee count and, in turn, increase the number of people who are listening in to what your company has to say!


3. Reflect on your webinar.
Another way to help beat webinar fatigue is to reflect on what was offered in your webinar and then learn from the data. Pay attention to the following:
Are your webinar forms asking questions that help improve your processes with each webinar you plan? Are you asking for enough information?
Are you monitoring the attendees during the event? Are they quickly dropping off during the webinar presentation?
Are they not engaging in the chat, polls, or interactive elements?
What was the attendance rate?
Once you answer these questions, you can help tailor your next webinar experience with them in mind. For example, are people joining the webinar then almost immediately leaving? Think of rearranging your webinar content

or how you present it. Are they not engaging with your polls or chat? Maybe think about how to reframe the questions.



Be proactive and beat webinar fatigue.
Use these steps to help combat webinar fatigue among your audience and set your company up for success. And when in doubt, ask your audience what they want to see—that's a surefire way to stand out among all the different webinars they get invited to attend.

About the author
Alexa Lopresti is an Inbound Marketing Strategist at SmartBug Media. With her experience in agency and B2B marketing roles, she helped clients grow their business through the implementation of inbound marketing strategies. Read more articles by Alexa Lopresti.
Subscribe to get our new blogs delivered right to your inbox
Other insights you might like