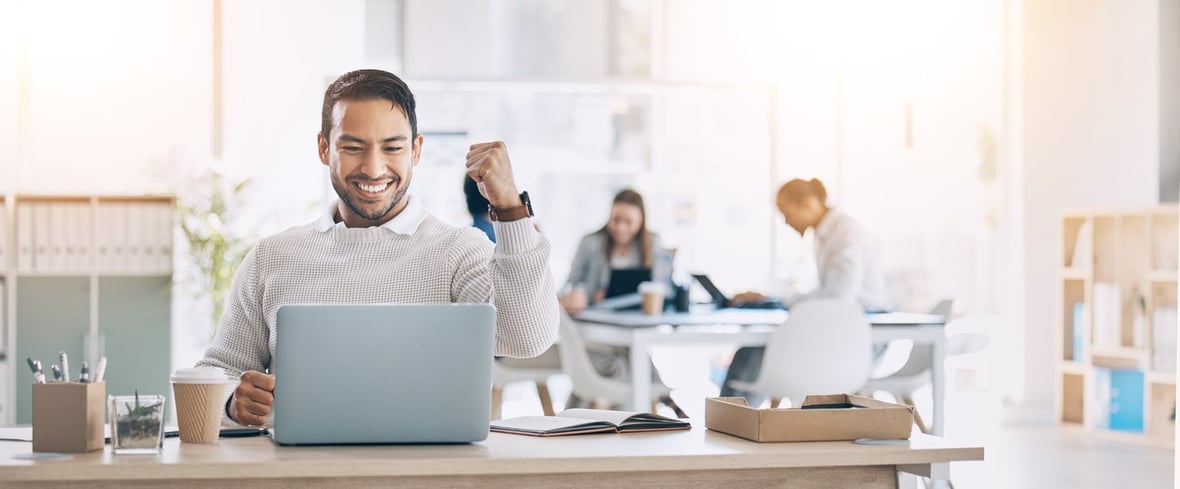 The Best AI-Built Content Marketing Tools for Increasing Productivity
May 5, 2023
---
By Mike Wolfe
Content marketing has become an integral part of any online presence, and AI-driven tools are making it easier than ever to create great content quickly and efficiently. Given the fact that 61 percent of marketers have already used AI in their marketing activities, you likely already knew that. What you may not know, however, is which AI tools are best for content marketing.
There are 100 million AI content marketing tools available on the market today—OK, maybe don't quote me on that number, but that's what it feels like to me. And by the time you finish reading this article, there will be another million newly launched platforms claiming to be the best. Plus, the marketing tools you already use daily are releasing new and powerful ways to leverage AI in their own systems, making the decision of what's available and what's best that much harder. So this begs the question, how does a content marketer make sense of it all?
Below, we'll review the most talked-about and highest-rated AI tools and how marketers can use them to streamline their content creation process.


Key Considerations When Using AI Tools
First, a quick word of caution. Creating content the right way—that is, through thoughtful research and planning—can be an arduous and time-consuming process. Naturally, marketers are tempted to jump headfirst into the power of AI and automation so they can get more time back in their day for things like TikTok—and I don't blame them. However, there are a few things to pay special attention to when exploring AI tools for content marketing:
Accuracy
Most AI writing tools are still subject to inaccurate information and misrepresented sources. If you're using AI-generated content blindly without fact-checking, you run the risk of presenting false information to your readers.
Plagiarism
Even when completely accurate, if you're publishing AI-generated content that is generated from just one source, you could be dangerously close to plagiarism even if it's not copied word for word.
Content Saturation
With the flood of AI tools on the market, it won't be long until the wave of poor content reaches your audience. If all of your competitors are regurgitating the same basic content and talking points—because the sophistication of most AI writing tools is the same for everyone who uses them—then you should be looking to stand out with thoughtful, interesting, and creative content written by knowledgeable humans.
SEO Impact
Similar to the content saturation point above, Google algorithms are constantly getting better at recognizing AI-generated content. Although Google has said it won't penalize AI content simply for being AI-generated, it will continue to prioritize helpful and original content—which can be challenging for AI writing tools to produce, as noted above.
Overall, AI-built content marketing tools can improve your team's productivity and save precious time for TikTok, and as long as it's used strategically and supplementally to real brain power and creativity, you'll continue to stand out among the competition.
Without further ado, here are the best AI-built content marketing tools for increasing productivity.


Branded as a content intelligence tool, Surfer helps blend content strategy and creation in one platform. The easy-to-use editor provides structural recommendations for titles, headings, paragraphs, and images and provides an overall content score in real time. It also provides SERP analysis and advanced keyword research.
Claimed Number of Users: "Thousands"
Ratings: 4.8/5 on G2, 4.9/5 on Capterra
Ideal for: Generating SEO optimized content, SEO research, learning to write for SEO
Pricing: Starts at $59 per month (when paying monthly) for one user and $119 per month for three users; charges by the number of articles created and number of pages audited


With an identical layout to Surfer, GrowthBar is rated just as high among marketers and agencies. In addition to structural SEO recommendations that appear as you write or generate content, optimization features can help find examples, elaborate on a point, or conclude a thought. GrowthBar also has a site inspector feature for competitive analysis on domains you're competing against for targeted keywords.
Claimed Number of Users: "Thousands"
Ratings: 4.9/5 on G2, 5/5 on Capterra
Ideal for: Generating SEO-optimized content, SEO research, competitor research
Pricing: Starts at $48 per month for two users and $99 per month for five users


Jasper claims to be the only AI with the ability to generate more than 1,000 characters in a single prompt. While that might make users a little uneasy about the quality, the platform's built-in plagiarism checker might ease some of that concern. For shorter content, templates and recipes are helpful features to get you started and keep you going.
Claimed Number Users: 100,000+ teams
Ratings: 4.7/5 on G2, 4.8/5 on Capterra
Ideal for: Generating short, high-converting marketing copy or long-form content like blog posts, guides, and reports.
Pricing: Starts at $49 per month (when paying monthly) for up to five users; charges by the number of words generated


Similar to Jasper, Rytr is another writing assistant tool designed to assist with long-form content and short marketing copy. In contrast with some other common AI generators, Rytr is focused on generating content specifically for marketing or business needs.
Claimed Number of Users: 5.5 million
Ratings: 4.7/5 on G2, 4.4 on Capterra
Ideal for: Generating short, high-converting marketing copy and longer-form content such as blog posts, guides, and reports.
Pricing: Free plan with limited use, $9 per month up to $29 per month; user limits not specified; charges by the number of words generated


Simplified is as close to an all-in-one AI solution as it gets. The tool uses AI for simple and templated graphic design tasks, AI-generated copy, video editing and animation, and social media management. It also features many non-AI tools within the same platform for common tasks related to content creation and promotion.
Claimed Number of Users: 1 million+ users
Ratings: 4.7/5 on G2, 4.7/5 on Capterra
Ideal for: Generating long-form and more concise marketing copy, simple videos, and templated social media graphics
Pricing: Free plan with limited use, $30 per month (when paying monthly) for up to five users; charges by the number of words generated


HubSpot is embracing the power of AI to help its customers make better business decisions, improve efficiency, and provide better experiences for their clients. HubSpot's new ChatSpot tool, public alpha as of May 2023, allows users to accomplish everything they already do in HubSpot - even faster. ChatSpot can be used to increase productivity by generating follow-up emails, pulling reports, creating new segments, and more. HubSpot's Content Assistant, private beta as of May 2023, utilizes OpenAI's GPT model to help users ideate, create, and share content faster and all in one place.
Claimed Number of Users: Undisclosed
Ratings: N/A
Ideal for: ChatSpot - Drafting personalized emails, creating custom reports, adding contacts to CRM, and more | Content Assistant - content creation
Pricing: Both ChatSpot and Content Assistant are free, but functionality and limits will depend on which hubs and tiers the HubSpot account has.


Honorable Mentions
With those 100 million AI content marketing tools out there, I didn't have a chance to thoroughly review them all. That said, several others stood out as contenders to be among the best.
INK, Wordtune, Kafkai, Shortly, Scalenut, Frase, Copy.ai, Narrato, ContentBot, and Writesonic all had great features, fair pricing, and decent ratings on G2 and Capterra. If you want to see an exhaustive yet filterable list of AI tools that are currently on the market, check out gpte.ai to see all the available AI tools for writing, coding, designing, image generation, and more.
Our partner Klaviyo is an industry leader in the email & sms space and now equips its users with an SMS Assistant. The first SMS tool to automate copywriting for text campaigns while maintaining compliance with mobile carrier regulations.
Shopify, another important partner of SmartBug, recently introduced AI-generated product descriptions powered by Shopify Magic, enabling their users to get their products in front of shoppers faster and more effectively than before.
AI content marketing tools are a great way to boost your team's productivity. However, a thorough understanding of your audience, careful planning, and thoughtful execution are only becoming more important as AI continues to increase in popularity. If you're looking for content marketing help from the ideal mix of AI tools and human experts, consider partnering with a top-tier digital marketing agency.

About the author
Mike Wolfe is an Inbound Marketing Strategist at SmartBug Media helping clients find success through inbound marketing. Read more articles by Mike Wolfe.
Subscribe to get our new blogs delivered right to your inbox
Other insights you might like