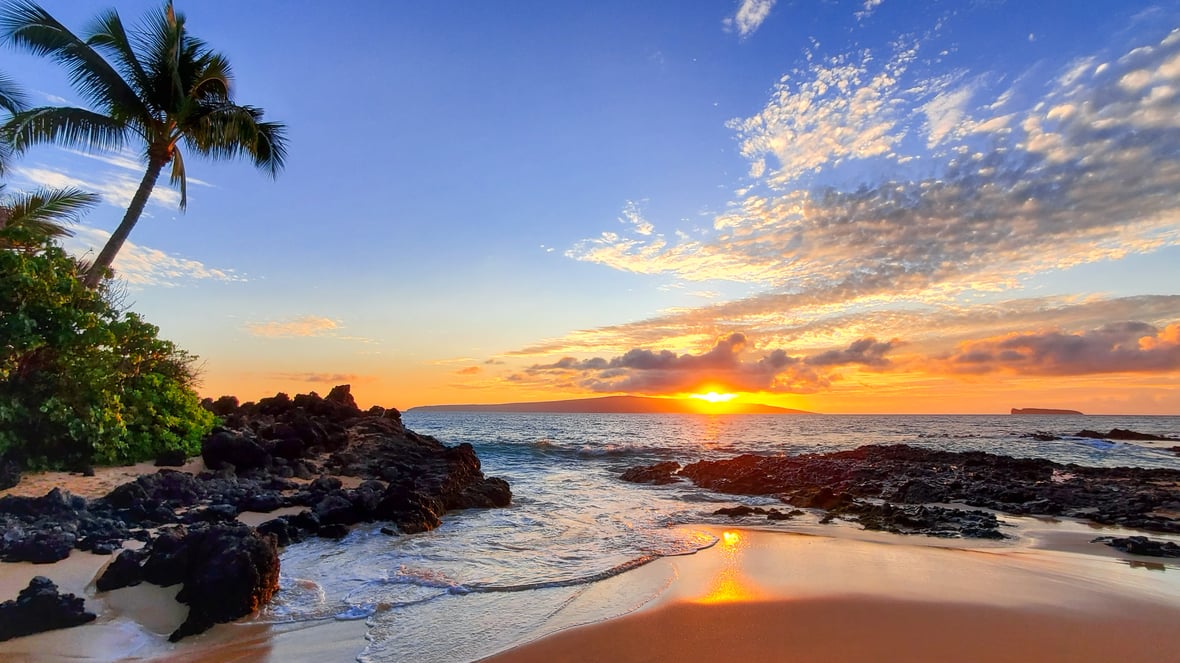 A Day in the Life of Working at a Remote Agency [Maui Edition]
October 8, 2021
---
By Hannah Shain
One major change we saw coming out of the pandemic was an industry-wide shift towards remote work. All the sudden every company that could start offering the flexibility of working remotely, did. After a few months, some businesses reopened their offices, and some shut down their physical locations all together. It's been a fascinating phenomenon to observe.
All while that's been happening, SmartBug has always been remote. It was a cornerstone of what made SmartBug really unique. Now we joke - "we were remote, before remote was cool." All jokes aside, there's a hugely valuable underlying benefit to having remote culture baked into our DNA from the beginning. We know what it takes to operate remote, and that's no joke.
We have the tough questions answered, like how to train and onboard teams when you have employees across at least 6 time zones and working in nearly every state in the US. We also have a process and documentation-first culture, it's not an afterthought. We're great at knowledge sharing, building relationships and communicating.
I used to worry that not having an office would mean I miss out on the hallway conversations. Quite the opposite is true here at SmartBug. These Chatty-Cathy's are amazing at knowledge sharing, and we have all sorts of channels to stay connected.
The other BIG benefit of being remote is the flexibility to work wherever you want.
This blog will be the first of a new series, aimed to capture a glimpse at the life of a few of our SmartBug's and what working remotely really looks like. We make an effort to have IRL (in real life) meetups. From Philly to Maui, and everywhere in between, you'll find SmartBugs working remote!
We also want to have a little fun with the series, and offer travel tips and city guides along the way. So, without further ado, here's the first remote work guide for Maui.


Remote Life at SmartBug - Maui Edition
With the "work anywhere" flexibility at SmartBug, I said why not as soon as Southwest Airlines went on a 50% off sale for flights to Maui. I didn't take a single PTO day, but rather built out my schedule to get in full work days and still explore around the island.
Maui puts you at a time zone that's 3hrs behind Pacific Time and 6hrs behind Eastern Time. That means really early hours, especially if you don't reschedule any of your meetings. Silver-lining to this timezone difference means you have the afternoon and evening completely free. I took advantage of this time difference to make the absolute most of my time while on the island.
The Maui Midnight on the island -as soon as the sun sets things start to calm down- really helped me out with this grueling schedule. I was tucked in bed by 8PM every night, which served me well with the 4AM (ish) wake up calls.
Here's a rough schedule of my average 8hr work day while in Maui:
4:30AM HST (7:30AM PST) Wake Up
5:00AM HST (8:00AM PST) Sales & Marketing Meeting
6:00AM HST (9:00AM PST) Standup
6:15AM HST (9:15PST) Get Ready for Day
6:30AM HST (9:30AM PST) Drive to Local Coffee Shop
7:00AM HST (10:00AM PST) Emails / Slack Catch Up
9:00AM HST (12:00PM PST) Few More Meetings
12:00PM HST (3:00PM PST) Afternoon Project
1:00PM HST (4:00PM PST) Done for the day
2:00PM - 7:00PM HST Free time for Beach, Exploring, Dining
While I was very tired by 1PM and ready for a nap … I chose to rally, grab another latte and power through the day! So much to do, so much to see. And in my opinion, it's way more fun to take a nap on the beach vs. back at the Airbnb.
I also chose to pack for the full day, which meant loading up my car with everything I needed for a work day at a coffee shop, followed by afternoon at the beach or hike, and dinner in town.
Travel Tip #1: Book an Airbnb
Staying at an Airbnb gives you the flexibility to have amenities you might not get quite as easily at a hotel. I found an Airbnb with free (FAST) WiFi, plenty of space to charge all my devices, and a little kitchen to make sure I could prepare coffee for the early morning calls.
Travel Tip #2: Get a rental car
I stayed in Kihei which in theory could be a very walk-able beach town with small restaurants and beaches all within a 10 - 30min walk. That said, there's so much to do and to explore outside of the small town you stay in, so having a rental car gives you that flexibility.
Travel Tip #3: Pack Your Office in Your Bag
A light-weight laptop is an absolute must - most of us SmartBug's use 13" Macbook Airs, that are convenient and super easy to work off of for a week on the road, and in my opinion, work just fine without the extra display.
In addition to your laptop, other must-haves are:
Airpods
Backup headphones (in case your airpods die)
Portable Battery Pack
Laptop Charger, bring your long cable if you can
Mobile HotSpot (just in case the coffee shop you're at doesn't offer WiFi)
Maui IRL
One thing that makes SmartBug culture really unique is our tradition of doing IRL meetups with other team members, even if they are not on your immediate team. We get a financial perk to get together and expense it, which means drinks and such on SmartBug.
My first stop in Maui was to visit our resident Hawaiian SmartBug, Brittany Fleck. We grabbed a yummy happy hour at the popular MonkeyPod by Merriman in Wailea. While I'm not a big fan of Mai Tais, I heard they were a must to try here. They were amazing!!


The rest of my week was filled with lots of beach time, farm tours, sunset hikes and awesome dinners out - here are a few of my favorites:
Miso Phat Sushi in Kihei (I ate there twice!)
Star Noodle in Lahaina
Cafe Des Amis in Pa'ia
Mama's Fish House Pa'ia
Sunset Views at Haleakalā
O'o Farm Tour in Upcountry
Shopping in Pa'ia
Sea Turtles at Ho'okipia
The next time Brittany and I got together was for a half-day work day at a super cute Akamai Coffee Shop in Wailea.



I wrapped up my week with a weekend packed full of adventure. I took an excursion out for SNUBA diving out to Molokini Crater and Five Caves. We saw all sorts of amazing ocean life along the coral reefs. And then I did Road to Hana. No words can describe just how incredible The Road to Hana is, but I can tell you it was well worth the 10hrs that I was on the road. Lots of stops along the way, swimming in waterfalls, jumping off cliffs, exploring caves and hiking through the lush rainforests.



How lucky am I to have had a full work week in Maui?! You can make it happen with just a little planning … our SmartBug Nomads are roaming all the time, it's just who we are.
Want in on the fun? Join our team!! Check out our open positions.

About the author
Hannah Shain was formerly the Vice President, Marketing at SmartBug Media. She leads demand generation, brand, marketing technology and more, and she is an energetic, ambitious, witty, and data-driven leader with over 14 years of hands-on marketing experience. Hannah brings a unique balance of seeing the bigger picture - assisting with market strategy and the launch of new lines of business - while also rolling up her sleeves to build from the ground up. She thrives in a fast-paced, collaborative environment, where she can lead a team, set goals and hunker down and get to work generating results. She leads all marketing initiatives that drive pipeline, increase lead velocity, and build a lovable brand. Read more articles by Hannah Shain.
Subscribe to get our new blogs delivered right to your inbox
Other insights you might like