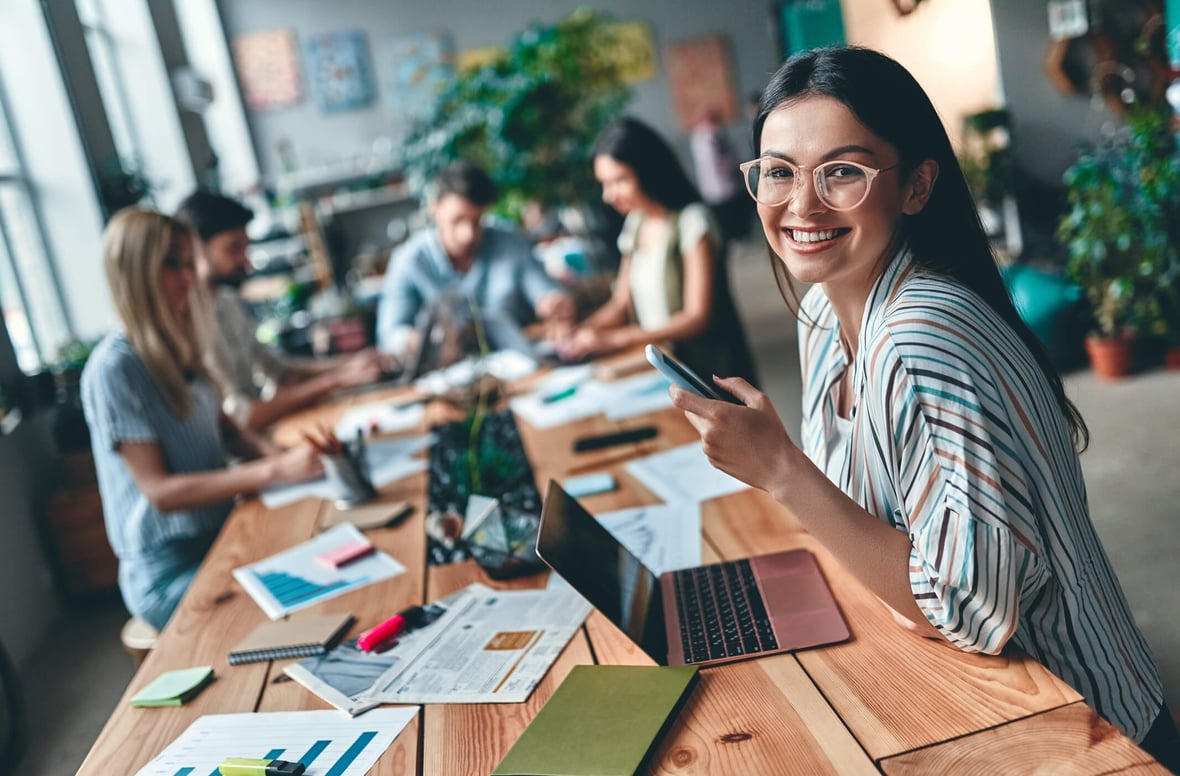 By Kristen Deyo
Inbound content combines creativity and expertise, and it's driven by data that gives the information you need to develop a strategy to meet and exceed your goals. But with so many inbound marketing strategies out there, it can be hard to prioritize which ones are going to drive the most amount of value for your organization.
Have no fear—here are some of our favorite inbound marketing strategies to help you attract, engage, and delight your prospects and customers at each stage of their buyer's journey.
The Power of Inbound Marketing: A Quick Refresher
Before we jump in, let's first ensure we're all on the same page when it comes to what inbound marketing is and the truly transformative impact it can have on your marketing efforts. SmartBug® has written a ton of helpful content on inbound marketing, but here's a quick refresher via HubSpot:
"The inbound methodology is the method of growing your organization by building meaningful, lasting relationships with consumers, prospects, and customers. It's about valuing and empowering these people to reach their goals at any stage in their journey with you."
This methodology can then be applied at each stage of the buyer's journey using the flywheel model: attract, engage, and delight.
The idea is that when we start to succeed in one area of the flywheel, momentum is built, creating a self-sustaining and constantly moving loop that turns strangers into customers. This is how we achieve inbound marketing success.
Next, let's discuss each stage of the flywheel and the overarching goal we're trying to achieve, as well as winning inbound marketing strategies to fuel your company's success.
Inbound Marketing Strategies to Attract
The attract stage is all about bringing new visitors to your website. We won't get anywhere with our inbound marketing strategy until we start getting found by potential clients. Attract tools include:
SEO
Blogging
Social media
Paid search
What's the secret to getting found online? Create great content that draws people to you. As more and more people find and benefit from your content, your online presence begins to grow.
Attract Strategy #1: Perform Historical Blog Optimization for On-Page SEO
Blogging is an essential strategy for inbound marketing. Helpful, informative, and relevant articles draw people to your website and build trust with readers, turning them into leads and then clients.
Before you invest in creating new content, are there ways you can help current content perform better? Simply put, historical optimization means optimizing your "old" blog content so it's fresh, up-to-date, and able to generate even more traffic and conversions than it already does.
Here are some things to consider to ensure your blogs are optimized for SEO:
Choose a topic aligned with your persona(s).
Decide on a goal for your blog post.
Include a call to action (CTA) that addresses the question "What do we want people who read our blog to do next?"
Choose a focus keyword for your post based on your blogging strategy and content themes. Ensure this keyword is present in your:

Title
H1 header
Meta description
Body (at least two times in the blog post)
URL (matches the title, no underscores present)
Alt tag
Attract Strategy #2: Get Backlinks from Reputable Sites and/or Partners
Backlinks provide websites with easy ways of increasing their search traffic and rankings on various search engines. However, only high-quality links are needed to generate best-in-class SEO results and increase your website traffic.
Here are some great backlink strategies via Backlinko:
Publish "skyscraper" content.
Become a source for reporters and bloggers.
Build links from outdated resources.
Stop guessing and use content formats proven to generate links and social shares.
Publish "ultimate guides."
Use branded strategies and techniques.
Create authority resource pages.
Turn brand mentions into quality backlinks.
Inbound Marketing Strategies to Engage
The engage stage is all about developing relationships and driving conversions by providing useful content that meets your prospects' needs. Engage tools include:
Pop-up forms
Email marketing
Lead management
Marketing automation
Conversion rate optimization (CRO)
Engagement is the key to guiding someone through the buyer's journey, and it's vital if you want to keep that inbound marketing flywheel spinning and increasing in velocity.
Engage Strategy #1: Create Pop-Up Forms to Drive Immediate Action
An effective way of capturing the attention of website visitors is to use a pop-up form on arrival or exit. In fact, a well-placed pop-up form can boost email subscriptions by 317 percent or more.
If there is a particular action we want our visitors to take, this is our chance to give them a nudge. Examples of pop-up forms include:
Downloadable content offer
Blog or newsletter subscription
Coupon or discount
Engage Strategy #2: Add CTAs to High-Traffic Pages
If you need to convert more visitors to leads, consider creating CTAs to serve as a point of conversion on the most popular website pages. Start by conducting an audit of top-performing pages and determine:
What is the page about? Which persona is it for?
Is there a conversion opportunity or logical next step for the visitor to take?
If we have a CTA on this page(s), is it optimized? What's the current click-through rate (CTR)?
Note: If you already have CTAs, ensure you're adding your best-performing CTAs to relevant website pages and blog content.

Engage Strategy #3: Run a Reengagement Lead Nurturing Campaign for Cold, Closed-Lost, or Abandoned Leads
This is a great strategy for organizations that may have a large database of contacts but are unsure of what's in there, where contacts came from, and how to start running nurturing campaigns. This strategy offers two benefits:
It helps reengage leads within the database that could have been interested at some point.
It helps clean up the database by combing through contacts and seeing who engages and who doesn't so that efforts can be focused on interested contacts.
Start by running a report of contacts that haven't engaged with your organization or their website in some time and reintroduce yourself. A simple "Haven't heard from you in a while" or "Thought you might be interested in this" email can open doors and nurture leads who have gone cold.
Inbound Marketing Strategies to Delight
The delight stage is all about delivering a remarkable experience for your clients through every interaction with your organization. Delight tools include:
Smart content
Email marketing
Marketing automation
Attribution reporting
Behavior triggers and engagement metrics
Delighting clients strengthens those relationships and builds brand loyalty and trust. The goal of delight is for clients to be so satisfied that they go out and sing the praises of your brand.
Delight Strategy #1: Run a Customer Upsell or Cross-Sell Email Campaign
Acquiring a new customer can cost five times more than retaining an existing customer. Not to mention that the success rate of selling to an existing customer is 60-70 percent, while the success rate of selling to a new customer is 5-20 percent.
If you have existing customers that would be a good fit for another product or service offering, why not let them know by running an email nurturing campaign? The best part: You can use your marketing automation platform to automate a lot of the process and assign tasks to internal team members for follow-up to ensure things don't get lost in the shuffle.
Here are some best practices to keep in mind:
Ensure customer success and sales teams are working together to properly identify customers who may be a good fit for a product or service offering upsell or cross-sell.
Ensure these customers are properly marked or tagged in your customer relationship management (CRM) platform so if these are not managed one-on-one, marketing and support teams can easily run segmentation to identify these opportunities on an ongoing basis
Ensure you have customer journey maps built out that outline how customers will or can use your product and service offerings, so you're approaching customers at the right time.
Put together messaging to help customers understand how this additional product or service offering will add value and help them and/or their organization improve or reach their goals.
Empower customers with other customer success stories and helpful content to communicate the value and answer any questions they may have.
Use your marketing automation platform to put this content together in an email nurture campaign and create internal tasks for sales and/or support teams to follow up as needed.
And if you want to dig into this further, check out this great blog article from HubSpot with helpful upselling and cross-selling tips.
Delight Strategy #2: Deploy a Customer Review Email Campaign
If you have happy customers, why not ask them to write a review for your company?
Before people engage with our sales teams, they are doing their own research and looking for honest, trusted reviews to help make the most informed decision. Reviews on third-party listing sites like G2 Crowd, Capterra, and others are extremely powerful. In fact, it is estimated that 67 percent of consumers are influenced by online reviews.
Running a successful review campaign starts with identifying happy customers. This means working with your customer success team(s) to identify those customers, preferably using your CRM so that the team is able to pull that data at any given time.
There are a lot of best practices and strategies for leveraging customer reviews that you can read, but here are some key things to consider:
Start by simply just asking your customers to leave a review when the timing is right.
Create a process for asking for customer reviews and automate it where possible.
Personalize the ask and make it personal.
Make asking for a review as simple and straightforward as possible.
Engage with existing reviews on leading review sites.
Offer an incentive for customers who are putting in the work to leave a review.
Be sure you are sending emails at the right time.
Don't be afraid to follow up on your review request.
Remember that getting customer reviews is easy when you're committed to building a culture of customer success.
A marketer's job is not easy, and cookie-cutter marketing strategies simply don't cut it. Generating leads, and ultimately revenue, for your organization happens when you focus on the right inbound marketing strategies that meet your prospects and customers where they are in their buyer's journey.
About the author
Kristen Deyo is a Director of Marketing Strategy at SmartBug based in Kingston, Ontario, Canada. She has 8+ years experience developing strategies for primarily B2B SaaS/technology companies and hyper-growth startups. She holds degrees from Queen's University (Cha'Gheill!) and the St. Lawrence School of Business. When not digitally plugged in, you can find her enjoying a good happy hour or planning her next adventure. Read more articles by Kristen Deyo.
Subscribe to get our new blogs delivered right to your inbox
Other insights you might like