By Paul Schmidt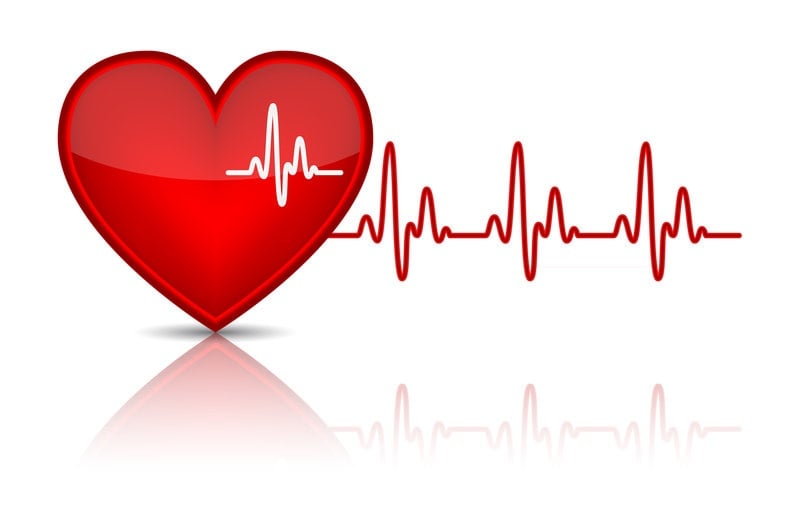 It's important that healthcare providers increase the amount of positive reviews for their doctors as well as their hospitals/clinics. Just as you would look up a review on Yelp for a restaurant, patients are doing the same for their healthcare. Here's a primer on healthcare reviews and how marketers can build their online presence.
There are 2 types of websites for online healthcare reviews:
Non-medical sites include search engines and review sites like Yelp, Google+, and BBB. These are sites that allow patients to leave reviews about a specific hospital.
Medical review sites like Healthgrades, RateMDs and Zocdoc allow you to leave reviews for specific doctors.
There is so much available information for patients. They can learn about their providers' quality of care, facility, and experiences of other patients.
Here Are Two Areas of Focus for Healthcare Marketers:
1. Build your Hospital Reputation and SEO:
Local reviews about your hospital are important to showing up in search. In this study from Moz, local online reviews are one of the biggest Google local search ranking factors.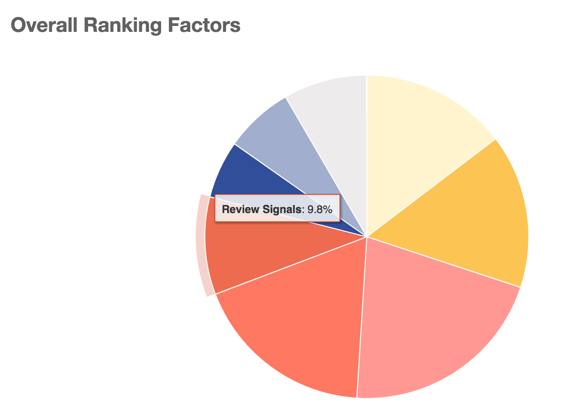 Online reputation matters for hospitals in big cities and small towns. Coming from a small town, we had the option of going to the small local hospital, or we could drive 3-4 hours to a much larger, reputable hospital. As a marketer, you need to increase reviews to improve rankings for your local listings and prove that your hospital is a better choice than the alternatives.

Here are local hospital listings from two cities. If you need heart surgery, where do you think would be the best facility to undergo this life sustaining operation?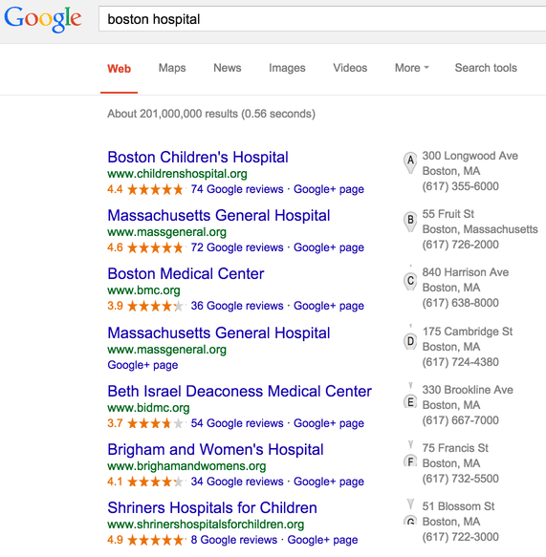 or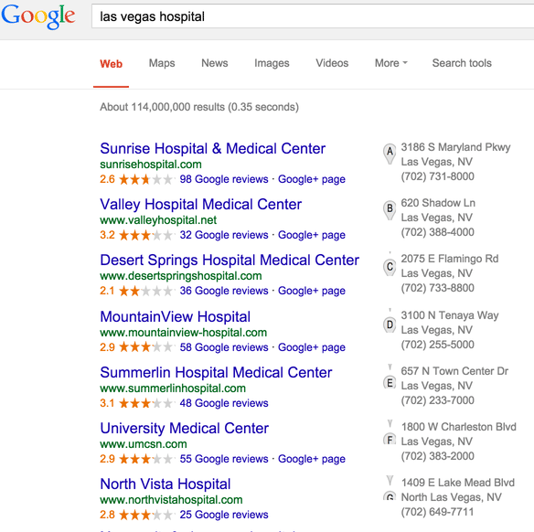 You can choose a 2-3 star hospital in Las Vegas OR you can choose a 4.5 star hospital in Boston. The quantity and quality of Google reviews could impact the patient's decision to visit you.

So for healthcare marketers, to improve your hospital's local SEO and online reputation you need to:
Claim your Google+, Yelp, and other local listing pages.
Generate positive reviews for your facilities review page. Be sure to read the review solicitation policies for each of the review sites as some are more stringent than others. Yelp for example has a strict policy against solicited reviews. They even have software that filters out solicited reviews.
Respond to negative patient reviews. These patients know that you're listening and improving your quality if your respond to their review.
2. Build your physicians' reputation and SEO with reviews:
Medical-specific review sites contain a majority of doctor's online reviews/ratings. Healthcare marketers can help their hospitals grow by increasing the amount of positive reviews on these sites.

Here a simple process marketers can follow to build these reviews.
1. Send out a short email with this single question:
How would you rate your healthcare experience on a 1-10 scale?
a. 1-5
b. 6-7
c. 8-10

After they click on the options, you can send them to a thank you page for submitting their rating.
2. Segment the users that clicked on 8-10. Send them a 2nd email, a day later, that provides them with instructions on how to review their doctor. Remember that many patients have never left a review on a website, so keep the instructions simple.

3. Create a report at the end of every month/quarter to show the amount of new reviews you've generated. This will make your boss happy.

As a recap, healthcare marketers need to focus on increasing the amount of positive reviews for their institutions as well as individual physicians. Claim your local listings and build out an internal process for generating hospital and physician reviews. These are key to increasing your local online healthcare presence.