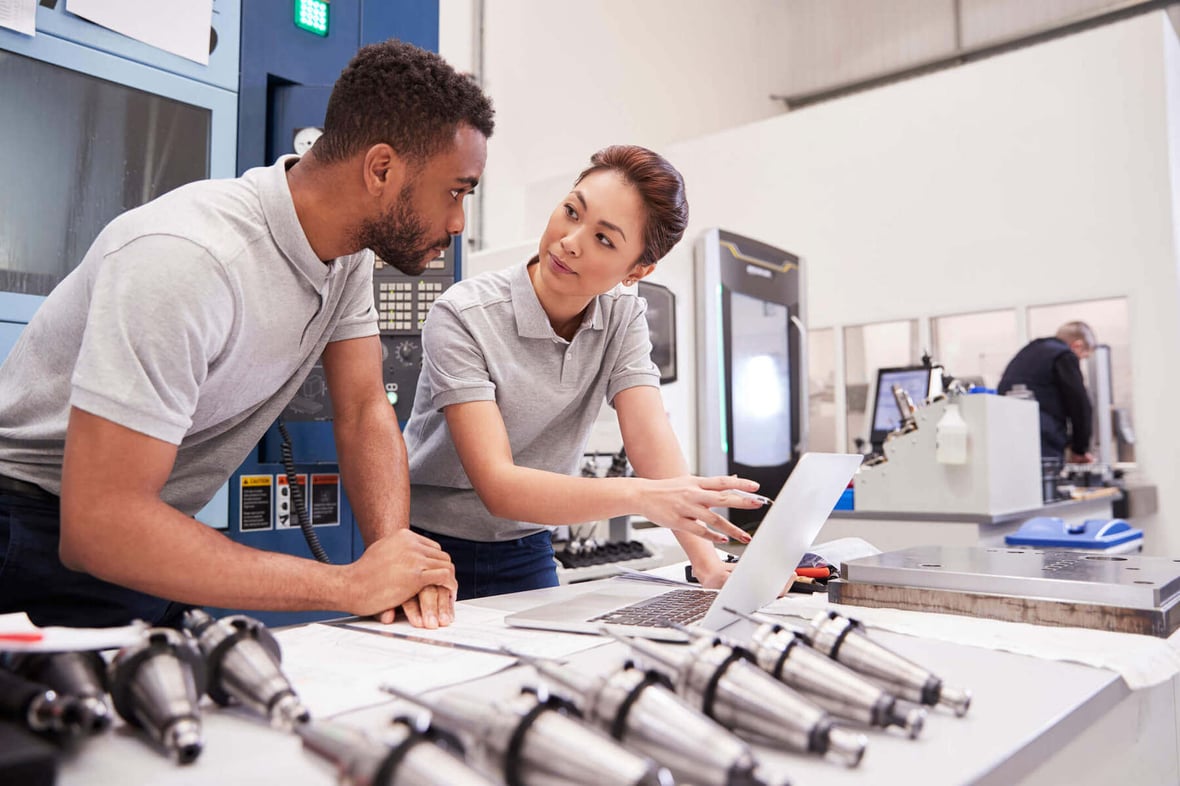 The buying process is changing. Whether you're a B2C or B2B manufacturing organization, people are spending time online trying to vet your credibility and trustworthiness before ever picking up the phone to do business with you. The reality is that 88 percent of consumers begin their purchasing process online. For B2B buyers, a significant portion of their buying activities (27 percent) involve independent online research.
Manufacturing has an old-school reputation that has resulted in a slow adoption of newer technologies, including digital marketing tools. But by 2022, 49 percent of manufacturing buyers expect to make most of their purchases online. The longer that manufacturing companies wait to invest in digital marketing, the further they're left behind by competitors that are attracting potential customers.
There are multiple benefits to using digital marketing to promote your manufacturing business: Return on investment is easier to track with digital campaigns than with traditional ad spend, a captivating online experience differentiates your business from competitors, and effective digital marketing campaigns can boost your lead generation.
Here are some ways that manufacturers can use digital marketing to stand out in a competitive market.


Optimize Your Manufacturing Website to Be SEO-Friendly
Your website is the equivalent of an always-open storefront, where visitors can view your products and learn about your business at any time of the day. Not optimizing your website for search engines is like opening a brick-and-mortar store in an empty town: No one knows it exists, so no one can benefit from your products and services, no matter how good they are.
Making your website SEO-friendly is like giving your store a prime location—on the internet—so you'll want to put your best foot forward.
Here are some tips to help your website's SEO:
Identify keywords that resonate with your ideal customers/buyer personas, and then ensure those keywords are strategically placed in your website copy, including your page titles, your H1 headlines, your meta descriptions, and even your images' alt text.
Ensure your site loads quickly and remove or adjust any components that slow its load time. Site speed is an important factor in page rankings. More importantly, a slow-loading site can negatively impact your conversion rate.
Avoid duplicate content on your pages. It's bad for search engines, but it's also an overall poor user experience to read the same copy on multiple pages. Tailor your content to your audience and provide value with the copy you're presenting on your website.
Create Content for Manufacturing Prospects and Customers
Content creation is a great way for you to position your manufacturing business as a thought leader in your industry. With regular content publishing, your prospective and existing customers can engage with your website on a regular basis and look to your team as thought leaders in the industry.
Here are some tips for creating great manufacturing content:
Content ideas can include creating a blog, publishing online guides, developing infographics, or producing short videos. Find out what topics are important to your buyer personas through your sales and customer service teams, or by talking to your top customers.
Remember those SEO-friendly keywords that I mentioned previously? Be sure to incorporate them into your content.

Engage with Social Media
Social media platforms can be valuable touchpoints for many businesses, including those in manufacturing. An effective social media strategy requires dedication to publishing the right type of content on the right channels. You can also use social media as a way to connect directly with your buyers and answer their questions.
Here are some tips for managing your social media accounts:
If you're going to use social media as a support or customer service option, be sure that you have a dedicated team member (or more) to monitor social media. Customers' expectations for response time are high: A majority of people expect a response on social media within 24 hours. Slow response times or, worse, a lack of a response can turn customers (and anyone who sees your channels) away from your business.
Just like your website needs to be optimized for search, your social posts should be optimized for scrolling. Use appropriate (but not too many!) hashtags related to your business.
Launch Targeted Email Campaigns
Email is still a valuable tool for any digital marketing strategy—you can turn interested email list subscribers into happy customers. And because you can generate up to $38 for every $1 spent on email marketing, you can realize a fantastic ROI. That said, the idea of sending generic, impersonal email blasts won't get your manufacturing company anywhere. You'll need to be thoughtful about the recipients that you're targeting, the subject lines and content that you're writing, and even the time when you're launching your campaigns.
Here are some tips for writing successful email campaigns:
Try to match the email content to your buyer persona. What type of content are your buyers interested in? Product promotions? Tips on product use? Videos? Email personalization isn't just about including the recipient's first name in the body. Incorporate the type of content they want to see, and they'll be more likely to open your emails.
Don't forget to include a call to action or next step that you'd like the recipient to take. Whether that means clicking through to your website, purchasing a product, or subscribing to your blog, you want to make sure you're providing value on the other side of the click.
Explore Paid Search and Paid Social Opportunities
Digital advertising opportunities may also provide value to your company, helping you reach your prospective customers where they already are—on search engines, or on social media. In a competitive industry, you can use paid search ads to leap ahead of your competitors so that your product or company shows up at the top of the search results. Or you can break through the noise on social media to reach customers where they're spending their time.
Here are some tips for jumping into paid search and paid social advertising:
For search ads, more money does not automatically mean more leads or purchases. You'll need to carefully curate the keywords you bid on to target the right audiences. Don't forget negative keywords; they can help exclude you from showing up in searches that don't fit your services.
When it comes to social ads, it's all about knowing your buyer personas. The more detailed you can get in targeting your ads, the better you'll be set to generate successful conversions on your ads. These filters can include demographics, interests, and behaviors of your customers.
Leverage Tools to Streamline Your Digital Marketing for Manufacturers
A strong manufacturing digital marketing strategy is often supported by appropriate marketing technology. You don't need every tool in the world, but you will most likely need a few tools to help you create, launch, and track your campaigns. Evaluate your needs and goals for your campaigns and match them with the tools that work best for your team.
Here are some tips for finding the right marketing tools:
Tools can help you with managing customer relationships and data, automating marketing activities, sending email, posting to social media, and more.
Sometimes, a platform that can combine multiple tools into one may be what you need, whether you need to gather contact information, nurture customers after a purchase, or track your sales pipeline. HubSpot, for example, offers CRM, marketing, sales, and service capabilities. Mailchimp can serve as your CRM tool and email marketing platform. If you have multiple business functions looking to use more digital tools, a multipurpose platform may be best for your organization.
If you're a manufacturing company looking to stand out in your industry, digital marketing may be the ticket to differentiating yourself from your competitors. These tactics can help you reach prospective buyers, make them aware of your services, and convert them into happy customers.

About the author
Heather Quitos was formerly an Inbound Marketing Senior Specialist at SmartBug Media. She is dedicated to crafting persona-driven campaigns with career experience in B2B and software sectors. She has an undergraduate degree in journalism from the University of Wisconsin and received her master's in business administration from Marquette University. In her free time, you can find her trying new recipes in the kitchen. Read more articles by Heather Quitos.
Subscribe to get our new blogs delivered right to your inbox
Other insights you might like