By Dolly Howard
HubSpot has finally gotten around to adding in an extremely valuable tool into their Social Media Publisher. As of Monday, you can now post directly to your LinkedIn Company Page right from the tool. You know what this means, right? No more I-don't-have-time-for-LinkedIn excuses!
How to Find LinkedIn Company Pages in Social Media Publisher
Login to HubSpot
Choose Content from the Navigation
Then click Social Media in the drop down menu
You will find LinkedIn Company Pages under the "Profiles" tab in the publisher. It will automatically show up if the LinkedIn account connected to HubSpot is an admin on your Company Page. If it's not, you won't see it. Make sure to add it if it isn't connected already.
There won't be any differences publishing to a LinkedIN Company Page versus publishing to your other social media account. You'll see the usual click, interaction, and social contact data that you get with your other social channels. It'll also appear in your Reach report.
ANOTHER COOL FEATURE: The HubSpot iOS app has also been updated to support LinkedIn Company page updates.
When you click "Compose" you should see something like this: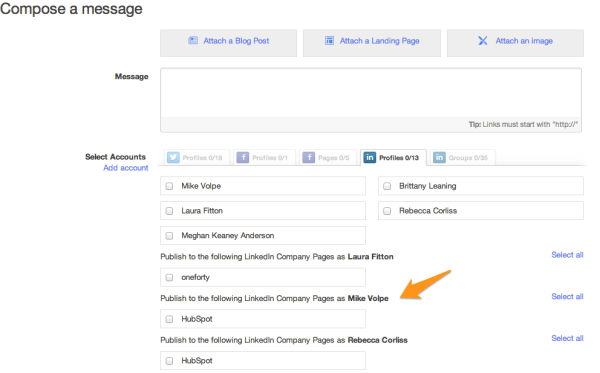 This is a welcome enhancement that will encourage and enable more marketers to see ROI on their efforts on LinkedIn. REMEMBER: Not all content may be suitable for LinkedIn. It is not the same type of social network as Facebook or Twitter so use good judgement when posting to your LinkedIn Company Page.
Not a HubSpot member yet, but wish you had this awesome tool? No worries, request a free demo and try it out!