Throughout my years as a designer, I've worked with countless clients and a variety of brands. Sometimes, these brands have had well-established personalities with properly planned guidelines. Because of these solid sets of guidelines, any type of visual design work was effortlessly implemented into marketing collateral and website designs. Polished visuals are an important factor in conveying the strength, trust, and quality of products and/or solutions. The care and craft these brands put into not just their content, but also their visual identities, set them apart from their competitors.
Putting Your Best Foot Forward: Branding and Marketing
Not all companies put their best visual foot forward. Content is extremely important but so are the visuals. First impressions are imperative to is establishing lasting and trusting relationships with an audience. Failing to put any attention on your company's look and feel can break your marketing efforts.


How Can Your Branding Hurt Your Marketing Efforts
You've put in countless hours, working to understand your audience, build relationships, and create top-notch content—but you could still be misrepresenting the company by using the wrong types of visual elements.
Here are some questions to consider:
Does the imagery resonate with your audience?
How's your website? Is the design something that was popular during the days of Web 2.0?
Do you use outdated stock photos?
Are you using colors that don't fit your industry?
Inconsistency can confuse your visitors, make your company look outdated, or even seem unprofessional. It could also cause confusion and lead visitors to mistake your company for another. You might lose customers due to a lack of trust. A popular competitor with stellar content and a polished look and feel could make a consumer feel more comfortable. Take a look and find out what your competitors are doing correctly. How are they better representing their businesses? Setting yourself apart and being able to think differently gives you an advantage over your competitors.

How to Correct or Prevent Branding Misalignment
Brand guidelines set the precedent for all great future marketing collateral efforts.
Work with a reputable designer or agency that can help you pinpoint your visual brand efforts by understanding your company goals, message, and personality. Some helpful tips include choosing a fresh and unique color palette, using a modern typeface that works well with your logo, and implementing images and graphics that connect to your target audience and represent your products and/or solutions. Once you get these basics down, start creating templates for social media assets, premium content, web elements, and CTAs. HubSpot's brand guidelines and assets are available on display as great use case examples.
Here are some additional examples of how a company can set a standard:


HubSpot's Image Guidelines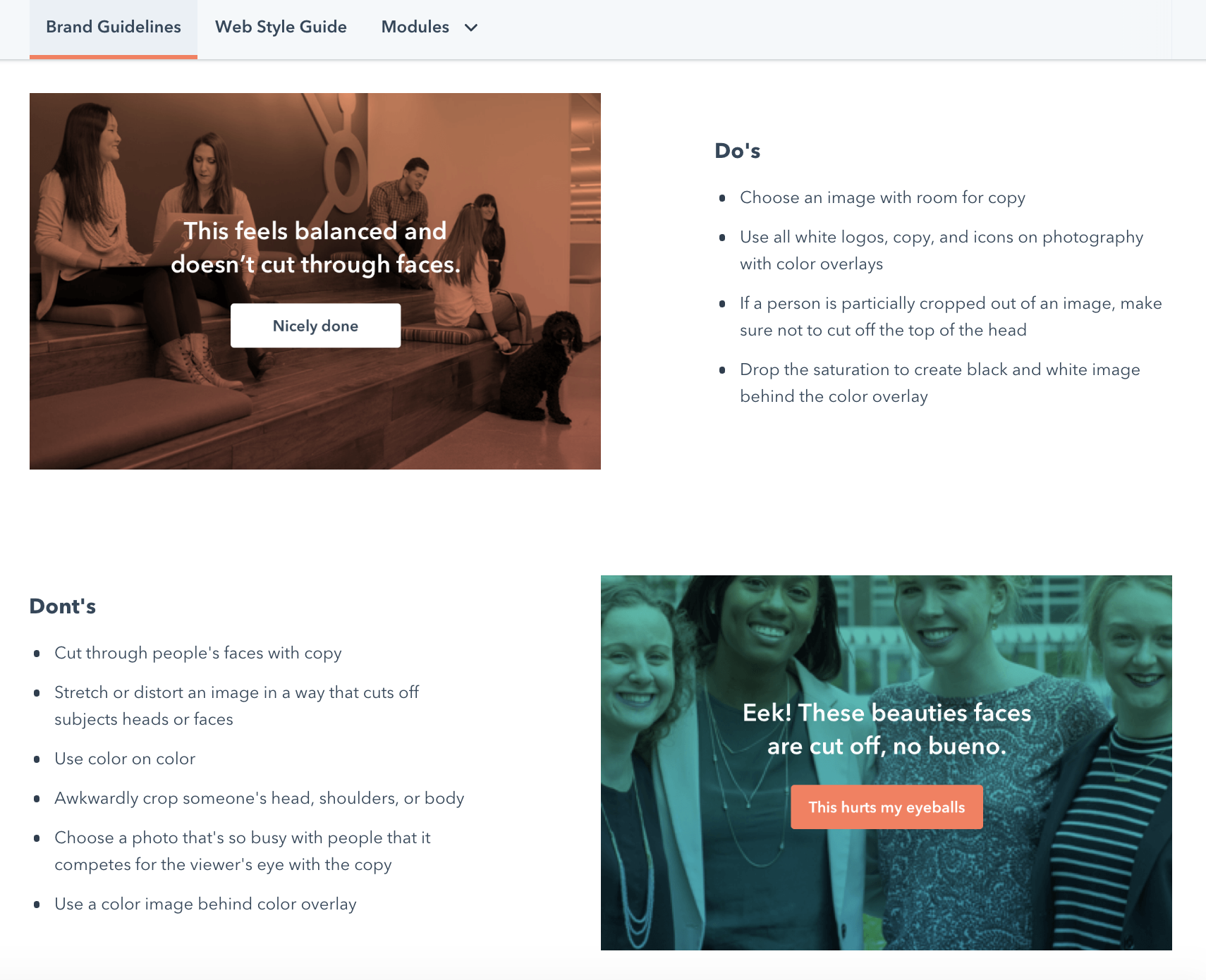 Slack's Logo Guidelines
MailChimp's Color Palette
Help Scout's Typography Guidelines
Consistency is Key
Brand style guidelines are not just for creatives. They unify marketing and digital efforts throughout all facets of the company. They can save countless hours on design work by, for example, making sure that the orange CTA includes the correct font, spacing, and RGB color.
Make sure consistency is used throughout your company's writing style and even in applying trademark symbols to specific logos. Make sure your brand guidelines are unified for everything from social media and the website to ads and emails.