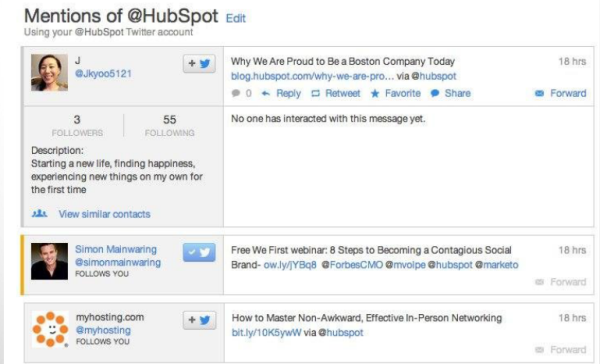 Improve Your Social Media ROI with HubSpot's New Social Inbox
May 16, 2013
---
By Dolly Howard
Social media has gotten a reputation for being a powerful marketing and sales tool. The biggest challenge for any business using social media is finding time to manage and prioritize each of the social channels available to your company. Social media posts are shared nearly every second. How can you possibly monitor it all? How do you know which posts are the most important?
Additionally, most marketers agree that social media marketing is incredibly difficult to accurately meaure the return on investment (ROI) of their social media efforts. Even the best social marketers are laden with disconnected interactions and the inability to show actual results from their many hours of browsing and organizing junk communication. How do you prove what you're doing is working?
Enter HubSpot's Social Inbox
What HubSpot is doing is revolutionary. They've turn social media from the bratty sibling you have to take care of into a contextualized part of your marketing, sales, and customer service strategies. Here are a couple of things you can expect to do with this tool:
HubSpot has turned social media into a powerful and useful contact database with Social Inbox (what marketer doesn't love that?!)
Social Inbox enables you to create highly targeted segments of leads and customers (extremely important!)
You can now send alerts to sales reps when a high-scoring lead mentions a competitor (creating a sense of urgency...we like it!)
You can turn a one-time social interaction with a customer into a series of follow up emails. (Email marketing at its best!)
What features are included in Social Inbox?
Monitor your smart lists. For example, you can get a view of just your qualified leads on twitter.
Get email alerts for when a lead, customer or other targeted contact mentions a certain keyword or a competitor.
"Contact match" search to help you find the twitter handles of more contacts.
Assign or forward a tweet for response. And see a history of responses.
See lifecycle stage and salesforce owner of each social contact, then click through to see the full profile.
Social Media Monitoring and Publishing in the iPhone and Android App
How does Social Inbox improve the ROI of your social media efforts?
HubSpot is always trying to solve for the problem of a marketer. What's awesome about Social Inbox is that you're not only segmenting your prospects, leads, and customers. You're also able to segment for different roles at your company.
For example, your social media marketer needs to find and attract prospects in need of your product or service. Through the Social Inbox monitoring tool this is done seamlessly. You can track and monitor anyone who mentions your company, industry terms, or figure heads. This allows your social media marketer to respond to prospects quickly, thus getting leads to your sales team even faster.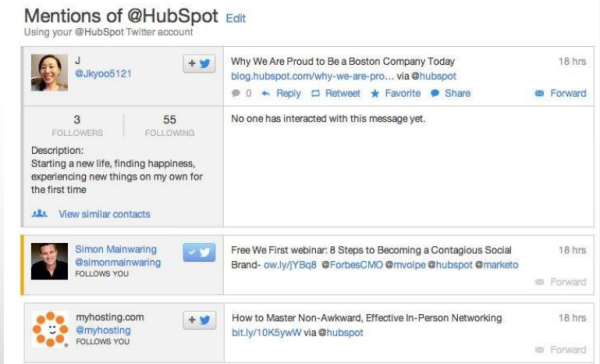 Another team in your company that will appreciate Social Inbox is your sales managers. Sales managers need to address the needs of their most qualified leads. It's tough to do that currently with social media given the challenges mentioned above. However, Social Inbox improves the quality of social leads for sales managers tremendously by tracking leads in a smart list paired with email notifications that are sent when a warm or hot lead mentions the company or product. With this feature, sales managers can follow up on these leads quickly thus making the sale happen sooner.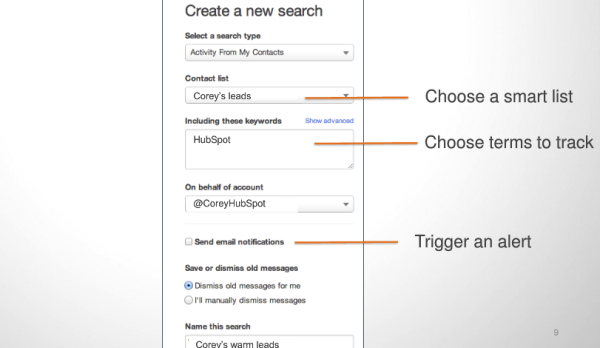 Lastly, we all know that customer service teams benefits from social media. The whole purpose of customer service is to delight customers and help them succeed. It's very difficult to navigate the waters of social media when so many messages are being sent and received. Not only that, it's challenging to solve a customers problem in 140 characters or less. Social Inbox solves this issue by setting up automatic email alerts that can be sent to customers who interact with you about customer service issues on social media. The reaction is immediate thusly making your customer feel valued. Job well done HubSpot!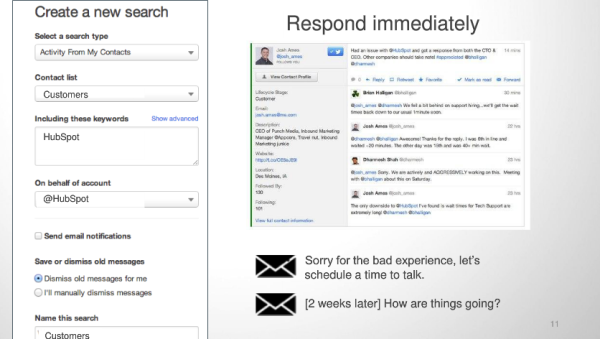 The entire feature set of Social Inbox enables you to measure the true ROI of your social media efforts. From marketing to sales to customer service HubSpot shows you how many leads and customers were generated through social media and who they are. What more could you want in a social media tool?
Not sure if you need HubSpot's Social Inbox? Request a free personalized marketing assessment to help you evaluate the pros and cons.

About the author
Dolly Howard was formerly Director of Marketing for SmartBug Media. Previously she worked as a senior marketing consultant leading SmartBug Media clients in strategy for lead conversion improvement and total marketing ROI. As a past HubSpot employee, Dolly is excited to share her knowledge and help enterprise companies grow their business. Read more articles by Dolly Howard.
Subscribe to get our new blogs delivered right to your inbox
Other insights you might like