By Dolly Howard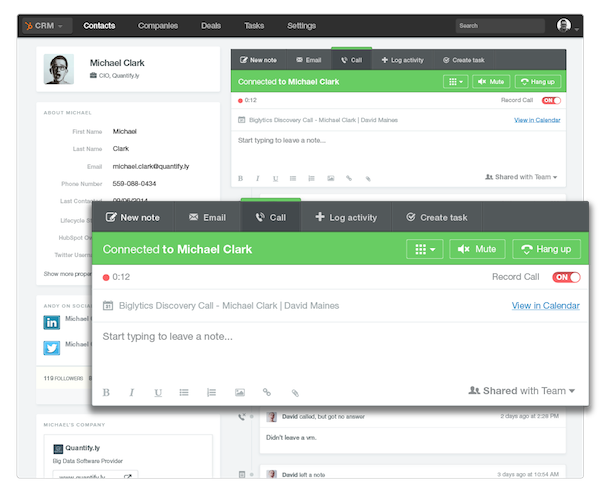 If you've been keeping up with the INBOUND conference happening in Boston right now, then you have probably heard of the latest launch of HubSpot's CRM tool. If you haven't heard of it, get ready. It's awesome!
CRM stands for Customer Relationship Management. HubSpot's new CRM tool allows marketing and sales teams to get organized, and start tracking sales more easily than any other CRM system. In fact, it was built from the ground up to ensure intuitiveness for modern marketers and sales teams. That means no more complicated and manual systems. HubSpot CRM will actually save your sales team time rather than giving them more to do and is built around the way people shop and buy today.
So what features are included in HubSpot CRM?
In order to accomplish this, HubSpot thought through all of the features needed in a CRM tool for small and medium-sized businesses including:
A reliable, easy-to-use database. Collect and store data on contacts, companies, deals and tasks. This features also automatically creates company records and associates corresponding contacts with the appropriate company. It de-duplicates leads and all of the other details that distract sales teams from selling.


Up-to-date timeline feed. Because there are thousands of touch points in today's sales process across dozens of channels, it's important for ever call, email, note, and even website visits to be placed in a single intuitive view. Now your sales team can make calls, send emails, and set reminders to organize their day all in one place.


Email integration. There is no need to manually log your emails with contacts. HubSpot CRM integrates seamlessly with Gmail, Google Apps, Outlook, and Apple Mail logging emails automatically. You can even send emails to contacts' directly in HubSpot CRM. Talk about a time saver!


Google Calendar integration. Need to know what sales call is next on your list? HubSpot CRM solves this by integrating with Google Calendar. You can even create new meetings that automatically sync with your calendar without ever leaving HubSpot CRM.


Data enrichment. You can now see new, useful information about any contact or company when you login to HubSpot CRM. Back ground information, details on key employees, social data, and related companies are some of the many data components you can see in the tool.


Phone integration. For an additional cost, you can make calls with one click in HubSpot CRM. You can log notes and record calls all in one place making it easier than ever for your sales team to remember key facts about prospects and leads.
What feature makes you most excited about the HubSpot CRM tool?