By Andrew Macey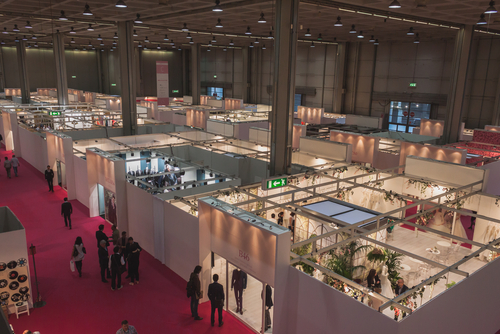 Tradeshows are about momentum. There are many things we can do ahead of time to increase our success overall. Starting the conversation early, either via social or form submissions to connect at the show, is a great way to start off the conference on the right foot. Where many exhibitors begin working the day the show starts, you can be ahead of the game with the campaign already underway. Below are four ways to get ahead of the competition before ever attending the show:
1. Create a landing page before the show
This landing page should include all pertinent exhibitor information such as which booth number you can be found at, when and where your company will be presenting on any topics at the conference, and what to expect from speaking with you, whether they will receive a demo or further information on a particular solution.
Furthermore, a form should be included with the encouragement to request time with you at the show. As we all know, these shows are busy and nailing down appointments are a great way to ensure that conversations are not missed.
2. Place engaging Calls-to-action (CTAs) on your website
Once this landing page is completed, an eye-catching CTA is needed to promote throughout the site. Using a co-branded CTA with both your logo and that of the conference can be a great way to catch a website visitor's eye. On the CTA, be sure to include the dates of the show, where it is being held, and text encouraging further click-through to connect with you there. This CTA should be place on your homepage along with your blog and any other interior pages that are appropriate.
3. Promote your attendance on social media
On your company profile pages, announce your attendance and link to the landing page you created. Additionally, any sales reps or employees that will be attending should also promote this message so they can start conversation with prospects right away. Beyond personal and company pages, utilize LinkedIn Groups based on industry, location and persona. Is there a local group close to the tradeshow that contains professionals most likely to attend? If so, craft a clear message and explain the value of connecting with you at the show. In addition, research any industry or tradeshow hashtags that are to be used before or during the show. Leverage these on twitter to join in the conversation and show your involvement. Finally, connect with and follow the conference on social media as you will see who is most active on their profile pages and be sure to tag the conference in your messaging as well.
4. Send a promotional email
The final aspect of successful pre-tradeshow promotion is email. Have you attended this show in the past? If so, dig up the list of contacts from the previous year as well as any prospects or customers local to the show. You can send emails on behalf of the sales reps to their pipelines encouraging them to connect while attending as well. In this email, communicate where and how to connect with you at the show, topics to be discussed, and encourage recipients to request time to chat by submitting the landing page form.
What other ways are you connecting with your audience before a show?