How to Find Long Tail Keywords and Questions Your Audience is Asking
September 22, 2016
---
By Hansen Hunt

If your audience is asking a question but you know the answer, don't you think you should help them out? If you do, search engines will reward you for it. If you don't, your competitors will beat you to it.
When you brainstorm blog topics, where do you start? Do you try to come up with a hundred brilliant ideas all on your own? Or do you find out from your customers what they are interested in learning? You may have great ideas, but finding out what questions are being asked directly from prospects, customers, or others online will help ensure you are writing blogs that actually help answer real questions your audience is asking.
Let's start off with why you should be considering the "questions" and not just the primary keyword.
What you can learn about people from their questions:

Pain points

:

Your primary keyword may be "bake a cake," but your audience is asking questions like "Why did my cake sink in the middle?" These types of questions will show you specific pain points they are having: a perfect opportunity for you to help them out with a quick blog about the reasons behind sunken cake centers.


Objectives

:

A search for "How do I bake a cake from scratch?" shows exactly what the person is trying to accomplish. If you're a cake master, I bet you can write a blog about this topic with little effort.


Intent

:

Although intent can be similar to pain points and objectives, sometimes you have to use your instinct (and see what others write) to determine what the user really is searching for with a keyword. If someone were to search for "cake from scratch," do you think their intent is "How do I bake a homemade cake from scratch?" or "What are recipes for baking cakes from scratch?" Understanding the intent will give you insight into exactly what your blog content should be about. Keep your blog focused on one intent, and both search engines and the visitors will thank you.


Persona

:

By reading further into a question, you may be able to identify a specific persona. The person searching "How long does it take to bake a cake?" is likely a novice needing advice on getting started with his or her first cake experience. But people seeking guidance on baking a cake from scratch likely have more cakes under their belt and want to up their game. Two different personas, both looking to bake a cake but with different needs.


Stage in their Buyer's Journey

:

If you are selling something, then your customers have a Buyer's Journey they are going through. Their questions might help you figure out where they are in that journey, which will help you come up with the perfect content topics. Someone searching "How do I bake the perfect cake?" is at the awareness stage, still figuring out what is needed to create a masterpiece. Alternately, someone searching "Where can I buy baking supplies?" is in the decision stage, as this person knows how to make a perfect cake but needs the right baking supplies and is trying to figure out where to buy them.
---
---
Here are four steps to find long tail keywords and the questions your audience is asking:
Step 1: Conduct persona and customer interviews.

Step 2: Scan your team's email history and FAQ.

Step 3: Use keyword tools such as Moz Keyword Explorer, Quora, and AnswerThePublic to identify new questions.

Step 4: Find what people are searching for (or asking) by looking at the Google search autofill, Google Webmasters, and even comments on popular online articles.
Steps 1-2: Source topics based on questions your prospects or customers have already asked.
Persona/customer interviews: You can quickly come up with the next few months worth of topics from one customer interview. Ask a lot of "why" questions to get to the root of customer pain points and objectives.


Your team's email history:

Ask everyone on your team to scan through their email histories and find any questions that they responded to. Sometimes you may even find the blog you need was already written in an email response.




Company FAQ:

If you've been recording questions in an FAQ webpage or knowledge base, start by expanding on the more complicated or frequently asked questions.
Step 3: Use tools to find all the questions your audience is asking.
Moz Keyword Explorer:

This gold mine of data might be all you need to get started. If it's not in your budget, sign up for the 30-day trial and get the most out of it.





Step 1:

Type your search term into the Keyword Explorer.




Step 2:

View "Keyword Suggestions."




Step 3:

In the "Display keyword suggestions that" box, select "are questions" to limit the results to just keywords that are questions.




Step 4:

Export all that gold and start sorting by relevance, your own priority, volume, and ensuring that they are questions that fit your target audience.




Step 5:

Rinse and repeat.



Quora

:

This site is a giant database of questions and answers on almost every single topic known to man. A little digging can turn up dozens of blog topic ideas in just a few minutes. Here is how you do it:





Step 1

: Type your top level term (e.g., "cake") into the search bar.




Step 2

: Select a relevant topic from the list or the bottom choice that says "search: cake."




Step 3

: Scroll down to see all the questions and answers about your topic.




Step 4

: For questions that still need good answers, write a response on Quora. For questions with a lot of answers or one answer with a lot of upvotes, consider using this topic because it's a common question among your audience.



AnswerThePublic:

This is one of the most fun tools to use. You simply input a term and out pops an insane amount of questions related to it. The tool doesn't include any search traffic data, but you can find the most relevant questions from this tool, then plop them into your Moz Keyword Explorer for a better analysis of which questions to answer first.





Step 1:

Enter a broad search term such as "cake" to get started, but go back in and try entering broad questions like "how to bake a cake" to find even more questions.




Step 2:

Wait for the results to load; it takes a second.




Step 3:

Click "Export to CSV" in the upper right corner.




Step 4:

Sort alphabetically and start pulling out the most relevant questions you want to write about. Then add that list into the Moz Keyword Explorer to find out which questions are searched the most.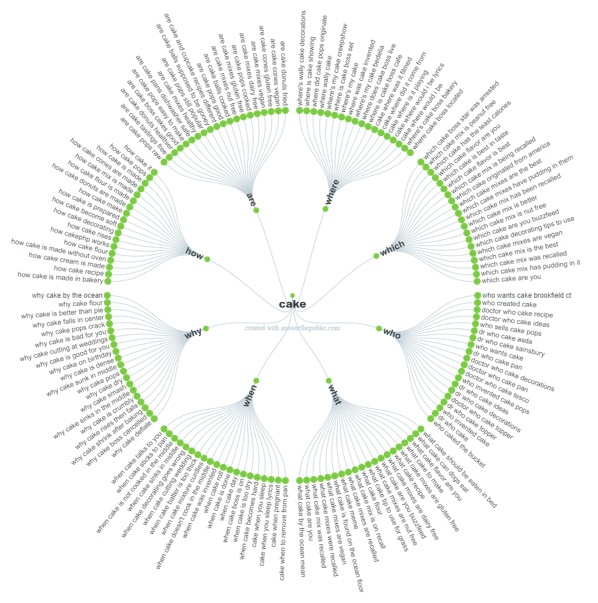 Step 4: Find what people are searching for (or asking) by looking at the Google search autofill, Google Webmasters, and even comments on popular online articles.
Google search autofill:

If you haven't found hundreds of ideas yet, go to the source. Type in several of your questions into Google, and Google will show you some ideas of what other people are searching similar to your phrase.





Step 1:

Start typing into Google and jot down all the search ideas the autofill comes up with.





Step 2:

Notice the Featured Snippet answer displayed. If you don't rank #1 for that phrase, your goal should be to write some blogs that answer questions in a way that Google can understand easily and display as an instant answer.




Step 3: Hit enter on your search and scroll to the bottom of the page to find more commonly searched phrases.



Google Webmasters:

An often overlooked source of long tail keywords and questions is Google Webmasters. Once you've added your property (your website), the Search Analytics tool will show you what keywords are actually sending visitors to your website.





Step 1:

Navigate to the Search Analytics tool, and check the boxes for clicks, impressions, CTR, and position.




Step 2:

Select the longest possible date range.




Step 3:

Scroll to the bottom left of the page and click "Download."




Step 4:

Sort and find the questions (look for key terms: how, who, what, where, when, why, which, and are) to find all the questions people have been asking that lead to your site.





Comments on popular LinkedIn Pulse articles:

This is a tip that works well for industries and topics that are business-to-business. Many thought leaders publish articles on their LinkedIn Pulse profile, and then many others leave comments on those posts with their opinions, ideas, and often questions. These questions are a gold mine if you can find them.





Step 1:

Navigate to a profile of someone with experience in the industry.




Step 2:

Scroll down and click on a "skill" that is related to the content you are seeking.




Step 3:

On that skill profile, scroll down to see popular presentations and articles related to the skill.




Step 4:

Click on those articles and scroll down to the comments.




Step 5:

Pick out people's questions or arguments that can be turned into questions, and write blogs for those topics.
If you walk through every step in this blog alone, you should have enough blog and long-form content topics ready for the next year. If you struggle to find topics after following these ideas, you likely don't know your industry well enough or should hire someone to create content for you.
FYI, I used these tactics to come up with the title of this blog. Hopefully it helps answer the question.

About the author
Hansen Hunt was formerly a Senior Consultant at SmartBug Media. He has been a believer and practitioner of inbound marketing for 11+ years. He geeks out on craft beer, has an insatiable travel bug, and is passionate about helping people and companies pursue their purpose. His success across a broad range of industries and eagerness to solve the most challenging problems equips him to develop creative strategies and drive growth for clients. Read more articles by Hansen Hunt.
Subscribe to get our new blogs delivered right to your inbox
Other insights you might like