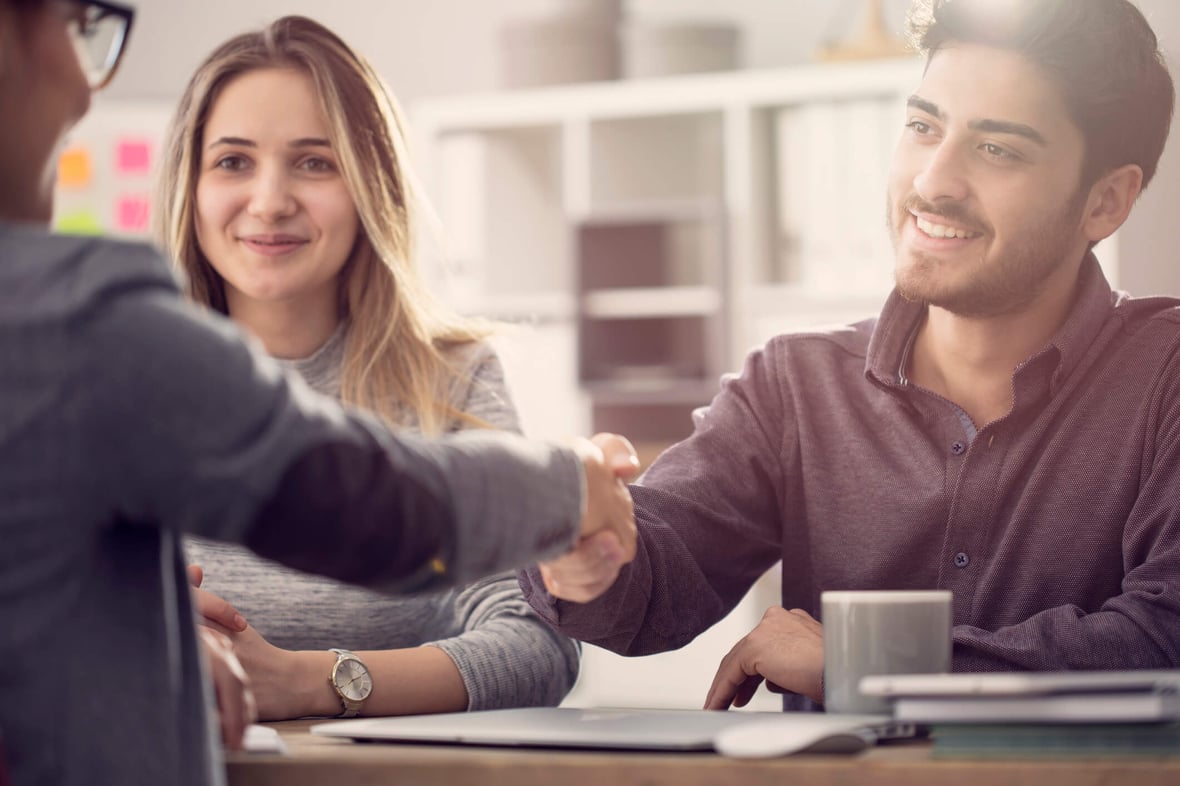 8 Ways to Gain New Members When You're Competing with Big Banks
August 23, 2019
---
By Jen Spencer
Whether you're a privately owned credit union or small town bank, competing with big banks can be a daunting task. Although big banks often have much larger marketing budgets, you likely have an edge on them for more reasons than one.
Here are eight ways you can gain new members while competing with big banks.
1. Leverage your competitive advantage, trust
It's no secret that big banks have been apologizing for very public mishaps. From full blown scandals to large service outages, banks are doubling down on efforts to improve their services. These types of incidents lead customers to lose trust in their banking providers. As a smaller bank or credit union, you can capitalize on and leverage what you do best: serving your customer. Customer service is crucial for building trust with your current and future members.


2. Be the expert
Inbound marketing is a great way to show your thought leadership and level of service to potential members. Inbound marketing is all about adding value at each stage of the Buyer's Journey. As a potential member searches for a solution, you can provide helpful resources along the way. Some examples for each stage of the Buyer's Journey include:
Awareness: The Ultimate Guide for Budgeting
Consideration: Infographic: The Difference Between Banks and Credit Unions
Decision: Account Comparison Chart (It's time to mention your brand at this stage!)
With inbound marketing, you're meeting the potential member where they are in their process and providing useful, relevant information. Being a valuable resource means you're helping build buyer trust in your brand and guiding your company toward becoming a thought leader in your space.
Check out some more ideas in "8 Inbound Marketing Strategies Every Credit Union or Bank Should Test at Least Once."

3. Think local and invest some time in SEO
Your website is a key player in helping you gain new members, but, you've got to do some legwork to increase the likelihood that potential members can find you online. A good first step is establishing your target keywords. Keyword research will help you identify keywords and phrases potential members are searching for as they look for a new solution. Use your target keywords for on-page content, including:
H1 title tags
Meta descriptions
Page title
Inbound content (e.g., blog articles, e-books, and so on)
If you've got multiple branch locations, take the extra step and do localization. Moz has an in-depth local SEO checklist to guide you through the process.


4. Get involved in community outreach
One of the big competitive advantages credit unions have over big banks is their sense of community. Get involved in the areas you serve. It'll help get your name out there, and build that trust we just mentioned. Whether it's a community-sponsored event where you make an appearance or a day dedicated to volunteer work, community members are sure to notice. The next time they open an account, your name might ring a bell.


5. Empower your employees
Once you've ramped up inbound marketing, you'll have some great resources at your fingertips. Leverage all of that hard work by empowering your employees to help spread the word about your company. They can share a helpful blog article or piece of premium content on their social media channels. Employees that feel the most connected to your customers can be great brand advocates and help highlight the personalized level of service your branch offers.


6. Personalize your communications
Another advantage credit unions have over big banks is more personalized customer service. When was the last time you called your bank and a real, local person picked up? When members call a credit union, the experience is so much better. We're not saying you should pick up the phone and start recruiting members, but be sure to highlight quality customer service as an offering. If you speak to someone interested in joining, follow up with an email offering helpful resources and advice. Be sure to include a call to action (CTA) that encourages signing up for a membership online to make it a quick and easy process.


7. Ask for feedback
Your current members are your greatest asset. Wondering why they joined your credit union? What they like? What they wish was different? Ask them! Surveys are a great way to gauge member feedback. Create a list of questions and send it out to your members. Use their advice to improve their banking experience—and to create new content for potential members.


8. Offer benefits for new members
Keep in mind, not everyone is looking to open their first bank account. There are many people looking to switch financial institutions because of higher dividends, lower interest rates, and other benefits. If you have special offerings available to new members only, be sure to promote that on your website and in your marketing materials.

About the author
Jen Spencer oversees all operations, executing on SmartBug's growth and market expansion strategy, which is focused on delivering superior, cutting-edge service to the company's customers and partners while continuing to invest in the people and culture that make SmartBug® a great place for employees to work and develop their careers. Read more articles by Jen Spencer.
Subscribe to get our new blogs delivered right to your inbox
Other insights you might like