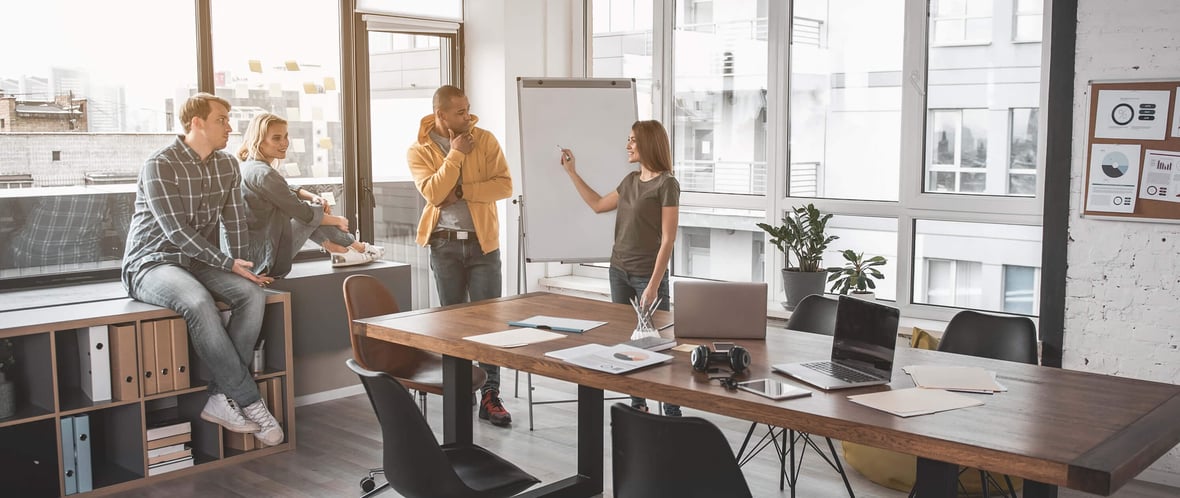 Great Elevator Pitches from SaaS Companies
February 7, 2019
---
Pitch, pitch, pitch … all you do is pitch! Okay, joking aside, when it comes to a remarkable elevator pitch, practice makes perfect and there are some extraordinary SaaS companies that understand what a successful pitch is all about. But let's start at the beginning and go over what an elevator pitch is and why you need one.
According to HubSpot, an elevator pitch is a "30-second memorable description of what you do and/or what you sell. The goal is to earn a second conversation, not to convince the person you're talking to that they should hire you or buy your solution." So with all that being said, it's pretty damn crucial that you not only have your elevator pitch down, but that you also understand the main objective of using it. A pitch isn't a way to sell your products or services—it's a way to easily explain what you do or what your organization does to someone that doesn't know, which then allows the doors to open for further discussions.
You can Google "how to craft an elevator pitch" and get about three million links for different ways to craft an exceptional pitch and also discover that there are different types of pitches, but I want to share the steps that I've found to be super effective:
Introduce yourself and what your position is at the company.
Explain what your company's goals and mission are.
Share what value your company provides to its customers/clients.
Spark excitement with an interesting fact or story that relates to the business and customer.
Consistently edit and rework your elevator pitch until it feels natural and the person listening actually appears interested in learning more.
During my research, I was surprised by how many times the advice of "continue to edit and revise" came up, but it makes sense because finding the right way to explain confusing job roles or complex services and products is like an art form and takes practice. So keep the pitches coming until you can rock it like these SaaS companies:
Slack: "We help businesses and organizations communicate with a simple chat interface."
They are using the short and sweet method of elevator pitching which can be effective and memorable.
Shopify: "We offer a platform that enables both the early entrepreneur and the large enterprise to build and run their own stores.
"Unlike most marketplaces where you can sell your products, Shopify lets you build and brand your own online store with the tools to sell across a variety of channels, manage inventory, start small and scale fast.
"Today, over 500,000 entrepreneurs use Shopify to power their businesses."
In this example, Shopify is using a pitching method known as the all-purpose pitch, which is great for conveying information about your company, your target, and your competition.
SurveyMonkey: "SurveyMonkey is an online survey development cloud-based software as a service company, founded in 1999 by Ryan Finley. The company provides free, customizable surveys, as well as a suite of paid back-end programs that include data analysis, sample selection, bias elimination, and data representation tools."
SurveyMonkey has adopted a method of pitching that also includes historical data. According to Quantified Communications, "using a story in your pitch can make it 22 times for memorable."
Industries like SaaS tend to make their elevator pitches complicated or hard to understand, and for this reason, more involved products or services will need a simple pitch. A simple-to-digest pitch will tell someone why they would want to work for you, why they should spend their money with you, or why they should be an investor of yours—all in under 30 seconds.
Smart startup SaaS companies are also exploring more in the world of digital pitching. In one of Vidyard's blog posts, "Video Pitching: Making Media Relations Human Again," the author explains why video pitching is so successful: "By nature, video is attention-grabbing and personal. In fact, when I first gave video pitching a trial run, my pitches received nearly 50 percent higher engagement than my text-based attempts." There are also sites like Product Hunt and AngelList which allow you to post your digital pitches so that investors, partners, and future customers can see and hear what your startup SaaS is all about.
The biggest takeaway is that a truly remarkable elevator pitch has to be able to back up what it's stating with data and case studies. It's not enough to memorize a paragraph of pitching copy and robotically spit it back out. You have to make people understand what you do, how you do it, who you do it for, and then back it up with the numbers.

About the author
Shannon Delmarle was formerly an Inbound Marketing Strategist for SmartBug Media. She has been a HubSpot power-user since 2011 and believes in the right mix of pairing inbound marketing with traditional marketing strategies. Her experience in lead generation, lead nurturing and content marketing have helped many clients across a variety of industries. Read more articles by Shannon Delmarle.
Subscribe to get our new blogs delivered right to your inbox
Other insights you might like