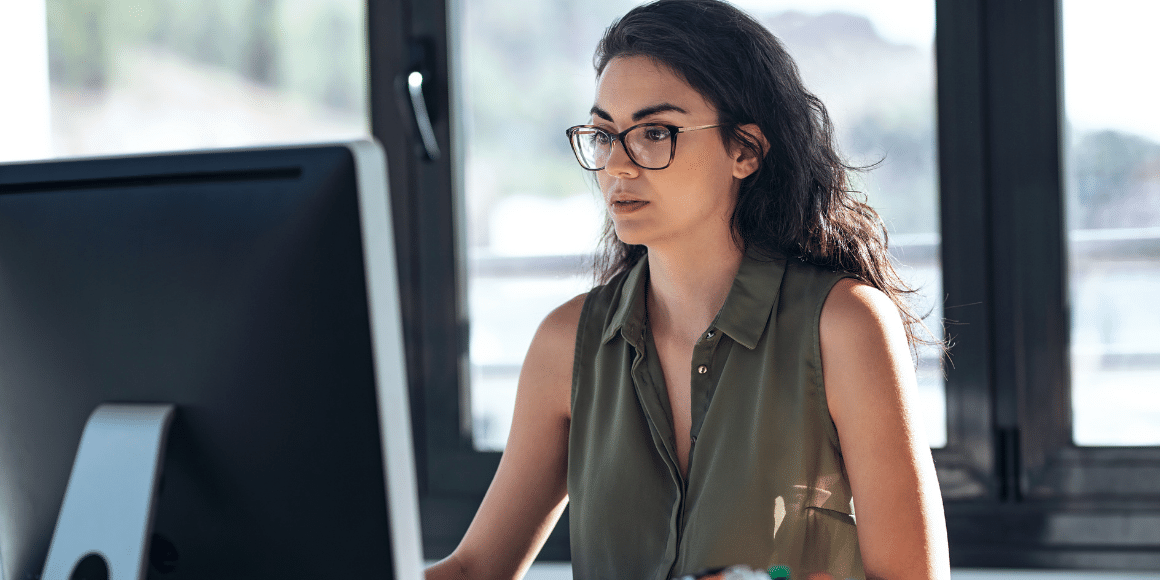 A Step-by-Step Guide to Building a Conversion Path
March 24, 2022
---
By Patti Myers
As marketers, much of what we do revolves around the buyer's journey, particularly attracting and converting customers. With so much of the work we do focused on the early stages of the buyer's journey, it's critical to not simply create content and calls to action hoping that our customers will find their way through our journey. We need to guide them.
More specifically, we want to put our customers on the path to conversion—outlining and mapping each stage of their journey so we can anticipate their needs and deliver the most helpful content at the right time.
So what is a conversion path, and why is it so important in this process?


What Is a Conversion Path and Why Is It Important?
A conversion path is the strategically outlined journey that inbound marketers create to attract visitors to a website and convert them into a lead. Typically, this is a transactional path, but rather than a sale, you are seeking to entice visitors to exchange their contact information and consent to communications for something valuable you are offering.
This can be a content offer like a guide, e-book, checklist, webinar recording, interactive quiz, or something else entirely. A good content offer is anything that your prospect will find valuable.
Examples of Conversion Paths
Below is an example of a typical conversion path:
The user asks Google a question.
The user finds the answer to their question via your website's blog.
The blog article they entered on has a relevant call to action to an offer that solves or informs about their pain point or problem.
The visitor clicks the call to action and is redirected to your landing page, which contains information about your offer.
The visitor converts!
The now-lead is redirected to a thank-you page with a secondary offer to nurture them through the next stage in their journey.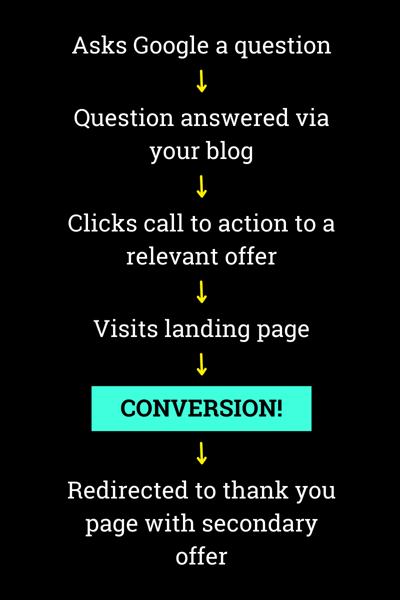 Voilà! Although this is only one example of a potential conversion path, keep in mind that it's not the only path. At the end of the day, a conversion path is simply a term for the path of least resistance that you pave for your buyers and prospects to reduce friction and nurture them through your buyer's journey.


5 Simple Steps to Building a Conversion Path
1. Define your strategy and goals.
The best way to determine what your conversion path will look like is to understand your goals so you can ensure your strategy will drive those goals forward. Important questions to consider and answer during this stage include:
What is the customer or prospect pain point we are solving?
What is the offer? Why will visitors be compelled to exchange their information for what you are offering?
At what stage of the buyer's journey is this conversion path taking place? Is this an awareness, consideration, or decision stage conversion path?
What are the elements of the conversion path? What does the conversion path look like?
2. Attract visitors.
Even the most perfectly mapped conversion paths and the most tempting content offers won't be successful if no one knows that they exist. Attracting visitors to your content offer is paramount to the success of your conversion path.
Common tactics for attracting visitors include:
Creating SEO-optimized blog content that relates to your content offers to drive traffic from search engines. It is important that these blog articles contain calls to action (we recommend a minimum of two conversion points per article) that will direct users to your landing page.
Utilizing paid media to drive traffic directly to your landing pages.
Crafting promotional emails announcing your new offer and directing traffic from your email database to the new landing page.
Using social media (and strategic hashtags) to promote awareness of your new offer.
3. Convert visitors via landing pages.
Once you have begun attraction tactics and your landing page is officially seeing visitors, ensure that your landing page is optimized for conversion with the following considerations:
Landing pages should be distraction free, for instance, many landing pages do not have a header or footer. This keeps the user focused on the action you want them to take.
A compelling headline and concise copy is a must. Convey the value of your offer as quickly as possible to prevent them from deciding it is not worth their contact information and leaving the page.
Build a form that converts! Be mindful of the number of fields in your form because the more fields you add, the more likely the visitor is to abandon the form. Typically, the amount of information you request from the visitor depends on the stage of the buyer's journey the content is intended for. For awareness level pieces, keep information requests to a minimum. For more decision-related content, like a demo request, more fields and information are expected.
4. Craft the perfect thank-you pages.
Your visitor converted, but it's not time to celebrate yet. After the visitor submits the form the next steps in your conversion path are just as crucial in continuing to nurture this lead.
Thank-you pages are a great opportunity to not only thank the new lead for their engagement, but also to provide them with a convenient opportunity to download their new piece of content straight away and to provide additional information with a secondary offer. A secondary offer is an offer such as a case study, demo request, consultation, or other type of offer that is typically further down the marketing funnel.
5. Follow up and nurture.
After your customer downloads your content and leaves your thank-you page, the work of a conversion path is still not done! A best practice to consider when building your conversion path is to include a follow-up email.
This email can be triggered by a workflow to send out to contacts who have recently downloaded a particular offer, and it often includes a message thanking them as well as another link to directly download the content offer so they can go back and reference it in their email later. It is also another opportunity to share more resources, whether that be a secondary content offer or links to blog articles that relate to the particular offer that they might find interesting.
Depending on the complexity of your conversion path, you may also consider adding on a lead nurturing workflow after the follow-up email has been sent. Lead nurtures are longer-term email sequences that nurture your leads to the next stage in the buyer's journey.


Interested in Learning More About Landing Pages?
Landing pages are key components of any conversion path, which is why it's so critical to get them right. In fact, HubSpot's own research found that websites that use landing pages generate significantly more leads in addition to promoting your brand, maximizing your content, and helping drive the buyer's journey.
Whether you're creating your first conversion path or simply looking to brush up on the latest best practices, consider checking out SmartBug Media®'s Complete Guide to Landing Pages.

About the author
Patti Myers Patti is a Marketing Strategist based in Florida. She's passionate about solving problems and reducing friction. Holding a degree in psychology, she also enjoys paying homage to the human aspects of marketing to create effective campaigns. Outside of work, Patti enjoys spending time outdoors, reading, and dancing classical ballet. Read more articles by Patti Myers.
Subscribe to get our new blogs delivered right to your inbox
Other insights you might like