SmartBug Media® Acquires Globalia, Inc., Solidifying Its Position as the World's Largest, Deepest and Most Decorated HubSpot Partner With Solutions for the Entire Customer Lifecycle. Read the Press Release!
Skip to content
Solutions

At SmartBug Media®, we do it all. We're with you at every stage of the customer lifecycle.

See All Solutions

About

Work

Client Success

Recent Case Studies

Technology

Ashling Partners

How We Used a Digital Overlay at an In-Person Event to Increase MQLs

Read the Case Study

Partners

Join forces with HubSpot's highest-rated partner agency to maximize your investment.

Level up your email and SMS strategy with our Elite Master Klaviyo experts.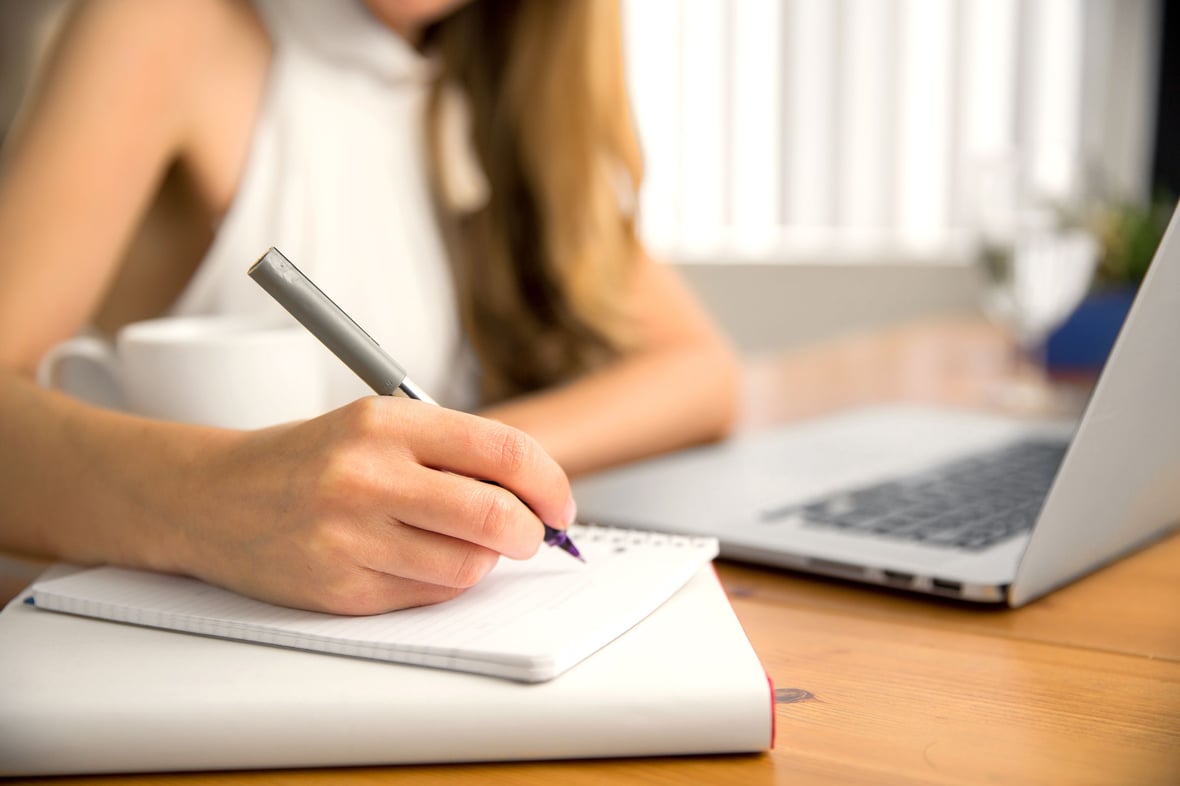 How to Generate Leads Using Authoritative Content
July 17, 2020
---
Guest author Kayleigh Alexandra is a writer at MicroStartups
Generating leads is one of the hardest but most important tasks in business—it attracts interest, builds relationships, and helps you increase your revenue.
Using authoritative content can help you generate leads, and there are some great content strategies that you can use to boost your chances of getting the leads you want.
From using data from an authoritative source to writing informational content in an authoritative way, this is how your business can generate more leads.

Use Authoritative White Papers to Build Your Email List
Using white papers to generate leads is a tried-and-tested tactic that people have been using for years. And there's a good reason that businesses continue to lean on them: they work, as long as you use them the right way.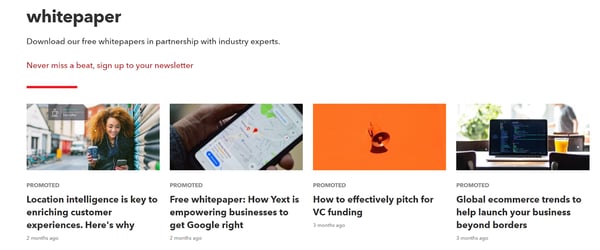 Credit: The Drum
The Drum, an award-winning media platform, devotes an entire section of its website to white papers. These cover a wide range of industry topics, each of which offers genuine value to the site's target audience. The Drum highlights the authority of its white papers by stating that they've been created in partnership with industry leaders.
But having good quality, authoritative content isn't enough. The Drum excels because it offers these white papers on the condition that people sign up to its email marketing list. And it's straightforward about its intention, stating that signing up will "allow marketers to finally deliver truly contextual campaigns to audiences."
The Drum also asks for the right information from its audience to do this, including job role, industry, and region. All of this means that The Drum generates leads that enable it to build out precise email marketing campaigns, so it can target the right people, in the right places, and at the right time.
Lean on the Authority of an Expert to Generate Honest Leads
I'm sure you have no reservations about the quality of the content you create, but it's totally natural to fear that you can't deliver the authority your audience demands. If this sounds familiar, lean on the authority of an expert and let them (quite literally) do the talking.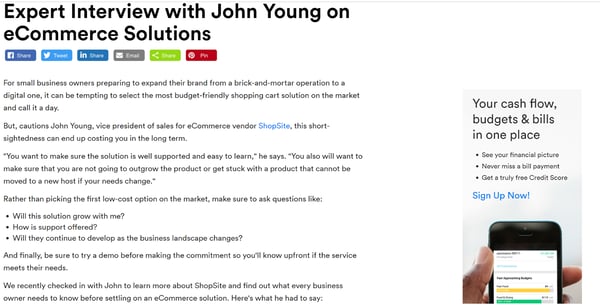 Credit: Mint

There are loads of great examples of businesses using interviews with industry experts to generate leads. However, I like the article above from Mint, because it clearly demonstrates how to use this type of content to generate leads.
To the right of the article is a CTA that reads, "Your cash flow, budgets & bills in one place." Click on that and it will take you straight to an account setup page for Intuit, where you can learn more about Mint and be convinced to invest in its products.
This is the approach you need to adopt: Harness the authority of an industry expert, then include CTAs in or near the content. All you need to decide is what the CTAs are pointing to, whether your email marketing list, a product trial, or something else.

Write Valuable Content that Answers Questions with Authority
One of the types of content that will always generate leads is informational blog posts that authoritatively answer evergreen questions. This is a tactic employed by sites, brands, and agencies of all sizes. Take the following example from little-known e-commerce brand StarTech.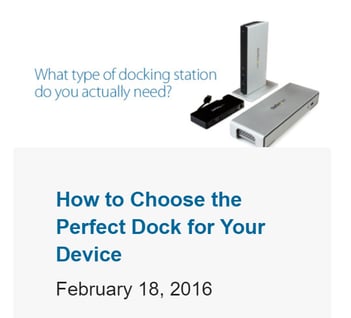 Credit: StarTech

On first glance, this is a fairly banal piece that offers help on how to choose a dock for your device. However, closer inspection reveals this to be an evergreen topic that offers informational support to a broad selection of people, allowing the site to generate leads from a number of different sources.
Think about this in terms of COVID-19: The world is working from home. To do so effectively, we need to have the right home office, including a docking station that enables you to optimize the equipment you have.
StarTech answers a big question for its target audience: how to work remotely. It boosts its chances of generating leads by going more granular and looking at a specific aspect of working from home. It uses solid informational content that answers questions people asked in 2016, are asking now, and will continue to ask post-COVID-19.

Create a Video that Gives Your Brand Serious Authority
Authority is about being taken seriously, adopting a formal tone, and addressing your audience on a B2B or B2C basis. At least, that's often the way to do things, but sometimes you can generate leads by doing the opposite—just like e-commerce brand Dollar Shave Club did.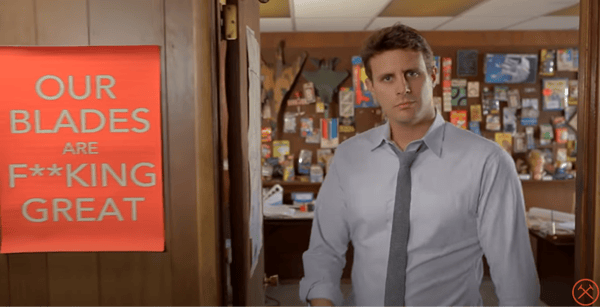 Credit: YouTube

Dollar Shave Club's Our Blades Are F***ing Great video was released in 2012. However, it remains the gold standard of how to go viral by disrupting the way you create authoritative content.
In the video, the company founder, Mike Dubin, addresses all the formal pain points for his customers—cost, quality, identity. He gives people the stuffy information but in a (quite literally) shirt-untucked fashion by cutting through the BS and telling it like it is: "Are the blades any good? No. Our blades are f***ing great."
The video has over 26,800,000 views and generated so many leads that Dollar Shave Club's server crashed an hour after it was released. And although I won't say you'll get this level of success by adopting the same strategy, taking inspiration from Dollar Shave Club will help you forge a stronger connection with your target audience, one that could see them sharing your content and generating leads for you.
I've given you four great ways to generate leads, each of which you can put into practice and use to get more people to visit your site and buy your products.
So create your authoritative content now and start generating more leads.

About the author
Kayleigh Alexandra is a writer for Writer Zone and for MicroStartups, a site dedicated to helping startups and small businesses find success. She loves spreading the good word about hard-working entrepreneurs from around the world. Read more articles by Kayleigh Alexandra.
Subscribe to get our new blogs delivered right to your inbox
Other insights you might like