SmartBug Media® Acquires Globalia, Inc., Solidifying Its Position as the World's Largest, Deepest and Most Decorated HubSpot Partner With Solutions for the Entire Customer Lifecycle. Read the Press Release!
Skip to content
Solutions

At SmartBug Media®, we do it all. We're with you at every stage of the customer lifecycle.

See All Solutions

About

Work

Client Success

Recent Case Studies

Technology

Ashling Partners

How We Used a Digital Overlay at an In-Person Event to Increase MQLs

Read the Case Study

Partners

Join forces with HubSpot's highest-rated partner agency to maximize your investment.

Level up your email and SMS strategy with our Elite Master Klaviyo experts.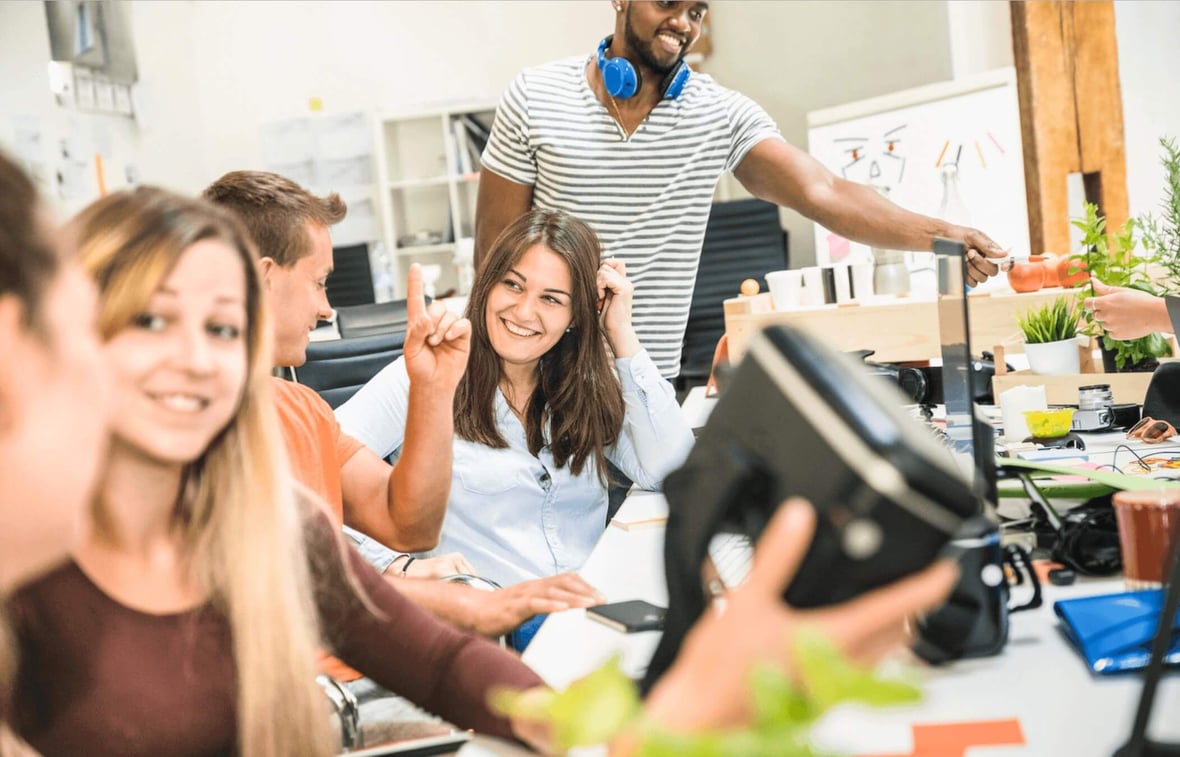 7 Personalities You Need on Your Team for Awesome Content Creation
April 25, 2019
---
By Sarah Mead
Where do the most creative, innovative ideas come from? Here's one theory, summed up:
"We take ideas from people, from people we've learned from, from people we run into in the coffee shop, and we stitch them together into new forms, and we create something new. That's really where innovation happens."
– Steven Johnson in his TedTalk, "Where Good Ideas Come From"
Johnson's talk essentially debunks the notion that an idea is singular, saying instead that it's ultimately collaboration in any form that drives innovation. Having many brains and eyes on a common asset can spark a movement—and this applies to content marketing. Combine different perspectives in the creative process, and your content is bound to evolve into a more thoughtful and helpful end-product than ever expected.


Collaborative Content Creation in Practice
At SmartBug, we've built an intentional process upon the idea that collaboration is key and additional touch points help us build a stronger product. Let's say we create an e-book. This e-book will be shared with strategists, consultants, writers, and designers. You may even have sales, SEO specialists, social media experts, and web developers involved. That's a big network looking at a single piece through multiple lenses.
Collaboration and creativity will open the door for you to ideate and execute the best content possible, so how can you break down departmental barriers and apply this same approach to content creation at your organization?


Dig Deep: Look at Your People's Personalities
For a moment, let's pretend the departmental barriers at your office don't exist. What do you see? You probably see a group of people working together toward a greater cause, something bigger than themselves. And every person in that group brings a unique strength to the table.
If you look at the 16Personalities website, you'll see a variety of unique personality types outlined with their natural, associated strengths. Spend some time looking through the list outlined on the site, and think about the employees you have in your organization. Think about their unique strengths and how they correlate with these personalities.
As it relates to your company culture, identifying your employees' unique strengths can help you uncover new efficiencies and opportunities for collaboration within your organization. Now let's apply the same thinking to your marketing efforts. How can you leverage your employees' unique strengths to create awesome content?


7 Personalities You Need On Your Team For Awesome Content Creation
It goes without saying that you'll need a skilled team—strategist, writer, and designer—to get your content moving. In addition to them, consider involving the following personalities in the ideation and execution process to take your content to the next level:
Commander: Identify someone who will drive the content from ideation to fruition—who will work with an executive to get tasks done under the umbrella of the greater strategy.
Executive: Find that organized, driven person on your team who is a natural manager and who will oversee the logistics and be a taskmaster during the content process.
Idealist: Empower the idealist of your organization to lead content brainstorming sessions about topics relevant to your company. Involve as many people in these conversations as logistically possible.
Architect: Look to gain perspective and help from the technical, analytical member of your team. They'll carry a mix of idealism and realism when contributing to content.
Debater: Love it or hate it, you really need to have a debater or two on the content team. It's important to have someone who can look at your content with a keen eye and play devil's advocate to make the piece even stronger.
Adventurer: Of course, you'll need to involve the natural creatives in your organization. Their perspectives and talents will breathe life into the project.
Virtuoso: This may be my favorite definition on the 16Personalities page: "Virtuoso: Bold and practical experimenters, masters of all tools." You'll want a few of these on the content team.
Depending on the size of your organization, you may be able to pull all of these personalities from within your marketing team alone. However if you have a smaller ship, I encourage you to look beyond the marketing team alone to find other contributors within the organization. Should you decide to break down the barriers and open collaboration to many in the company, be sure to put a process in place that makes it easy for department "outsiders" to contribute.
The argument can be made that when you have too many cooks in the kitchen, this can place a burden on collaboration and water down your content. If you are methodical about the way you involve others in your marketing efforts, you have a tremendous opportunity to create empathetic, thoughtful, and helpful content that your personas will love.

About the author
Sarah Mead is the Associate VP of Client Services at SmartBug and plays a key role in building and maintaining excellent client experiences that result in happy customers. She is tirelessly passionate about leading her team members to achieve personal growth and success. Outside of work, you'll find Sarah teaching yoga, enjoying the outdoors, taking care of her plant collection, traveling far and wide, and grooving to the latest independent radio hits. Read more articles by Sarah Mead.
Subscribe to get our new blogs delivered right to your inbox
Other insights you might like