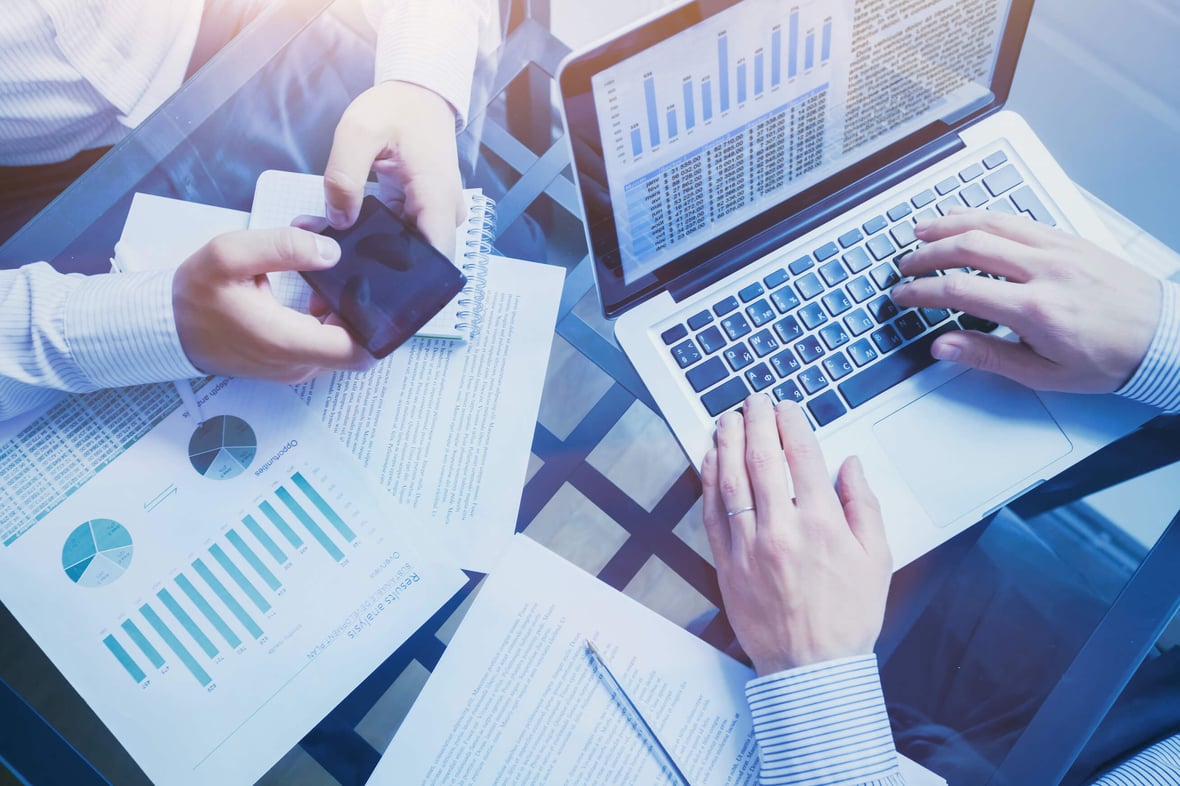 CallTrackingMetrics vs. CallRail vs. Marchex: Who's on Top?
December 18, 2019
---
Digital marketing may be the wave of the future, but the method of using phone calls to gain leads is far from extinct. The phone, as opposed to online chatbots, is still a top tool for businesses in the 21st century to gather information from real humans. In fact, a May 2019 survey from BrightLocal found that 60 percent of customers prefer to call small businesses on the phone.
Choosing to implement a call tracking software for your company can be a major decision and one that you'd like to spend some time researching. There are more than a few call tracking softwares out there, and it's important to review the pros and cons of each so you can make a well-informed decision.
On the surface, CallRail, Marchex, and CallTrackingMetrics (CTM) are similar platforms for call tracking. If you take a closer look, however, you'll find a few differences.
Price Comparison
At first glance, CTM is cheaper in certain price categories, but make sure you take into account the all-inclusive features from CallRail and Marchex. Consider the following:
CTM charges a flat monthly fee for access to its platform and reporting, with additional monthly charges for phone numbers, call minutes, text messages, and more.
Marchex's Essentials package is primarily for marketing teams and starts at $500/month. You'll need to contact Marchex to receiving pricing for their other packages.
CallRail's key features (call recording, call routing, spam detection, and reporting, among others) are included at no extra cost, but many of CTM's offerings (spam protection and encrypted dual-channel call recording, for example) have fees attached.
If both of your sales and marketing teams will be involved in the implementation and utilization of the call tracking software, it is best to look at either the Conversation or Ultimate package for Marchex.
CallRail's support team is available without an extra fee, while support is a paid add-on for both CTM and Marchex.
CallRail versus CallTrackingMetrics (equivalent data not available for Marchex)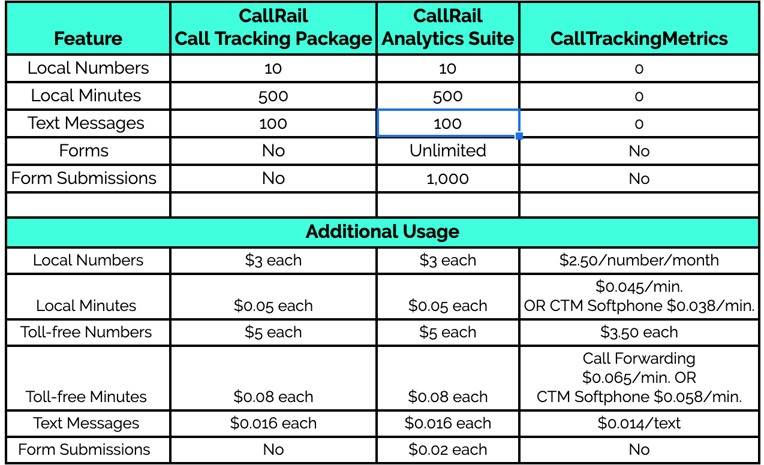 All CallTrackingMetrics Packages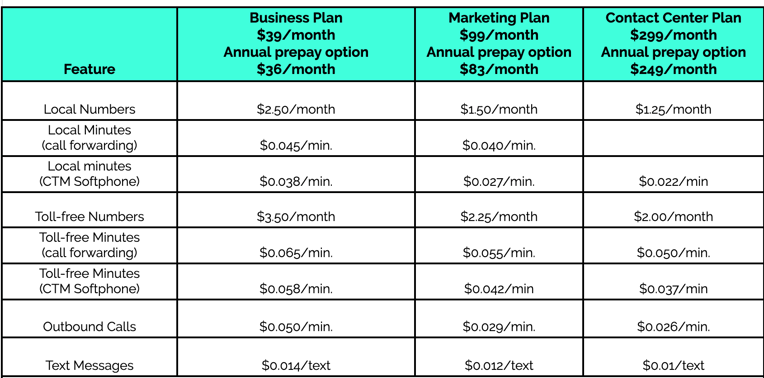 All Marchex Packages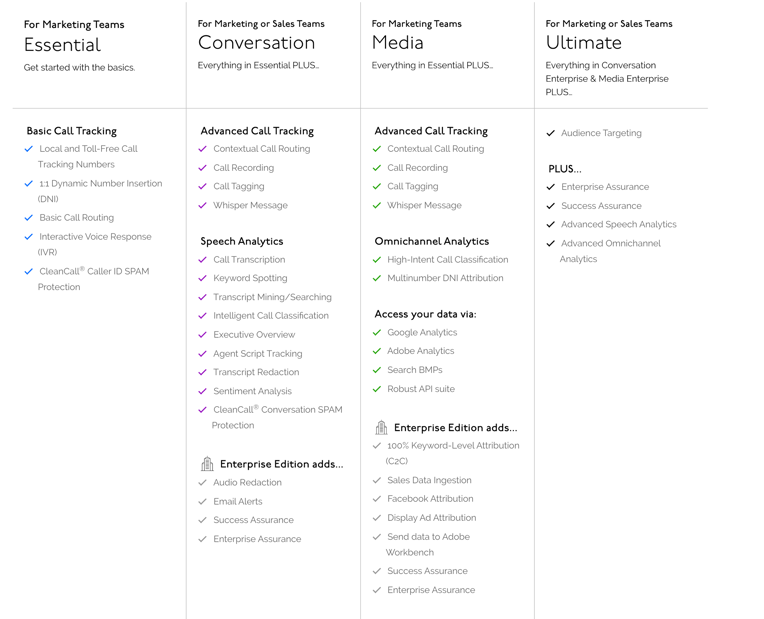 User Ratings
In a G2 head-to-head comparison, CallRail came out on top in every category, from quality of support to product direction.


CallRail's rate of positive user feedback exceeds both CTM's and Marchex's on Capterra, in categories ranging from customer support to ease of use to value for the money. CallRail has more than 100 reviews, while Marchex has 29 and CTM only has 18.
In addition, CallRail was named the 2019 Best Overall Call Tracking Software for Small Businesses by FitSmallBusiness, while CTM received an honorable mention for Best Call Tracking Service for Call Centers. Notable as well is Marchex, highlighted in "Vendors That Matter" series by Opus Research.
Market Share
Datanyze's recent analysis of CallRail's market share shows it trending ahead of CTM and Marchex across the board.
With more users, CallRail ranks second in the category with a market share of 21.33 percent, compared to Marchex with 12 percent of the market and CTM sitting at 10 percent.
CallRail appears in more Alexa searches than both Marchex and CTM.
CallRail's rate of growth trends ahead, with a net of 49,054 websites added in November, compared to 32,270 for Marchex and 7,396 for CTM.
User Interface
Although CallRail, CallTrackingMetrics, and Marchex are all stacked with features, once again, it's all in the details.
When evaluating call tracking software, it's critical that you and your team understand which marketing campaigns are producing ROI. It's also important to note which investments are not producing ROI, so that your team knows where you should shift resources and funds for the best results. CallRail offers several features that make this easy.
These dynamic features include:
A central Call Log that lets you view your calls in real time, capture caller ID data, and connect your call volume to specific marketing campaigns.
Call Flow Builder Templates that simplify the often daunting task of routing calls. CTM's conversation intelligence suite falls short of this level of sophistication.
Call Highlights, which finds keywords and phrases that align with your business and marketing goals, including lead source, competitor names, or plan comparison. CTM's keyword functionality contains a smaller pool of words, which can lead to misattributions of data.
In addition, CallRail's RoboRail Anti-Spam Technology offers a three-tiered approach with spam detection, blocking, and prevention. The best part? It's included in the cost! (Unfortunately, CTM and Marchex do not offer the same technology.)
The Final Word
If you're thinking about implementing a call tracking software for your business, you can't go wrong with CallRail. Although Marchex and CallTrackingMetrics fall closely behind, CallRail's consistently high marks and evolving software capabilities make it the gold standard of call tracking software.

About the author
Caroline Graham was formerly a Marketing Automation Manager based in Indianapolis. She is a Marketo Certified Expert focused on understanding how the digital age impacts consumer behaviors. Read more articles by Caroline Graham.
Subscribe to get our new blogs delivered right to your inbox
Other insights you might like