How to Measure Bounce Rates for Blog Posts
March 13, 2020
---
Guest author Jessica Malnik is a Content Strategist at Databox.
If you've been investing in content marketing,—and more specifically, blogging—for a lengthy period of time, your website's aggregate bounce rate may be high.

Why?

Well, one of the core tenets of content marketing is that it attracts people of all stages of awareness and purchase intent. Those blog posts you're publishing in order to drive more traffic to your website? People tend to leave your website after reading them.

This isn't necessarily a reflection of the quality of your website or content, but more likely a result of you attracting more lower-intent people to your website in the first place.

And you know what? That's okay.

After all, blogging isn't necessarily expected to drive leads and sales in a linear fashion. More than likely, people come back to your website several times, read a few articles—and when a need presents itself that aligns with your product or service, guess who's in a good position to be their potential solution? That's right, you.

It's okay that your blog posts—and perhaps even your overall website—have a higher than average bounce rate if you're investing heavily in content marketing.

Let's take a closer look at the following:

Is bounce rate important for SEO?
How can I track the bounce rate for my blog posts?
What's a good bounce rate for blog posts?


Is Bounce Rate Important for SEO?
This question can be broken down into two parts.
First, what we suspect most of you mean when asking this question is: Does bounce rate affect my search rankings?
The short answer is no. Although bounce rate is a common SEO KPI used to measure the overall health of an SEO strategy, it has no discernible impact on the ranking of your blog posts in search engines. However, this doesn't mean the metric isn't important for sustaining a healthy SEO strategy.
In fact, after studying more than one million search results, Brian Dean of Backlinko found that pages with lower bounce rates typically ranked higher.
Why is that? If bounce rate doesn't directly affect your page rankings, why do lower bounce rates correlate to higher rankings?
Because bounce rate is a symptom of other potential issues that can affect your page rankings.
For example, a higher bounce rate could mean:
Poor/broken page navigation.
Sloooooowwwww page speed. (Who among us hasn't left a website because the page was taking too long to load?)
Blog posts aren't optimized for mobile. No one wants to pinch and scroll back and forth in order to read your blog.
The content is outdated. People can tell quickly, either by the date included in your byline or by the content itself.
Any of these will directly influence your page ranking, so it's important to view bounce rate as a symptom. Although it may not directly influence your page ranking, sometimes you need to dig deeper and analyze the specific pages and blog posts on your website to see if there are any bigger, underlying issues that should be addressed.
This brings us to our next question:


How Can I Track the Bounce Rate of My Blog Posts?
In Google Analytics, you can track your bounce rate in aggregate for your entire website, or dig deeper and segment bounce rate by individual landing pages, blog posts, segments, and referral sources.

Segmentation is where the magic is. This is where you'll be able to measure the bounce rate for specific blog posts and prioritize areas of concern.




To segment your blog posts by bounce rate, first navigate to Behavior>Site Content>Landing Pages on the left sidebar in Google Analytics.


Next, you can use the "Secondary dimension" drop-down to isolate the blog posts on your website. (This way, you filter out all other webpages and focus 100 percent on the bounce rate of individual blog posts.)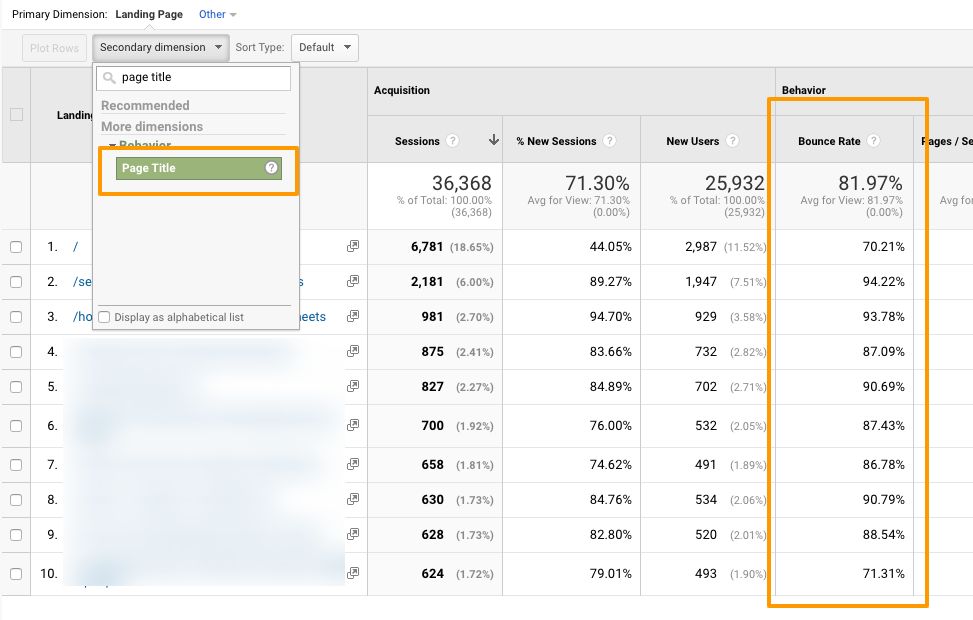 Note: If there's nothing in your page titles that can be used as an identifier for blog posts, you can try using other Secondary dimensions, such as Page or URL, to segment your blog posts.
Once you've segmented your blog posts, you can click the "Bounce Rate" column to order the list from highest to lowest (so you can see the blog posts with the highest bounce rate and prioritize them accordingly).

VizConn's Deepak Kumar Tamil Selvan takes it a step further: "Segment your bounce rate by topic and measure the bounce rate for each topic. This will help you determine which of your topics should be your main focus."
That allows you to take your segmentation to the next level to determine which specific topics tend to have higher or lower bounce rates. This could be helpful in managing your editorial calendar.


What's a Good Bounce Rate for Blog Posts?
According to Clicktale, blogs have an average bounce rate of 70–90 percent, content sites are slightly lower at 40–60 percent, e-commerce sites hover around 33 percent, and service sites tend to have bounce rates between 10–30 percent.
Now, obviously, these ranges can vary depending on the industry, publisher, subject matter, and so on. But these stats validate what we were saying earlier: Blog posts tend to have a higher bounce rate when compared to other pages.
This doesn't mean you should shoot for higher bounce rates. You should always optimize to lower the bounce rate on any page by considering things like page navigation, page speed, and mobile compatibility. These numbers simply mean that having a bounce rate between 70–90 percent on any specific blog post isn't necessarily bad.
Again, consider the intent of the people finding your blog posts in search. Are they looking to make a purchase right now? Still evaluating? Still in the educational phase of trying to solve a specific problem? It might be helpful to break your blog posts up into those three categories.— This way you can more accurately measure whether the bounce rate for any specific blog post is good or bad.
Is it an educational blog post aimed at people looking to solve a problem? Then the bounce rate will trend higher.
Is it a blog post using branded terms aimed at those in the evaluation phase? Then a high bounce rate might be a concern. What can you do to optimize these experiences to improve the response and lower the bounce rate?
Rather than depending on industry benchmarks to govern your strategy, we recommend categorizing the blog posts you publish into appropriate buckets so you can track the bounce rate of each bucket over time, develop your own benchmarks, and then optimize accordingly.

About the author
Jessica Malnik is a content strategist and copywriter for SaaS and productized service businesses. Her writing has appeared on The Next Web, Social Media Examiner, SEMrush, CMX, Help Scout, Convince & Convert, and many other sites. Read more articles by Jessica Malnik.
Subscribe to get our new blogs delivered right to your inbox
Other insights you might like