By Ryan Malone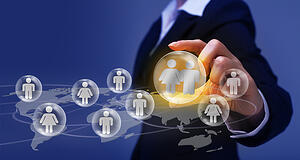 Inbound marketing is the new norm – the method of drawing customers to your website via compelling offers or useful information. Successful companies know that out-dated outbound marketing methods of buying ads, mailing addresses, telephone numbers and email lists and praying for leads won't work in our online focused world. Creating quality content that is geared toward different learning methods is the key that pulls people toward your company and product. Try these 6 inbound marketing methods to engage new customers:
Webinars
Time is extremely limited for today's professionals. Even 5 years ago, folks would carve out time to attend in and out of town conventions and seminars. Not anymore. Webinars are a great way to inform and train your audience from the comfort of their own desk. Some people are visual learners, so they prefer methods like webinars and slide shares. And creating and hosting a webinar is much more affordable than hosting a live event. Try GoToWebinar and SlideShare to host your next online event.
Workbooks
If your company caters to anything from education to product development, real estate to banking, try providing either an online or printable workbook for classes, seminars or just to share information. Many of your customers will be tactical learners and will need to be able to "touch" the materials. And the more analytical they are the more they will want very thorough and detailed information offerings. This will become more and more important for those customers and prospects as education and information continues to move toward all online and paperless.
Podcasts
For audile learners, podcasts are a great delivery method. Some prospects and customers learn from hearing the information – and sometimes they need to hear it multiple times. With a podcast a recording is made and that recording is shared on the website or on iTunes. Those links are then sent via Twitter, Facebook or email to prospects and customers. And they can listen to the information when they prefer.
How To's:
And for those audience members that want fast, concise written information, tools like the following work great: Nothing makes some of your audience happier than being able to go to your website and download a pdf of instructions versus having to call in and talk to a customer service rep. A popular "How-To" list will lead prospects and customers back to your website throughout the life of your products.
Do's and Don'ts
Say a customer or prospect is on the internet searching for ways to set up their wi-fi network, if they download your sheet entitled "Do's and Don'ts of Setting Up Your Wi-Fi Network," and still run into problems, that's a great way to have your foot in the door for that hardware or software support call when the sheet has your info on it.
Tips and Advice
Gear your blog articles toward offering customers and prospects snippets of tips and advice on repairing the engine in their '67 Ford Mustang, baking the perfect white cake or taking the perfect digital portrait. The best articles will engage the audience while still keeping some parts of the solution under wraps – so you can get the phone call and make the sale.
In order to engage customers you must create your message in many formats to appeal to preferred learning methods of a diverse public. Whether they are visual, audile or tactile learners, deliver their desired information in the format that works best for them. Regardless of the delivery, these inbound marketing methods will help you engage new customers. Need help in creating an inbound marketing strategy? Contact SmartBug Media - we enjoy seeing our clients' success.
What inbound marketing methods have you had success with?