By Ryan Malone
Your landing page is the promise between your call to action and the prospect converting on that offer. When a visitor clicks a link to your landing page, you only have a few seconds to get and keep their attention. A successful design and layout will quickly guide your visitor to act.
Visitors view content much like they read -- from left to right and top to bottom.
One way to create a successful landing page is to use this natural tendency to elicit a desired response. The
Gutenberg Rule
identifies the directional path of the eye as it scans a page. It explains how key features located in each of four quadrants are subconsciously assigned varying degrees of importance based on their location in these areas. The visitor assigns the most importance to the upper-left and lower-right quadrants of the page.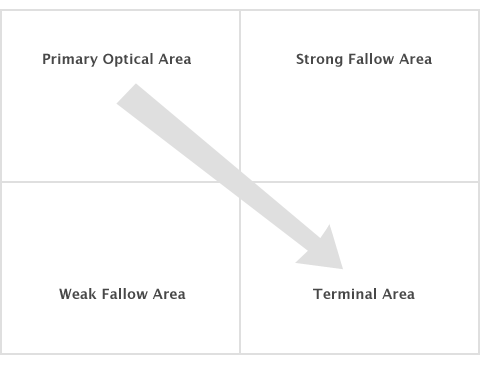 The Gutenberg Diagram

Let's look at some landing page best practices and ways to usher your visitors' natural eye movement to your call-to-action and complete the task.
Clean, Uncluttered Landing Page Designs
Landing page best practices suggest a simple uncluttered design with a maximum of three colors.
Write a short headline that matches the ad copy that drove their click to your page.
When visitors see what they expect, they feel comfortable and are more likely to act. Position black or dark fonts on a white (or very light colored) background. A consistent font size allows your reader to quickly scan text.
Remove anything unnecessary from your landing page.
Remember - the goal is to get the visitor to choose between converting or going back to the home page. Each distraction on the page is a possible exit for the visitor.
Eliminate naviagtion and use short bullet lists and concise copy in a simple design dictated by your layout.
A Gutenberg-Inspired Landing Page Layout
The upper-left quadrant is Gutenberg's Primary Optimal Focus area.
The upper-left quadrant is is the initial and most important focal point for the visitor.
Place a clear call-to-action in this area. The eye quickly moves right to the Strong Fallow Area in the upper-right. Place something relevant but not imperative to action in this quadrant. This area is assigned less importance and the eye quickly leaves this area, moving down and left.
The Weak Fallow Area is the lower-left. This is sometimes called the 'neglected' focal point, because it's scanned so quickly it may go completely unnoticed. If you're using social media in your
inbound marketing strategy
, this is a good position for those familiar icons. Familiarity will draw the eye back to this area.
The lower-right quadrant, or Terminal Area, is the end of the visitor's path of vision and another critical focal point. By restating your call-to-action in this area, you reinforce your call-to-action from the Primary Optimal Focus area and are more likely to elicit action. Reiterate your call-to-action and place text entry fields, or a link or button you want your visitor to click in this quadrant.
A successful landing page elicits a response with a clear pathway to action. If you find these tips helpful or can provide insight on landing page best practices,
let us know by tweeting at us at @smartbugmedia.
To learn more about how to increase your landing page conversions, contact SmartBug Media or call us at

877-690-4952.