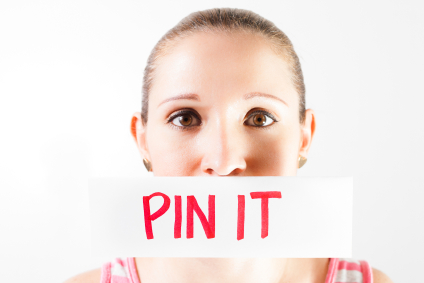 6 Ways to Use Pinterest for Content Marketing
March 29, 2013
---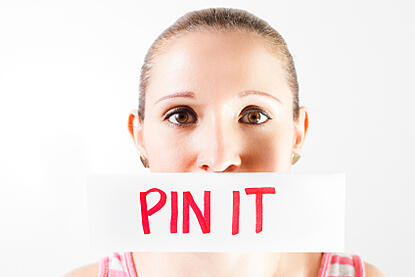 We've already established that the trend of visual content marketing is on fire this year. That's why using image-based social network, Pinterest, as a part of your strategy should be an absolute must for any savvy marketer.
What's Pinterest? If you haven't heard of it, make yourself familiar with it ASAP. It is the third largest social networking site behind Facebook and Twitter and gets 28 million users monthly.
This wildly popular social networking site allows its users to share and discover new interests by 'pinning' images or videos to their own or others pinboards (which are a collection of 'pins' typically with a shared theme), and by browsing what other users are pinning. Users can pin things they find on the web by using the Pinterest bookmarklet or they can upload their own images. Pinterest's primary goal is to help people connect though things they find interesting. As with other social networks Pinterest users can follow their friends, like and comment on other people's pins, re-pin other people's content to their own boards and share pins via Facebook, Twitter and email.
Because Pinterest is strongly rooted in uncovering and sharing people's "lifestyles" it has amazing potential as a marketing tool. However, before we dive into the ways it can be used to drive your content marketing goals, its important to note that Pinterest does discourage shameless self-promotion. With that said, here are a few examples of how to use Pinterest as a part of your content marketing mix:
1. Humanize Your Business
Your audience wants to see the people behind your brand, so they don't feel like they are communicating with a faceless organization. Give the people what they want by using Pinterest to provide a behind-the-scenes look at your company. You can do this by creating a pinboard that includes interesting photos of key players in the office, or snap some cool pics next time you are at a company outing, speaking engagement, industry conference, etc. Letting your audience in on this type of behind-the-scenes activity makes your business more relatable and interesting.
2. Hold Contests
Contests tend to be very popular on Pinterest and they are a great way to drive engagement with your audience. Host a contest in which you ask your users to make a pinboard on their own account that showcases what they love about your business, products or services. If you are an athletic apparel company for instance, you would ask your audiences to create a pinboard that shows them doing different, cool workouts in your gear. Ask users to send you a link to their pinboard so you can review all the entrants and then the most creative pinboard wins a prize. Like a new workout ensemble! Alternatively, you can also re-pin the 5 best boards to your brand's Pinterest page and then ask your followers to help select the winner. Contents on Pinterest work well and help drive website traffic.
3. Re-Pinning Is Winning
A good way to engage with your Pinterest audience without being overly promotional is to re-pin all of the cool stuff your followers are pinning in a separate pinboard.
4. Keep SEO Best Practices in Mind
Yes, SEO best practices can be applied to your pinning! Pinterest actually offers a number of ways that you can boost your SEO:
About Section: This 200-character section is huge for SEO. Use keyword-rich text that clearly and concisely describes who your company is and what you do. Doing so will enable search engines to easily find and group your profile, pins and boards.
Verification Badge: Website verification lets Pinterest users certify that website on their profile is actually their own. Do this by going to 'Settings' and clicking the 'Verify Website' button. Why do this? Because in search results, verified websites include checkmarks next to the domain and this can boost your SEO rankings and traffic to your pages.
Share Links To Your Other Platforms: Someone who is interested in your Pinterest page may want to see more of what you have to offer. Make it as easy as possible for them to do that by including links from your Pinterest profile to your blog, other social media channels and your website. Make sure to use a clear CTA like "Check Out Our Other Products Now!" to help drive users exactly where you want them to go.
Include Keywords in File Names: Rename your image files with keywords to help increase visibility to search engines. Be sure to use your business name and the name of what's in the picture.
Hashtags: Just like with Twitter, Pinterest users can utilize hashtags in their pins to make their posts more search-friendly. If you are using Pinterest to promote a new product or campaign, create a pinboard around it and tag is with a hashtag you're also using on Twitter and Google + to ensure you're leveraging it across all your channels.
5. Utilize User-Generated Pinboards to Showcase Customer Testimonials
Invite some of your top fans or customers to contribute their own pins to your brand's pinboards. This is a great way to involve your audience in your marketing efforts, and another great way to build up interesting and not overly promotional content for your page. Ask your users to contribute pins that demonstrate how your brand fits into their lifestyle. It's a cool, visual way to get customer testimonials.
6. Showcase Expertise in Your Industry
Pinterest shouldn't only be used to promote your products or services. You also want to post interesting industry news and tips. Establish your business as a go-to expert by pinning and re-pinning subjects and topics related to your industry. Be useful and share your expertise by recommending links to good articles, books and events your audience can attend.
Pinterest has huge potential to drive referrals, customer engagement and traffic to your website. And it allows you to tap into the timely visual content marketing trend. Don't miss out on the opportunity to capitalize on all the great marketing value Pinterest has to offer. Have you used Pinterest to boost your content marketing efforts? Do you have additional tips to share that have worked for your business?

Subscribe to get our new blogs delivered right to your inbox
Other insights you might like