6 Options to Pursue Keywords After Google Keyword Encryption
April 12, 2014
---
By Amber Kemmis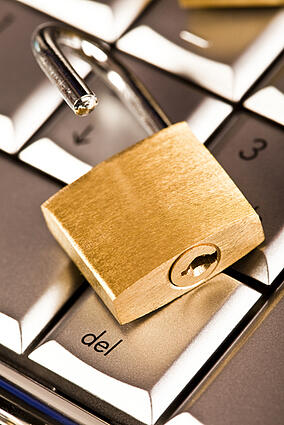 Must all good things come to an end? They do if Google has anything to do with it. Okay,I admit I am being a bit facetious in saying that, but marketing and SEO professionals likely thought similarly when Google announced they would encrypt all organic searches. Although the encryption of Google searches makes keyword targeting a little more difficult, it isn't the end of SEO as we know it, nor does it mean that a good thing has ended. If anything, this change, although frustrating at first, is one of the many positive things Google has done to protect those most important to them – the users. Marketers, including me, don't like change, but this is one change that we will just have to adapt to.
What is Google Keyword Encryption?
Google keyword encryption, put simply third-parties from seeing the keywords searched by a user. In other words, the "not provided" or "unknown keywords" text you see in Google Analytics or your marketing automation software is the result of Google disabling keyword referral sources from being seen by others. Google encrypted keywords account for about 50% of searches and the rate is even higher for high tech companies. While Google encryption of referral keywords does make keyword research and targeting more difficult for marketers, it has an upside because it protects user privacy and also prevents marketers from focusing too much on keywords and sacrificing quality content.
Do keywords still matter with encryption now in play? Absolutely, but you will just have to find new ways of discovering and analyzing them. Here are 6 ways you can target keywords despite encryption:
Google Queries
Whenever a user conducts a search on Google, auto-fill will help the user with the search and also provide related searches. You can use these queries to help you identify long-tail keyword variations that your target audience may be searching. This is a great tool for those just beginning a keyword a strategy.
Adwords
Analyzing the traffic and conversions generated by the keywords in your paid search campaigns will help you understand those that you should be targeting organically. Pay attention to keywords with high impressions and click-through-rates because they indicate that they are highly searched and relevant to the visitor.
Webmaster Tools
You can still check search queries using Webmaster Tools, but the results are much more limited that Google Analytics once had. However, something is better than nothing, so you can use the keywords here to target in blogs and on website pages.
Marketing Automation Software
Most marketing automation software, like Hubspot, have a keyword performance tool that shows you where keywords are ranking, how many visits are brought to your site from the keyword, and the number of monthly searches for that keyword. Automation software will help you track your keywords almost as nicely as Google Analytics did before encryption.
On-Page Performance
On-page performance is beneficial in identifying target keywords, as well as tracking performance on keywords already being targeted. If you notice that a page with a targeted keyword is moving up in rank and generating a lot of organic traffic, it is a great indication that the keyword is performing well. On the other hand, a page that doesn't get a lot of visitors and brings in very little organic traffic may need SEO updates using a better keyword.
Bing, Yahoo, or Other Search Engines
Although Google encrypts keywords, not all search engines do. You may not have as much data, considering the search engines aren't used as frequently, but it will be great in helping you identify keywords, especially long-tail keywords.
Do you have any tips or tricks to keyword research post Google keyword encryption? Share your thoughts below.

About the author
Amber Kemmis was formerly the VP of Client Services at SmartBug Media. Having a psychology background in the marketing world has its perks, especially with inbound marketing. My past studies in human behavior and psychology have led me to strongly believe that traditional ad marketing only turns prospects away, and advertising spend never puts the right message in front of the right person at the right time. Thus, resulting in wasted marketing efforts and investment. I'm determined to help each and every one of our clients attract and retain new customers in a delightful and helpful way that leads to sustainable revenue growth. Read more articles by Amber Kemmis.
Subscribe to get our new blogs delivered right to your inbox
Other insights you might like