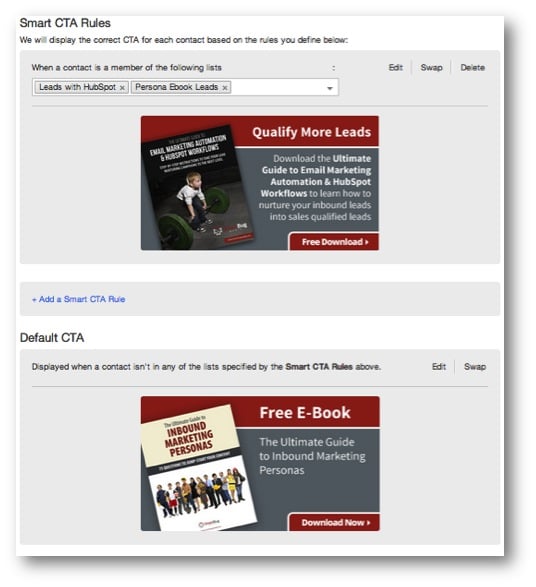 5 Examples of Extremely Effective SMART CTAs
July 7, 2014
---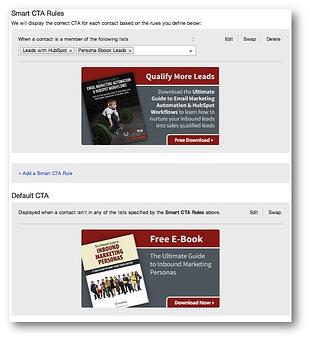 Did you know that targeted calls-to-action (CTA) will convert 42% more visitors into leads than a basic CTA? A targeted CTA displays a button with a relevant message to the visitor based on unique characteristics. These characteristics, which we will explore in further detail in the examples below, can be based on lead intelligence gathered in the past. Targeted CTAs are extremely effective because they deliver the right message at the right time and also give you the ability to add dynamic content to your website. In essence, targeted CTAs help to enhance the user experience.
For Hubspot users, these targeted calls-to-action are known as Smart CTAs. A Smart CTA works by showing a different CTA button based on smart rules, which are set by either membership in a Contact List or the lead's lifecycle stage. A default CTA is selected for those who do not meet the criteria set in your smart rules. If you'd like to learn more about Smart CTAs, contact SmartBug Media today.
Let's dive deeper into Smart CTAs by exploring 5 examples of how they can be used effectively:
Map to the Lead Stage
When leads interact on your website, you want to make the most out of every opportunity while they are there. By placing a CTA that is mapped to the lead's stage of the buying cycle, you can serve up an offer that will bring them even closer to purchasing. For example, a lead that has already downloaded your case studies would see a CTA for a demo. For visitors who are new to your website and have not become a lead, a default CTA can be selected to display instead.
Reconvert & Satisfy Customers
When customers stop on your website, they deserve to be treated as customers, which is why the messaging and offer of the CTA should too. You can use Smart CTAs to deliver offers that help reconvert customers and make them even more satisfied. Smart CTAs for customers may include discount offers, referral discounts, or a customer login to your portal.
Industry Focused
You may have visitors on your site from several industries, and it can sometimes be difficult to segment with static content. However, a Smart CTA offering industry specific content allows you to segment without changing the overall messaging of your website.
Location-Based
53% of consumers say they are more likely to engage with a location-based ad. Putting this data into action with Smart CTAs will help to increase conversion rates for companies where location is relevant. For example, say you sell real estate in a tri-state area. You can add a Smart CTA for a new house listing in the lead's specific location.
Personas
You have likely already taken the time to development content based on buyer personas, so why not tailor CTAs to the persona? Even if you haven't developed content specific to one persona, you can still promote the same offer but customize the Smart CTAs messaging to the persona.
Have you implemented Smart CTAs yet? How have you made them effective? Share your thoughts below!

Subscribe to get our new blogs delivered right to your inbox
Other insights you might like