By Jen Spencer
Did you know that every time a sales development representative books a meeting with a qualified website visitor, an inbound marketer gets her wings? I'm not talking about the scalding hot demo request from the VP at the account you've been targeting for the last month. I'm talking about the lead that seems to appear magically out of thin air and winds up being your "bluebird" deal of the quarter. First of all, it wasn't a bird; it was an inbound marketer. Second, if you can track and analyze the path that led that prospect to your digital door, you can optimize it and repeat it. Wings for everyone!
In a previous role, I was speaking with one of our SDRs, and he explained that he happened to notice via the Chrome extension of HubSpot Sales' Activity Feed that one of his assigned leads was on our company's pricing page—a strong indicator of past sales success.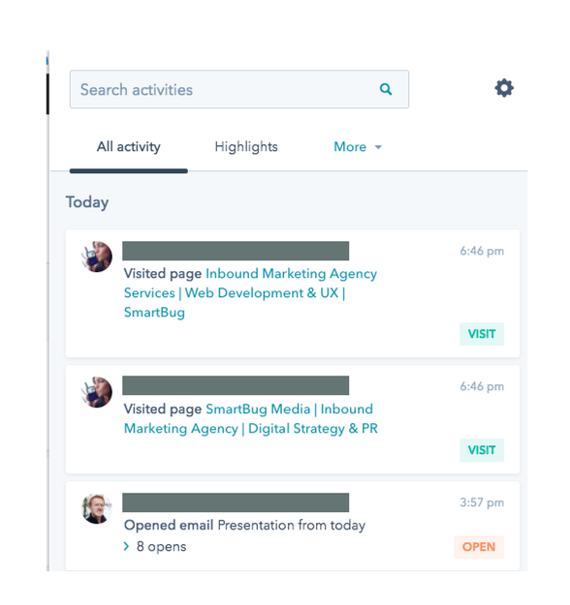 He clicked on the notification right then and there, dialed the prospect, and got her on the phone. Of course, he didn't tell her that he saw she was on the pricing page. It was a "coincidence," after all. They had a great conversation about the new role she was in at her company and the challenge she was tasked with overcoming. He realized she matched our ideal customer profile and, determined to be a good fit, he scheduled her for a meeting with an account executive.
"I'm so lucky that I happened to catch her when she was on the pricing page," he said. "I wish an alarm could go off in my brain every time a qualified lead is on that page." Hello, marketing and sales automation.
While I couldn't make an alarm go off in his brain, I COULD have HubSpot send him a text message—which, these days, is pretty darn close. Here's how it works:
Leveraging HubSpot Marketing Workflows, craft an enrollment trigger that meets your requirements. In the example below, my enrollment criteria is based on an individual who is neither an active opportunity, a customer, nor a non-buying super-fan who has not already been disqualified and who has visited a specific page of my website.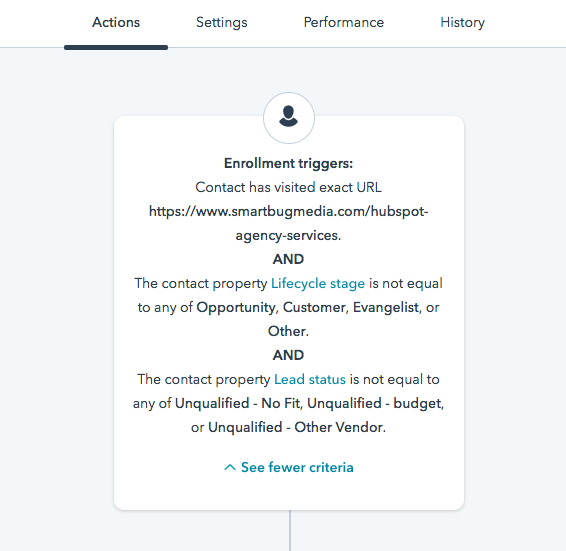 Next, add an if/then building block to your workflow. In the example here, I selected if the HubSpot Owner of the lead is Jen Spencer, send an internal SMS to my cell phone number. (Please note: the number in the screenshot below is not my cell phone number. Do you think I'm crazy?)
Using personalization tokens, program the workflow to send a custom SMS such as the following: [[ contact.firstname ]] from [[ contact.company ]] is on our HubSpot page. Call [[ contact.phone ]].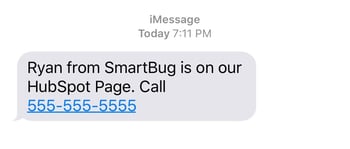 Now, with one click, the SDR assigned to this account can call Ryan in the moment he's engaged with important website content. Of course, this doesn't work if you go overboard. The key is to identify the pages of your website that are strong indicators of buying interest, and instead of only using that data to enroll a contact into a lead nurturing workflow (which can also be accomplished with this same tool), empower your sales development team to meet your buyer where he is in the buyer's journey. After all, if he's on your pricing page, for example, there's never been a better time to have a conversation about pricing.
HubSpot Academy "Prof Tip"

"People often think that HubSpot Workflows are only meant to automate marketing processes, but as you see here, you can use them for internal processes as well. Going off of Jen's example above, let's say your SDR is busy when they get the text and ends up ignoring it. After the internal SMS, add an action that Creates a Task and assigns it to the SDR. That way, the task will remain in their queue until they've marked it as complete!"

- Anni Kim, Inbound Marketing Professor
How are you using marketing automation workflows to empower your sales team? I'd love to hear about your latest experiment.