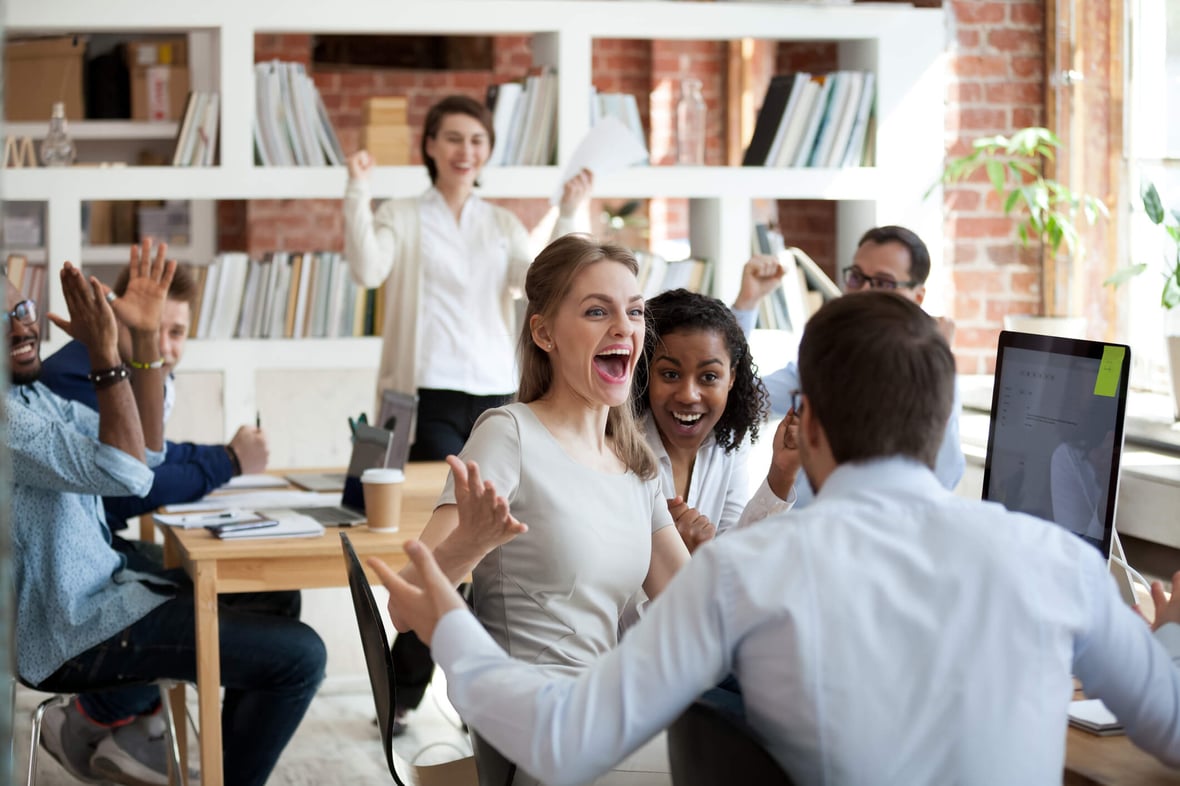 7 Ways to Make Sure Your Sales Team Hit Their Goals
June 30, 2021
---
I've coached sales leaders across a wide variety of industries, and the one common question they all ask is: How can I optimize my sales process? I always tell them that one of the critical ways to optimize this process is by measuring sales productivity, because it is ultimately a path to reaching sales goals.
In this article, we'll dive into how to define those goals, measure productivity, and increase the likelihood that the sales team members hit (or surpass) their goals.


Sales Goals Are More Than Just Revenue
There's no debate that, at the end of the day, sales team members are responsible for bringing in revenue. This is because there are two ways to grow top line revenue: The first is through acquiring revenue from new customers (often called "new logo revenue"), and the second is by capturing more revenue from existing customers (often called "upsells"). Depending on how your organization is structured, the sales team may be responsible for growing one or both.
Although the key sales goal is revenue, there are other goals (I call them "micro-goals") that should be included in the overall sales goals to increase productivity, which ultimately enables growth of the revenue metric.
Some examples of micro-goals include:


Salesperson Follow-Up Time After a Lead Qualifies
When a lead submits a "Contact Us," "Request for Demo," or "Quote Request" form on your website, the prospect is ready to engage. What is the goal for how long it takes a salesperson to follow up with the lead? Twenty minutes? One day? Three days? What if the lead owner never follows up? Each minute that passes encourages the prospect to look at other organizations that are more attentive to their needs.


Number of Cold and Warm Reach-Outs
Maybe you're running an organization that uses outbound efforts to supplement your inbound efforts (cold leads). Or maybe you want your sales team to engage with people who have recently downloaded an e-book or attended a webinar (warm leads). Either way, you can set goals on the number of phone calls, emails, or other tasks—such as connecting on LinkedIn—to help measure sales productivity.


Deal Velocity
Whether your sales cycle is 2 days, 60 days, or 365 days, evaluating how long it takes your team to move a deal from the early stages to closed won is key to optimization. This is known as the deal velocity. Consider setting goals to reduce the overall deal velocity time or the time within each deal stage so that your team has more bandwidth to reach additional sales goals.


Deal Count vs. Deal Size
Does your business have a high closed lost rate? You may want to consider setting goals for total deal counts owned by a sales team member. If you have a low closed lost rate, it may be more advantageous to set goals around the average size of the deals in the pipeline. Identifying goals for the volume of unique deals or the size of the deals may help you optimize your sales process.


Length of Engagement from the Prospect
If you're in a business that relies on recurring revenue, it's imperative that you reduce client churn. Decreasing the likelihood of churn starts with the salesperson ensuring that the buyer fits the ideal client profile and has a long engagement with your organization. Although this is not directly tied to sales productivity, the downstream effects of ensuring your business is selling to the right buyer should be measured back to the salesperson.


How to Make Sure Your Team Hits Its Sales Goals
There are a number of ways to make sure your sales team hits their goals, including their micro-goals. Some ways to help the sales team do this is by establishing dashboards, rewarding micro-wins, holding flash-contests, and creating leaderboards.


1. Use Transparent Dashboards
Dashboards are the highest-value tool to measure productivity. Understand that your customer relationship management (CRM) platform, such as HubSpot, lives as a "source of truth" and that the expectation is for sales team members to log all of their activity in the CRM. Relay this message to your team: "If it's not in the CRM, it didn't happen."
Dashboards can be set up to see the volume of calls, emails, and tasks over a period of time, such as the past week, past 30 days, or past quarter. You can also establish the dashboards to showcase how much forecasted revenue is in each stage of the pipeline, broken down by sales representative.
Deal velocity, meetings completed, and new signed logo contracts are additional examples of dashboards that can be created.
It is worth noting that some information may not be appropriate to share across team members. In HubSpot, it's easy to set who can view each dashboard (such as a management team looking at revenue versus an individual contributor).


2. Reward Micro-Goals
In addition to the overarching revenue goal, consider rewarding team members for achieving micro-goals, such as who has the most new logo meetings set that month, who has the highest "open" rates on their sales sequence emails, or who has the largest growth of their average deal size from one quarter to the next.
These micro-goals contribute to the total revenue goal as enabling activities. They are also great for new team members who may not have an established customer base or a full pipeline.


3. Enable Flash Contests
The majority of sales team members are highly competitive individuals. They're hunters looking for the next—and the biggest—deal. To help these team members hit their goals, consider having "flash contests" that directly line up with your overall revenue goal or micro-goals. Flash contests can be structured by who has the most cold reach-out email replies in a day, or who sells the most of an accessory product within a week. There's no limit to the creativity a sales leader can have when creating these contests.


4. Provide Insight with Leaderboards
Providing insight into how other sales team members are performing can motivate their peers. Rarely do sales people want to be anywhere else than the top of a leaderboard. Providing transparency into how other sales team members are doing (such as total calls made or closed won new logo revenue) can help keep the competitive spirit alive within your sales team.
The other (and often unspoken) key benefit of the leaderboards is that it provides an opportunity for your lower-performing team members to see their own placement, to learn from highly productive team members, and to understand how they are working.


5. Understand What Motivates Your Team
Sales goals are a quantitative approach to measuring the sales team's performance. However, salespeople are still just people. Each person is wired to be motivated in a different way, and those differences should be utilized to uncover how a team member can best contribute to the organization.
Does a salesperson perform well when they are penned in by a specific goal, such as making 200 cold calls a day? Or do they perform best when they have green pastures to explore, when it comes to hitting sales targets, and no minimum number of calls to make? Is there a sales team member who would be better positioned to make upsells to existing clients as opposed to finding new logo business?
Identifying these motivations for your team will help them perform at a higher functional level, reduce turnover, and allow you to effectively reach your collective organizational goals.


6. Reduce Distractions
In addition to chatting with sales leaders, I often coach sales team members on how to improve their productivity. One of the most common pain points is distractions—specifically, meetings and requests from internal team members at the end of a sales cycle (such as end of month, end of quarter, or end of year).
To improve the team's productivity, the sales leader must remove these distractions when the team members need to be hyper-focused on their role and the goals they're working to achieve.


7. Introduce Accelerators
Accelerators are not a new concept to any sales leader, but they should be mentioned because they are a powerful tool that can be used to increase sales. Accelerators are an increased commission amount earned by the salesperson when they surpass their quota, increasing the commission exponentially, the further past their quota they hit.
The rhetorical question here is: Are you encouraging your team to hit their goals, or surpass their goals? Successful sales organizations I work with want their teams to surpass their sales goals, and reachable accelerators are a proven method to grow top line revenue.
At the core of measuring sales productivity and helping your team members reach their goals is clear communication between the sales leader and the individual sales team member. You need to know what their expectations are and how to remove roadblocks to reaching (or surpassing) those goals, and provide transparency throughout the process so they can soar to new heights.
If you're seeking support on sales enablement, sales productivity, or sales team success, SmartBug Media® is here to help!
About the author
Stephen Lackey is SmartBug's VP of Marketing and he is based out of Charlotte, NC. His background is hyper-focused on marketing and sales enablement, working at Fortune 500 companies, startups, and other industry disruptors. His marketing degree is paired with an MBA where Stephen seeks to uncover the 'why behind the why' within marketing data to drive top line revenue. Read more articles by Stephen Lackey.
Subscribe to get our new blogs delivered right to your inbox
Other insights you might like