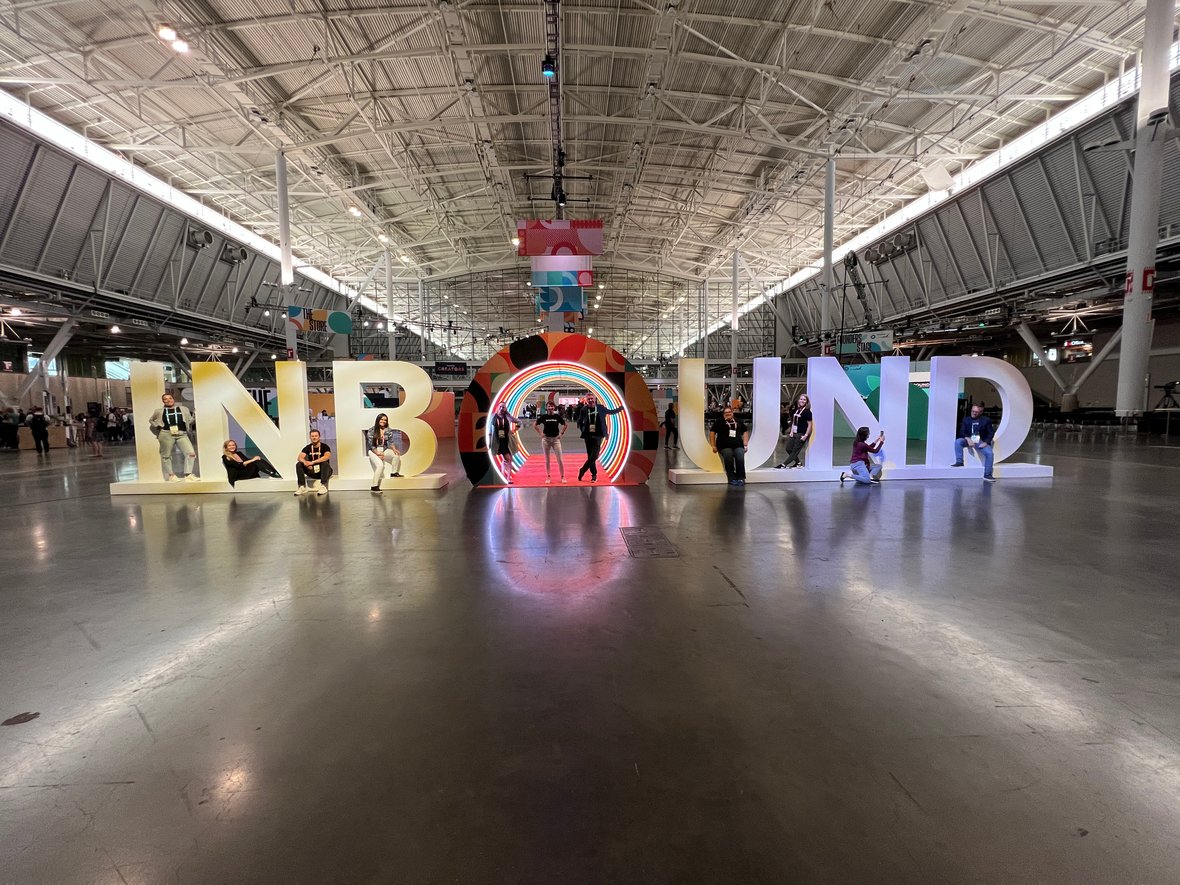 First Time at HubSpot's INBOUND Conference? Here's How You Can Prepare for INBOUND 2023
August 7, 2023
---
By Nicki Kamau
So you're heading to INBOUND 2023! Whether it's your first time as an attendee or you're a seasoned veteran sponsor from the great Boston Convention and Exhibition Center (BCEC), this article will have something for you.

As a nine-time attendee (two of those being virtual, five as a sponsor) looking forward to year 10, for me, going to INBOUND is like going home. Keep reading to learn from what I've experienced over the past nine years about what to prepare ahead of time and what to pack to make sure you get the most out of your week in Boston among the HubSpotters.

Want this in an actual checklist? Here you go: INBOUND 2023 Checklist.
Things to Prepare Before You Go to HubSpot's INBOUND 2023
Your Event Objectives
Just like most conferences where the number of attendees is in the tens of thousands, INBOUND is a lot—a lot of learning, a lot of networking, a lot of experiencing, and a lot of fun. It's up to you to determine what your objectives are for attending, and then look through that lens as you craft your personal event strategy and pull tips from the rest of this article.

So ... why are you attending INBOUND? Is it to learn everything you can from the live sessions? Is it to connect with like-minded INBOUNDers to create a network for future collaboration? Are you there as a sponsor to sell your technology? Are you there to source new tech and services to improve your current business results? Do you have any side missions requested by colleagues who aren't able to attend?

Most likely, your goal includes some combination of the above. Clearly defining your intentions with your team will ensure everyone feels the ROI when you return to your office after INBOUND. To help you prepare, check out the lessons learned from INBOUND 2022 for a successful event strategy this year.
Your Schedule
Now that you've created some goals for attending INBOUND, you can build your schedule. Whether or not your main focus is learning from the speakers, checking out the INBOUND agenda will help you make sure you've blocked time for sessions such as this podcast recording: "How to Curate a Vibrant, Remote-first Culture at Scale." (Yes, that's a shameless plug to come see our very own CEO, Jen Spencer, onstage.)

In past years, INBOUNDers have been able to register for individual sessions and build out their schedules ahead of time within their app or event platform. It's not clear yet if that will be an option this year, so maybe map out your options on your Google Calendar in the meantime.

Whatever your goal for the week, don't forget to bake in time to eat and enjoy some of the after-hours events such as happy hours and INBOUND After Hours. The "extracurriculars'' of INBOUND will give you just as much in return as the conference agenda.
Your Transportation and Way Around
... which will mainly be your feet. If you booked early and had the budget, hopefully your accommodations are within walking distance of the BCEC. If not, you can plan to use the free shuttles back and forth from the BCEC to your hotel. Keep in mind that these have a set schedule and a limited number of seats, which can sometimes mean you're waiting for a while. Plan to take the shuttle earlier than the one you'd normally take to get there on time.

If you really want to plan ahead, you can take a minute to familiarize yourself with the BCEC campus. The main point here is to think ahead about how you're going to be getting to your destinations on time, but it also can't hurt to actually "prepare your feet" by walking around the block in the shoes you're packing.
Your OOO Reply
Did I mention that INBOUND is a lot? You'll likely have colleagues, customers, and partners who need things during the conference. But while you're in Boston, you should set the expectation that you are in fact out of the office—because what's the point of paying for and traveling to INBOUND if you aren't going to be present?

Take a minute to make your OOO reply work for you. Here's an example:
Thanks for your email!

I'm with some of [my colleagues/the SmartBugs] and 10k+ savvy marketers in Boston at HubSpot's INBOUND 2023. I'll be back at my computer and ready to talk to you on Monday, Sept. 13. Please reach out to my colleague [___@___.com] in the meantime.

Want to see what we're up to? Check out what's happening on Instagram at [@smartbug.life.]

Are you at INBOUND, too? Let's meet up! [Stop by our booth located right in front of the main stage, or book a meeting with us in person or virtually.]

Thanks,
[Nicki]
Things to Pack for HubSpot's INBOUND 2023
Pack This to Get into INBOUND
This year, INBOUND is providing a smart wearable device that you'll need to pick up at check-in. To make your experience at INBOUND a smooth one, have your INBOUND registration confirmation email readily available on your mobile device or printed out. You'll also need your government-issued photo ID.
Confirmation email
Photo ID
Pack These Work and Tech Items
There's likely nothing on this list that will surprise you.
Laptop and charger
Phone charger or power bank
Headphones
Business cards (digital or physical)
Pen and paper
Clothing Items You Won't Want to Forget
Comfortable shoes are a must for INBOUND. Yes, the majority of us attending are marketers, and we want to put our best (sometimes fancy) foot forward—but with how many miles you'll be walking, comfort should be the top priority.

Speaking of comfort, convention centers are cold, so I recommend bringing a jacket or blazer to stay warm. If the weather is nice, you might want to take advantage of breaks and lunch on Lawn D, so bring your sunglasses and a hat.

Some people like to get a little more dressed up for the happy hours and evening events; others wear what they had on during the day. Either way, I suggest bringing one backup outfit just in case you get caught in a rainshower leaving the BCEC or bump into someone rushing to a session with coffee in hand.
Comfortable shoes
Jacket or a blazer
Sunglasses
Hat
Back-up outfit
Human Items to Have on Hand
With lots of talking and walking during the long days, you'll feel your best if you're continually drinking water, so don't forget your reusable water bottle. Have I mentioned that you'll be walking a lot?

Next on the list: Band-Aids. Even if you don't end up needing them for your heels, you might meet someone else who does—and being a hero is a great way to network.

Gum and mints aren't just great for keeping your breath smelling nice. Peppermint may actually improve your energy levels and reduce daytime fatigue if you're dragging from last night's events.

Hand sanitizer will help keep those germs at bay for yourself and others. If you're thinking about hanging out on Lawn D for a while, sunscreen might not be out of the question.

And last but not least: snacks! I don't know if it's the mom in me or just being a hungry human, but you can't go wrong by keeping a few snacks in your bag.
Water bottle
Band aids
Gum/mints
Hand sanitizer
Floss
Sunscreen
Snacks
Is your pre-INBOUND to-do list organized? Have you mentally packed your bag? Whatever your goals are while you're at INBOUND, don't forget to take a minute to breathe in the energy around you and learn as much from the experiences as you learn from the session content. I can't wait to see you there!
This blog was originally written in August 2022 and has been updates since.

About the author
Nicki Kamau is the Marketing Director for SmartBug Media. Nicki strives to up-level SmartBug clients' marketing ROI through the implementation of partners. Her goal is to create a seamless relationship from partner tech, to SmartBug, to client, by developing and overseeing partner programs, ensuring efficiency and mutually beneficial relationships within SmartBug partner ecosystem. Prior to her role in partnerships, Nicki focused on lead generation within the B2B space at tech startups, mid-market organizations, and publicly traded corporations for over ten years. She enjoys exploring the outdoors with her two sons, dog and husband, right-brained activities, and tasting every tea she can get her hands on. Read more articles by Nicki Kamau.
Subscribe to get our new blogs delivered right to your inbox
Other insights you might like