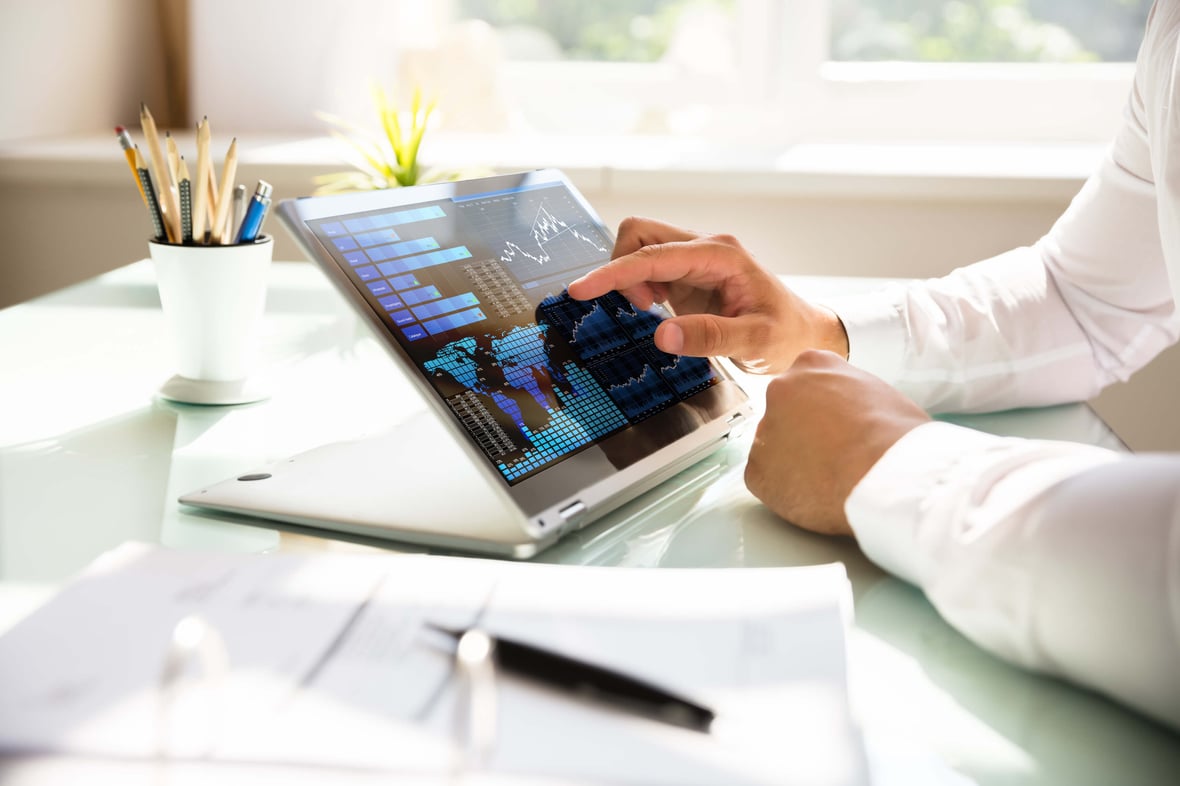 Next-Level Marketing Reporting: Your Top 5 Platforms
October 4, 2019
---
By Paul Schmidt
Improve Your Marketing Reporting: Looker, Tableau, Power BI, Databox, and Grow
From business owners to senior executives to marketing managers to frontline staff, entire organizations are utilizing one type of software as both a strategic and tactical tool, as well as a way to improve marketing reporting. Business intelligence software (BI) is being used to leverage big data and cloud computing in order to sort, analyze, and present complex datasets in easy-to-read reports.
Over the last 14 years, big data and business analytics have grown to over $187 billion globally, as predicted recently by the IDC.
Why are more and more companies utilizing BI software?
Main Benefits of Business Intelligence Software
Gain Insight for Your Marketing Strategy
BI software allows you to optimize business intelligence for sales opportunities, lead generation, lead conversion, market analysis, marketing strategy, and customer segmentation. By combining various databases with real-time data and cross-departmental collaboration, organizations are able to manipulate huge volumes of data and surface an almost unlimited amount of insights. These can include:
Identifying growth areas
Assessing supply and demand
Measuring product viability
Determining market position
Improving marketing reporting
Five Solid BI Solutions to Improve Marketing Reporting
Analytics are the backbone of business operations for organizations of all sizes and industries. In order for these organizations to understand their employees, customers, and processes—and develop effective marketing plans—they need to be able to effectively analyze their data analytics and provide a useful portrait of said data.
Looker, Tableau, Microsoft's Power BI, Databox, and Grow each provide comprehensive business intelligence tools complete with data analytics, visualizations, and collaboration with other programs. Below, we give you the 411 on these give popular BI solutions, along with details on where each one excels and where they fall short.
Looker Data Platform
From dashboards to reporting, the Looker Data Platform is a one-stop shop for BI, analytics, visualization, and data management. For businesses both large and small, data can be analyzed in real time within Looker's 100 percent in-database and browser-based platform.
The platform, which integrates with any SQL database or data warehouse, has powerful sharing capabilities. In addition, Looker's data models, called LookML, allow non-technical users to scan an SQL database successfully without prior coding knowledge. Users are also able to create new metrics, edit the LookML data model, and have access to a large variety of visuals including charts, graphs, and maps.
Where Looker Excels
APIs for integration into custom or third-party applications, such as Google Docs and Excel
Browser-based interface and customizable dashboards that work on any device
Drag-and-drop functionality
Collaboration capabilities
Extensible modeling language (LookML) that defines dimensions and measures
Fully customizable and exportable reports, charts, and graphs
Live connection to any SQL database on any infrastructure
Modern integrated development environment (IDE) for agile development and embellishment
Reliable tech support and self-learning database
Extensive visualization abilities complete with real-time analytics
Public access on reports and the ability to control viewing privileges
Integrations
Looker offers open APIs for integration with custom or third-party applications.
Pricing
Looker doesn't offer pricing information but instead develops customized quotes based on organizational needs. Variables that affect pricing include the size of the deployment, the amount of database connections, and how many users will have access to the platform.
Where Looker Falls Short
Marketing data does not integrate easily without an external tool, a separate spreadsheet, or in-house API.
Looker doesn't support online analytical processing (OLAP).
Devices Supported
Windows
Linux
Mac
Web-based
Customer Support
Email
Phone
Training
Videos and how-to articles
Team of analysts that work side by side with data team
Live web chat
Language Support
Pricing Model
Customer Types
Small business
Medium business
Large enterprise
Deployment
Cloud hosted
On premises
Open API
Tableau
Tableau offers a robust platform for data visualization and analytic reporting. Perfect for organizations of any type and size, Tableau offers simplicity and ease of use with drag-and-drop features, the ability to share information across an organization and create dynamic visualizations and reports, without the need for any coding or programming skills.
Where Tableau Excels
Develop dashboards with the ability to scale for desktops, mobile, and tablets
Embed dashboards into existing applications, such as Salesforce, SharePoint, and Jive
Create several different types of visualizations, including heat maps, line charts, and scatter plots, as well as animated and interactive visualizations that demonstrate data changing over time (e.g., month in a sales performance review)
Ask "what if" questions of the data
Unlimited number of datapoints in analysis
Patented technology from Stanford University
Data notifications and automatic updates
Dashboard commenting
Ability to create no-code data queries
Import all ranges and sizes of data
Metadata management
Security permission at any level
Tableau Public for data sharing
Online analytical processing (OLAP) which allows for data drilling, exploration, filtering, and time series auto-generation
Integrations
Tableau offers the Tableau Extensions application programming interface (API), which allows for the direct integration of web-based applications into the Tableau dashboard. Other dashboard integrations include customer relationship management (CRM) systems; integration with enterprise resource planning (ERP) tools; extract, transform, and load (ETL) software; and the Microsoft Office Suite.
In addition, Tableau offers support for hundreds of data connectors such as online analytical processing (OLAP).
Sample integrations include Facebook, Google Analytics, Google BigQuery, Google Ads, Google Sheets, Salesforce, and Twitter. Deployment options include Windows, Linux, AWS CodeDeploy, Azure, and the Google Cloud Platform.
Pricing
In addition to a 14-day free trial for new users, Tableau offers customized subscription services based on number of users, and whether or not an organization needs data prepping, data cleaning, or hosting services. Plans range from $12–70 per month, per user.
Where Tableau Falls Short
Extensive training is usually necessary for first-time users.
Dashboards can sometimes be a bit slow and larger data files can take longer to load.
An organization should have a well-defined data warehouse already in place, along with an up-to-date ETL and a data-savvy team that understands data joins, the business logic within that source, as well as the ability to find workarounds with complex calculations because they are difficult to perform in Tableau.
Because OLAP options are pre-built, there are some limits to functionality, such as the inability to do data grouping.
Devices Supported
Windows
Linux
Android
iPhone/iPad
Mac
Web-based
Customer Support
Online support
Desktop support
Server support
Phone support
Knowledge base
Training
Language Support
English
Chinese
German
Japanese
Spanish
French
Portuguese
Pricing Model
One-time payment
Annual subscription
Quote-based
Customer Types
Medium businesses
Large enterprises
Deployment
Microsoft's Power BI
With a collection of software services, apps, and connectors that work together to turn your data into coherent, visually immersive, and interactive insights, Microsoft's Power BI gives a bird's-eye view of any organization through its cloud-based analytics platform. It simplifies sharing and evaluation for users by allowing them to connect all of your data sources, visualize and discover what's important, and share that information both inside and outside the organization.
Where Power BI Excels
Unlimited access to on-premises and in-cloud data
Interactive, stunning, and customizable visualizations with the ability to share with wide audiences
Drag-and-drop capabilities
Natural language queries
Dashboard sharing and printing capabilities
Customizable dashboards with ad hoc reporting, analysis, and trend indicators
Over 200 data analysis functions
Integrations
Power BI integrates with Microsoft Dynamics, Salesforce, Google Analytics, Microsoft Excel, Mailchimp, GitHub, Comscore, Adobe Analytics, Acumatica, Circuit ID, and Azure Mobile Management, Zendesk, and more.
Pricing
Power BI offers a free desktop version for individual users, as well as packages that start at $9.99 per month, per user, which include features like data governance, content packaging, and distribution. A free 60-day trial of this package is available. Premium plans start at $4,995 per month, per dedicated cloud computer and storage resource.
Where Power BI Falls Short
Without a buy-in into the Microsoft ecosystem, customers will find it difficult and costly to integrate tools from other vendors.
SQL Server Reporting Services (SSRS) only work in on-premises deployments.
There are some data limits (3,500 datapoint limit) when it comes to drilling down datasets
Devices Supported
Windows
Android
iPhone/iPad
Web-based
Windows mobile
Customer Support
Phone
Training
Tickets
User groups
Guided learning
Documentation
Language Support
English
Pricing Model
Customer Type
Medium business
Large enterprises
Deployment
Databox Data Platform
With Databox, a cloud-based business analytics tool, users can incorporate data from multiple sources into customizable KPI dashboards that are viewable from any device. Features include drag-and-drop capabilities, customizable report viewing with multiple data visualizations, live previews, custom metrics, events, statistics, and goals.
Where Databox Excels
Multiple data sources and integrations with no need for coding knowledge
Ability to restrict permissions and IP addresses
Customizing metrics and visualization styles
Ability to pull in Google Sheets data into dashboard visualizations
Advanced settings for each metric, including time range filtering
Daily scorecard delivery for iOS and Android with user-selected metrics
Trend alerts
Customer Service and Support
Online support (chat and ticketing)
Knowledge base
Video tutorials
Integrations
Databox currently integrates with 70+ applications, including all major social media platforms, Mailchimp, Stripe, Zendesk, Google Analytics, Google Ads, HubSpot and more.
Pricing
Databox offers a subscription-based service ranging from $49-$250 a month. They also offer a free tier that gives you the opportunity to build out 3 dashboards.
Where Databox Falls Short
Custom reporting comes at a higher cost
Some learning curve in adopting the platform
Devices Supported
Language Support
Pricing Model
Customer Types
Small businesses
Medium business
Large enterprises
Deployment
Grow Data Platform
With the Grow cloud-based data platform, marketers are able to combine data from hundreds of connections including Salesforce, Dropbox, Google Analytics, Twitter, and MySQL (as well as spreadsheets and in-house data sources) into one fully customizable dashboard that gives a real-time, enterprise-wide, visually beautiful view of your business analytics, trends, workflows, and key activities.
Where Grow Excels
Data is able to be blended, cleaned, and filtered across multiple data sets
Built-in data editor allowing for customizable metrics
Accessible on iOS and Android mobile devices
Automated reporting
Unlimited users
Customer Service and Support
Phone support
Online support
Knowledge base
Video tutorials
Integrations
Grow currently integrates with 123 applications, including all major social media platforms, Marketo, Microsoft Excel, Salesforce, Zendesk, Google Analytics, Google Ads, and more.
Pricing
Grow doesn't offer pricing information, but instead develops customized quotes based on organizational needs. Variables that affect pricing include the size of the deployment, the amount of database connections, and how many users will have access to the platform.
Where Grow Falls Short
Sharp learning curve with non-intuitive navigation between different dashboards, along with the necessity for a healthy knowledge of SQL
Lack of a dashboard preview option, resulting in the inability to anticipate sizing for presentations
Some integrations require manual refreshing
User interface issues with font, color, and lack of sparklines when hovering over data
Devices Supported
Language Support
Pricing Model
Customer Types
Small businesses
Medium business
Deployment
Which BI Solution Is Right for You?
In summary, you'll want to choose a platform based on the vision you have for your organization, your data strategy, your marketing needs, and your specific business users' needs. Whether you choose Looker, Tableau, Power BI, Databox, or Grow, you'll want to define the future state of your business with a clearly outlined, well-thought-out data strategy that includes a tiered roadmap of how you'll execute each step of your data architecture.
Enterprises have diverse needs and requirements and no software platform will be a perfect out-of-the-box solution that fulfills all of your business requirements. Instead, plan on customizing the application of your choice for your special wants, staff member skill levels, budget, and other needs.
Do your groundwork, look into each application in detail, read a few reviews, contact the seller for explanations, and finally select the application that offers the features and flexibility you desire.

About the author
Paul Schmidt is a director of client services at SmartBug Media. He works with clients on SEO, analytics, lead generation, sales enablement, customer success and inbound marketing strategy. He previously worked at HubSpot, helping develop inbound strategies for over 200 clients. His past clients include: Travelers Insurance, Unilever, and the SABIAN Cymbal Company. Paul studied percussion in Las Vegas and got his MBA in marketing in Boston Read more articles by Paul Schmidt.
Subscribe to get our new blogs delivered right to your inbox
Other insights you might like