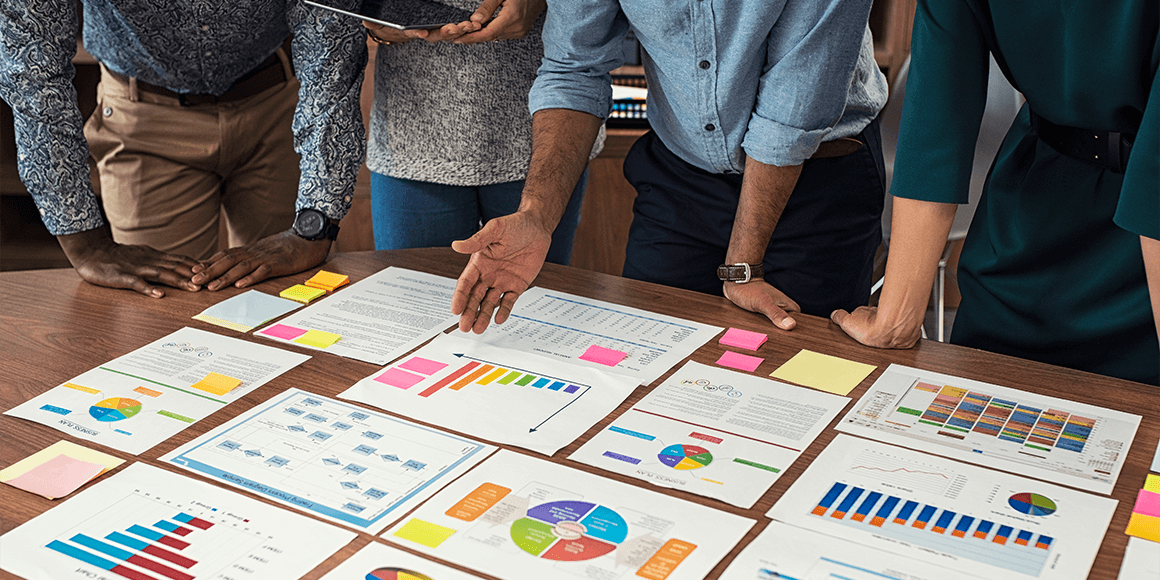 Marketing Operations: How to Choose the Right Strategy for Your Business
October 14, 2021
---
Marketing is the backbone of any business—without marketing, there would be no sales and no revenue. Marketing is all about creating awareness for your brand, products, and services. It is about marketing your message in the right way, to the right audience, at the right time.
With so many marketing channels to choose from, it's important to have a well-thought-out strategy—or risk wasting time and money on ineffective campaigns. Executing a successful marketing strategy means having marketing operations in place.
What is marketing operations, and how should you go about choosing the right strategy for your business? Read on to find out.


What is marketing operations?
According to HubSpot, marketing operations is "an umbrella term that describes the people, processes, and technology that power a business's overall marketing strategy and increase chances of success."
As companies grow, many struggle with marketing execution because marketing teams are often small and don't have the right support from technology, processes, or people. This is where a solid marketing operations team can help. Marketing operations is a dedicated function, either from an internal or external team, that focuses on using tools to streamline activities such as lead management, email campaigns, paid advertising, and so on.
Marketing operations is an essential part of any company's marketing efforts, allowing a business to scale its activities with minimal effort while increasing efficiencies across teams. These operations help marketers take control of their marketing initiatives by having clear strategies, processes, and technology to track progress.
Implementing marketing initiatives that support your business strategy and customer experiences across different channels, programs, or campaigns is vital to long-term success. Marketing operations makes this possible through the use of software and processes by:
Centralizing marketing activities
Maximizing marketing efficiency
Enabling effectiveness and scalability
What does an effective marketing operations strategy include?
One of the most important parts of any marketing strategy is ensuring that you have a plan in place to measure success. If there are no metrics or ways to track results, it's impossible to iterate and improve your marketing efforts. Without effective marketing operations, you cannot accurately measure return on investment (ROI) for all these activities or increase revenue through optimization efforts.
To create an effective marketing operations strategy, you need the following assets.


1. Apps that your team finds user-friendly
The right tools will help you and your team streamline marketing activities and increase efficiency. Teams must be able to work on the go, so apps need to be user-friendly and accessible from any device.


2. Processes that allow team members to work efficiently
Marketing teams are often small, with little time and few resources. Marketing automation platforms can automate repetitive tasks such as emails while also facilitating collaboration across your entire company. This ensures that your marketing activities are running smoothly and on schedule.


3. Budget management and tracking
Understanding how much you're spending across all of your marketing efforts will help identify areas for improvement. Tracking costs by channel/campaign, program, and tool will allow you to see where money is being spent and how it's contributing toward your marketing goals.


4. Integration between apps to leverage current data
If your team is struggling with keeping up-to-date metrics (and therefore understanding what's working and what isn't), then you need the right tools that integrate into each other, giving you a complete picture of your marketing efforts.


5. Clear training and documentation
It takes time to learn new concepts or use new software effectively. Training and onboarding should be provided where necessary. Clear documentation, tutorials, and videos are invaluable for helping teams get up and running with various apps and workflows quickly without wasting time.


6. Alignment with sales processes, data, technology, and people
To understand how marketing activities impact revenue, it's important that everyone involved has a shared understanding of customer journeys. Marketing and sales teams need to work closely together to ensure a consistent experience in order to drive revenue.


7. Reliable reporting processes
It's important that your marketing team has access to the right data and information to plan, review, and iterate their marketing efforts effectively. Having the right tools with automated reporting capabilities will ensure that your data is accurate and easy for you (and others) to understand. Reports should help everyone involved stay on track toward their marketing goals while highlighting areas of opportunity.


8. People in the right roles
The best marketing operations teams are built around people who can manage processes, technology, and data. It's important to have people with the right skill set in place. However, having the right people is only one part of it—they also need to be placed in roles where their strengths can be utilized fully.


What are the steps to create a marketing operations strategy?
Creating a skilled and highly functioning marketing operations team should be a top priority. This will require identifying roles that are currently missing within your marketing department. Once you have the right people in place, it's important to develop their skills and knowledge so they can be successful with any tasks or projects given to them.


1. Align marketing strategy with company goals.
The first step is to understand the marketing goals of your company and align them with corporate strategy. This will ensure that your team is focused on the right activities and working toward a common goal. Without this level of clarity, it's impossible to create a marketing operations plan that will actually help you achieve those goals or measure ROI on activities.


2. Create an action plan.
Having a map of the various marketing activities and processes for your team to work from will enable you to create an action plan that outlines priority tasks. This will help your team determine their goals and what they should be focusing on at any given time. It's important not to overwhelm people with too many priorities, so focus on what needs to be done first for other goals or milestones to fall into place.


3. Define success.
In order to implement a successful marketing strategy, it's essential to first ensure everyone has the same definition of what success looks like for your company and your marketing efforts. Setting goals is essential for staying focused and prioritizing activities and SMART goals are the best way to ensure your team understands what needs to be done and their individual role in achieving it.


4. Communicate your intent to your marketing team.
Communication is key when it comes to creating a shared understanding of what everyone needs to do and why. Make sure you communicate your marketing strategy and goals with the rest of your team so that everyone is onboard, understanding what they are working toward and how their efforts contribute to overall goals. They also need to have a clear understanding of why certain things are being prioritized over others.
Communicating with your team on an ongoing basis is crucial for success, so make sure you're regularly communicating updates, changes, and insights from the various tools and platforms your team uses.


5. Evaluate the results.
After you have implemented your strategy and goals, take a step back to evaluate what's working well and areas that could be improved upon. This will ensure that any future changes or updates made are actually helping achieve the overall goal of your marketing efforts.
Marketing operations is vital to the success of your overall marketing strategy. Executing your marketing strategy without marketing operations in place is like building a house without first building the structure's foundation. Like a house without a foundation, a marketing strategy without marketing operations is bound to fall apart over time. Start building a solid marketing operations foundation today.
About the author
Courtney Fraas is a SmartBug Media Inbound Marketing Strategist based in Savannah, GA. With eight years of marketing experience, Courtney specializes in copywriting, visual design and project management. When she isn't crafting customer-focused messaging, Courtney is busy traveling near and far, playing with her pup, and becoming an expert Airbnb host. Read more articles by Courtney Fraas.
Subscribe to get our new blogs delivered right to your inbox
Other insights you might like