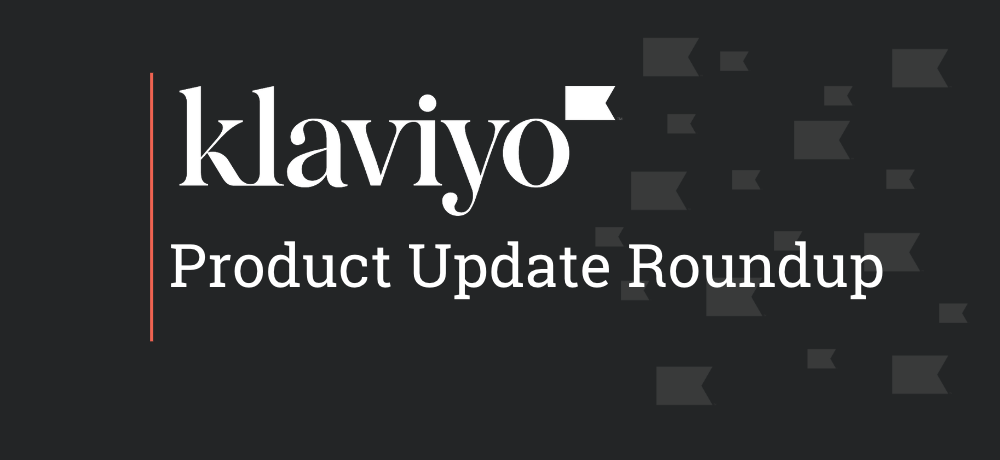 Welcome to our blog series, where we highlight the latest updates from Klaviyo! As an agency focusing on e-commerce marketing, we understand the importance of utilizing the latest technology to drive results for our clients. Klaviyo has been our trusted partner and continues to provide innovative solutions to help our clients reach their business goals. This series will dive into the latest product updates and how they can benefit your e-commerce business. Get ready to stay ahead of the competition and take your marketing strategy to the next level with Klaviyo's newest features and tools!
August 2023

Consolidate Your Tech Stack, Drive Efficiency, and Increase Customer Lifetime Value with Klaviyo CDP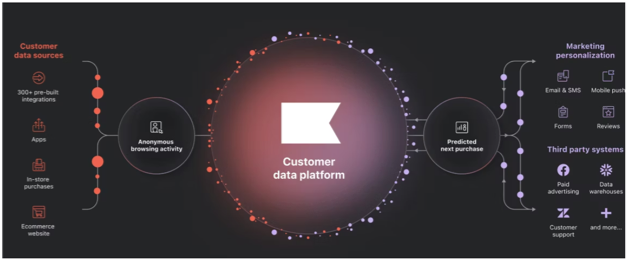 | | |
| --- | --- |
| Klaviyo Update Details | Klaviyo's newly introduced customer data platform (CDP) is designed to streamline tech stacks and drive business efficiencies. It's equipped with features such as data transformation, group membership API, webhooks, and data warehouse syncing, along with intelligence features such as funnel analysis, RFM analysis, audience performance reporting, and customizable customer lifetime value (CLV). You'll find it easy to use and implement, and it eliminates the need for multiple tools or custom development. With this CDP, businesses can store unaggregated, lifetime event data for all customers, offering a comprehensive 360-degree view of customer history for real-time personalization, segmentation, and analysis. An added advantage is its fast access to historical data in a single platform, requiring minimal implementation. |
| SmartBug's Impact | It's understood that the evolution of marketing technology is critical to business success. Klaviyo's new customer data platform should be seen as an important development. It's designed to streamline your tech stacks and improve business efficiencies, which can lead to significant cost savings. Personalized marketing strategies can be developed using the comprehensive view of customer history it provides. The platform's data-driven insights and actionable tips are key resources that can be used to propel your business all in one platform. Remember, it isn't just about having more data; it's about having the right data in the right place. Now you can with Klaviyo. |
August 2023

Cultivate Trust and Engagement with Branded SMS Short Links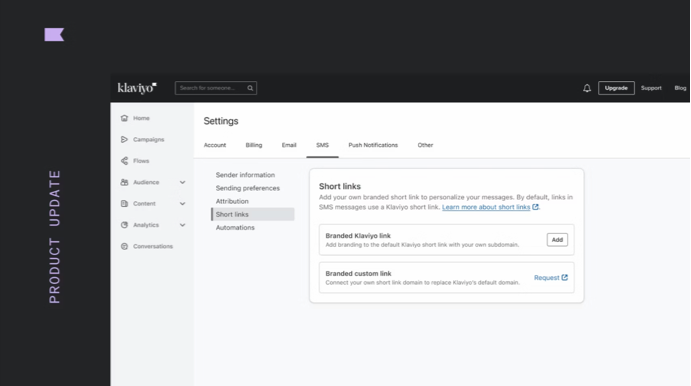 | | |
| --- | --- |
| Klaviyo Update Details | Your SMS messages can now be personalized and your brand identity recognized more easily, thanks to the introduction of Branded SMS Short Links by Klaviyo. It's been designed to assuage any concerns you might have as a subscriber, promote genuine engagement, and create trust. This new feature bridges the gap between SMS promotions and websites, fostering deeper connections and encouraging further exploration. However, it should be noted that a paid SMS plan with Klaviyo is required to create these personalized branded SMS short links. |
| SmartBug's Impact | At SmartBug Media, we know trust and engagement are the twin pillars of successful client relationships. With Klaviyo's Branded SMS Short Links update, you're offered a platform that can enhance your brand recognition and personalize your SMS messages. Concerns about subscriber trust can be assuaged and genuine engagement can be promoted. By bridging the gap between SMS promotions and websites, this tool fosters deeper connections with your audience and encourages exploration. However, it's important to remember that a paid SMS plan with Klaviyo is required to create these personalized branded SMS short links. |
August 2023

Stand Out in the Inbox with Anytime Campaign Sending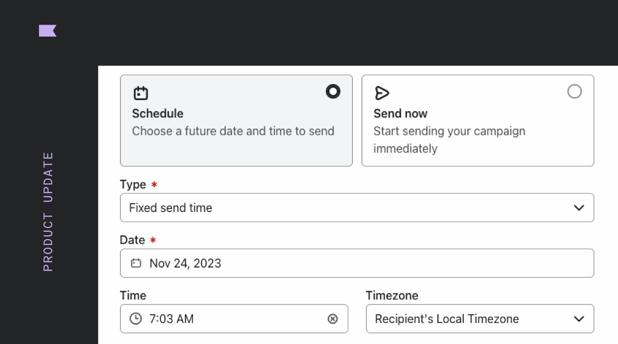 | | |
| --- | --- |
| Klaviyo Update Details | Klaviyo's new update, "anytime campaign sending," is now available, offering you more control over your campaign scheduling. You're no longer restricted to the top of the hour for dispatching your messages across various channels such as email, SMS, or mobile push. Instead, you can choose the exact minute you want your message to be sent—meaning you can get in front of your customers at the exact time that is most beneficial to them and your business. |
| SmartBug's Impact | This Klaviyo update could be very beneficial for your marketing strategy! It allows you to break through the marketing noise and make your campaigns stand out, especially during peak times when most brands are sending their messages. With the added flexibility in scheduling, you can better cater to your audience's preferences and habits, potentially leading to improved engagement and results. And we can help you identify the best times for sending—we're experts in that, too. |
Take advantage of SmartBug services for streamlined implementation of Klaviyo and leverage these new updates effortlessly. Our team of experts can provide timely, efficient, and cost-effective solutions to ensure your digital transformation today.
About the author
Kody Van Sistine is a Partner Marketing Specialist who enables and empowers sales and client services teams with the tools and expertise to delight their customers. With a diverse background in manufacturing, E-commerce, brand management, and content creation, I can bring a unique perspective to any marketing-related effort. I enjoy playing video games and working on a print-on-demand side hustle in my free time. Read more articles by Kody Van Sistine.
Subscribe to get our new blogs delivered right to your inbox
Other insights you might like