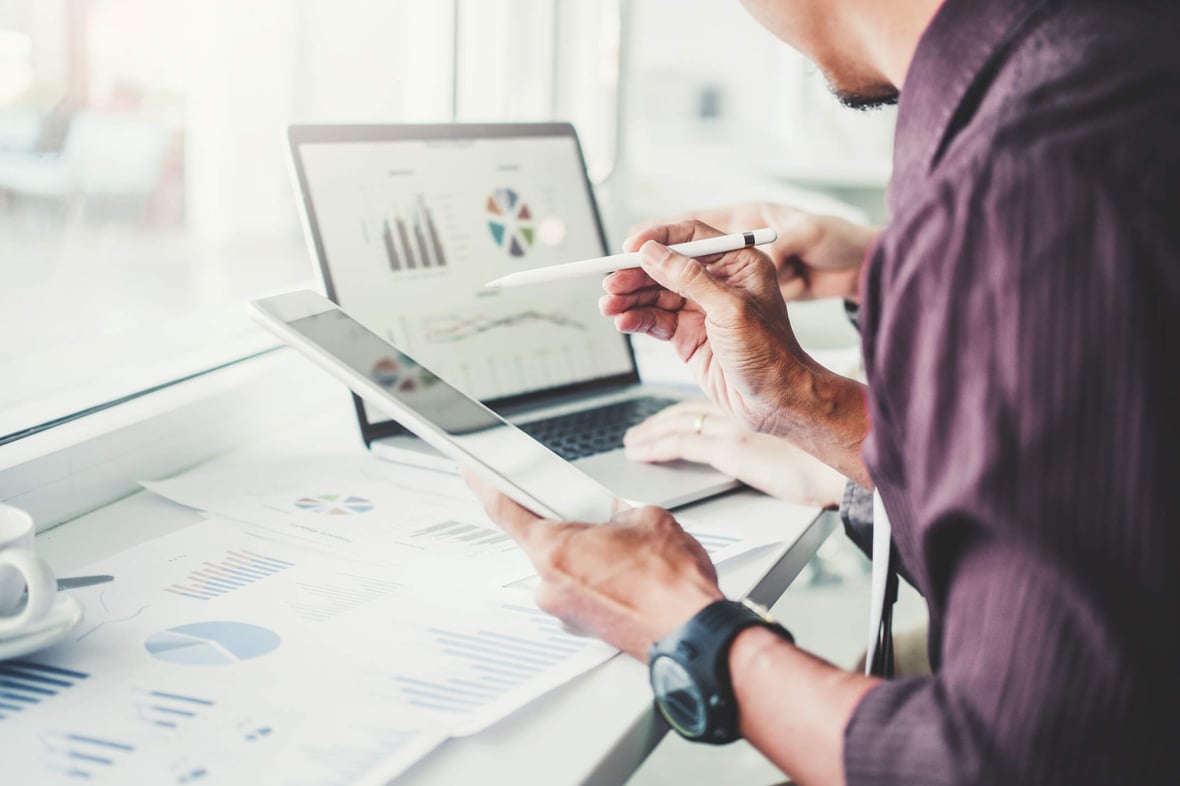 5 HubSpot Reports to Enable a Successful Sales Week/Quarter
March 9, 2021
---
By Sandy Moore
Reporting may help you determine what is and what isn't working when it comes to your sales process. By using sales HubSpot reports, you can gain powerful insights and visibility into your top sales metrics, along with forecasting your potential sales revenue. The information outlined within the HubSpot reports can help your team make strategic decisions and improve upon the sales process. Knowing the value of reporting is one key aspect, and knowing which reports are most valuable is another.
First, you may want to start by looking at the reports available in the HubSpot Reporting Library to determine which out-of-the-box reports would be most helpful for your organization. These reports contain some of the most commonly used data and metrics for determining sales productivity, website analytics, and contact behavior. The HubSpot Reporting Library can be filtered by topic, which makes it easier to find standard reports based on the type of data you need to report on. HubSpot also offers a new Sales Analytics reporting tool that tracks activities and monitors deals within the pipeline.
Let's examine the most common types of sales HubSpot reports to ensure your sales team is most successful this upcoming week and throughout the quarter.


1. Deal Forecasting
Organizations make plans based on the current and potential revenue. Understanding how much revenue is still possible is the key to determining the work efforts required by the sales team.
Using the Deal Forecasting report shows you the amount of forecasted revenue by each deal stage within the pipeline. By adding this report to your HubSpot Dashboard, you can keep a pulse on how much revenue is possible for your organization for this week, month, quarter, or any custom time period. This information helps each sales rep determine how much additional effort is needed to achieve the assigned quota.


Example of a Deal Forecasting report:

2. Deal Closed Totals vs. Goal
In addition to forecasting revenue, it is important to compare how much actual revenue has closed compared to the revenue goal. The Deal Closed Totals vs. Goal report can be broken down by each individual sales rep to view the dates their deals were closed and how much revenue each sales rep brought in during that time period. It helps determine if each rep is hitting their revenue goals compared to the overall goal.


Watch this on-demand panel SmartTake webinar to learn about HubSpot's new reporting and dashboard capabilities, and how to leverage automated reports for powerful sales enablement.






Example of Deal Closed Totals vs. Goal report:

3. Deal Totals by Stage
When determining the forecasted revenue and the potential to achieve goals, it is helpful to know how many deals are in each stage of the sales pipeline. The Deal Totals by Stage report displays the total number of deals for each deal stage, and it can be set up for one or multiple pipelines based on your sales process.
The sales team can use this report to determine stalled deals verus low-hanging fruit within the pipeline. From there, the sales team can optimize strategies to close the most deals. It's important to note that the report will only show new deals created within the selected time range.


Example of Deal Totals by Stage report:
4. Contacts Created and Worked
Sales reps like to know, "How many contacts have been assigned to me?" Sales managers like to know, "How many contacts have been worked?" The Contacts Created and Worked report will give you both of these answers.
You can view the total number of contacts that have been created, assigned, and worked (i.e., called, emailed, held meeting) by your sales reps. You can also see how many deals were created and won. This report will compare numbers to the previous time period to demonstrate how your organization is progressing, based on the entire marketing and sales funnel.


Example of Contacts Created and Worked report:



5. Sales Rep Activity Leaderboard
Do you want to know which sales rep is being the most productive? With the Sales Rep Activity Leaderboard report, you can see the sales activity of each rep and compare individuals. Based on this report, you can see if sales activities align with the amount of closed revenue.
By displaying this report on a shared HubSpot Dashboard, all of your sales reps will be able to compare their productivity with each other. Plus, it could encourage a little bit of competition among your team to rank the highest on the Sales Rep Activity Leaderboard.


Example of Sales Rep Activity Leaderboard report:


Practically Endless Reporting Possibilities
These sales HubSpot reports are just a handful of what is available through HubSpot's reporting options. Be sure to check out the Sales Content Analytics reports to see how your sales team's email templates, sequences, and documents are performing. Plus, you can track your recurring revenue, churns, and upsells in the new beta Revenue Analytics Reporting tool, which is one of the benefits of the new HubSpot Sales Hub Enterprise package.
And don't forget that HubSpot provides the ability to make custom reports if you are in need of more specific information. The possibilities of reporting are endless.

About the author
Sandy Moore Sandy Moore is a Senior Director, Marketing Strategy at SmartBug Media. She has more than 20 years of experience in marketing with extensive knowledge in outbound and inbound marketing, advertising sales, promotions, public relations, and sales enablement. Read more articles by Sandy Moore.
Subscribe to get our new blogs delivered right to your inbox
Other insights you might like