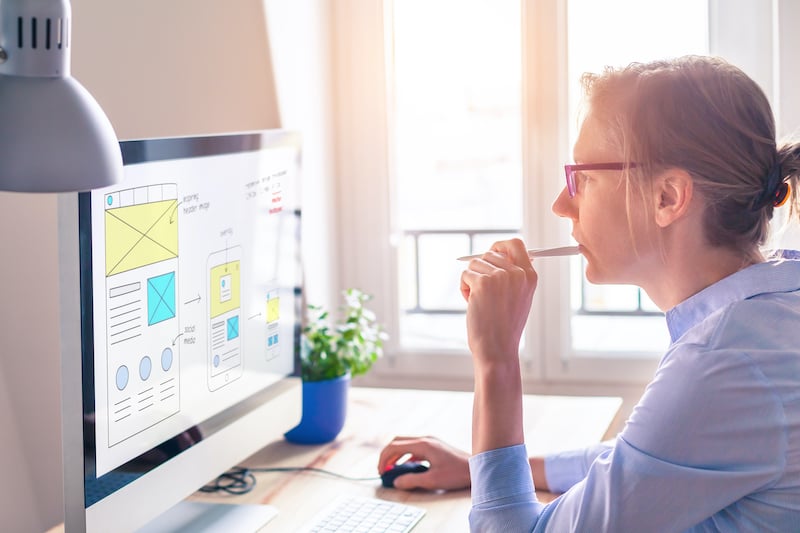 Understanding the Mobile Drag-and-Drop Editing Experience in HubSpot
September 1, 2021
---
By Mark Ryba
Mobile use is on the rise. As a marketer, if you want your content to grab a lead's attention on any device, you need to fine-tune it for mobile. Now, HubSpot's mobile drag-and-drop editing feature gives you the tools to boost the mobile experience without having to rely on a dev or advanced user.
Ready to start crafting content that mobile users love?
In this article, I break down everything marketers need to know about HubSpot's mobile drag-and-drop editor—along with a few hacks to squeeze more out of this handy tool.


What's so special about HubSpot's drag-and-drop editor?
Before digging into the marvel of the mobile drag-and-drop editor, it's worth taking a look at HubSpot's general content management system (CMS) drag-and-drop capabilities. The drag-and-drop editor lets content marketers adjust modules and edit content on their own—without a need for coding or web development skills. Here are a few benefits HubSpot's drag-and-drop editor spells out for marketers.


More Control
The drag-and-drop editor lets marketers build and arrange a web page or email without the help of a developer. That means you can see your inbound marketing vision through without interrupting your day or having to wait on a busy dev team.


More Flexibility
With the ease of drag-and-drop editors, marketers don't have to feel like their designs are set in stone. Rather than having to reach out to devs for every little adjustment, drag-and-drop means marketers can shape their pages and emails on their own. That also comes in handy if you're using data to fuel marketing decisions and want to enact a plan now.


More Power to Customize
Drag-and-drop editors give you a preview of the content you create. And now you can see how those designs look on mobile or desktop screens, even as you tweak content to fit your vision. That makes it easier for you to deliver content that fits your marketing strategy and throws your brand in the best light possible.


What are the advantages of the mobile drag-and-drop editor?
The HubSpot mobile drag-and-drop editor takes content development a step further. It lets marketers toggle between mobile and desktop settings to adjust pages or emails for mobile users. With a click of a button, you can switch to mobile and gain full access to the mobile drag-and-drop editor. Suddenly you can add new modules, rearrange them, and resize them from the mobile viewport.
The advantage?
You now have the power to deliver content in an extremely popular format: mobile. By shaping your marketing content for mobile use, you're tapping into a massive market. In fact, Statista research found 90 percent of the global internet population now uses a mobile device to access the web. HubSpot's mobile drag-and-drop editing lets you hit that audience with messages that fit their device, match their browsing preferences, and enhance their user experience.


Use these tips to craft a winning mobile experience.
Ready to start creating mobile designs that captivate visitors and keep them engaged? There are a few secrets to using HubSpot's mobile drag-and-drop editor to help you create stellar content. Here are a few tips to keep in mind.


Edit for mobile look and use.
Remember, the experience of a mobile user is going to be fundamentally different from a person on a desktop. When you pop into the mobile viewport, it won't be hard to see if the design on mobile screens line up with your intentions. However, don't stop there. Keep the user's experience in mind, too. If mobile users have to scroll too much or stumble across oversized images, you could bog them down. That's why it's important to edit the look of mobile designs and also edit for a better user experience.


Always QA your page.
HubSpot gives you the ability to toggle between mobile and desktop viewports. That makes QAing your page for mobile easy. By previewing your design on mobile before you publish, you can identify any images, modules, or layout details that aren't coming across to the viewer. Taking the time to preview work in the mobile view can boost your user's experience and protect you from letting messages get lost in translation.


Target your organic search pages first.
Not sure where to start optimizing for mobile? Look at search-friendly pages first. Another good place to start is any text-heavy pages you have. Glance over all pages, but devote special attention to the pages the user will land on through search.


Get the most ROI out of your HubSpot platform.
The HubSpot mobile drag-and-drop editor is just the latest in a string of tools built to make marketers' jobs easier. And if you want to get more ROI out of HubSpot, the drag-and-drop editor just scratches the surface. Watch our SmartTake: What's New with HubSpot webinar to learn the latest ways to maximize your marketing efforts with HubSpot.

About the author
Mark Ryba was formerly a Senior Developer at SmartBug who is passionate about creating incredible online experiences. When not experimenting with the latest front-end JavaScript frameworks, pushing CSS to new limits, or creating custom full-stack application solutions, you'll find him with a camera in his hand, welding in the garage, or practicing to be the next World Champion of Darts. Read more articles by Mark Ryba.
Subscribe to get our new blogs delivered right to your inbox
Other insights you might like