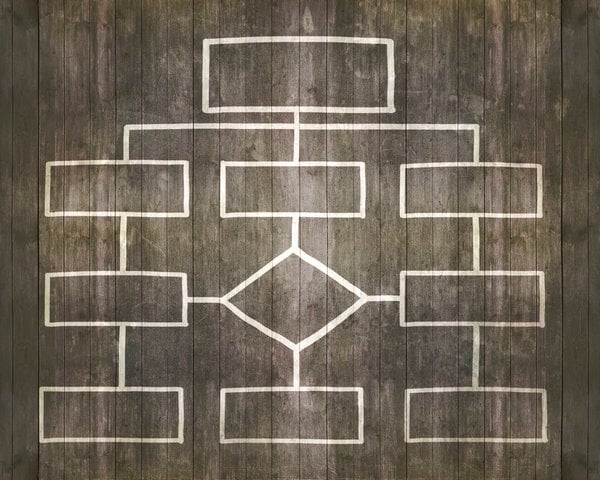 How to Build a Decision Making Model for Your Marketing Strategy
July 30, 2015
---
By Aaron Riddle
We've heard this question before, "I'm looking for 'X' and I need it done by 'Y'". Where do you begin? How do you answer those questions?

Forty or fifty years ago, you would either call information, look in the yellow pages or the newspaper and hope that something relevant was available. Nowadays, we can find everything with an available connection and a couple of clicks. With this kind of power in the hands of consumers, more and more people are doing basic and extensive research on the almighty 'X' before the purchase process even begins.
Within the buying process and in all aspects of marketing, there's a decision making process. Whether you're buying groceries for your family or a multi-million dollar piece of equipment for your organization, there's a process and model around that decision. Let's create an example and walk through some of the steps associated with the decision making process, create an example to follow along and pull away some tips for your team's process.


Pinpointing a Specific Problem/Need
First, there needs to be a need or issue the end user is trying to solve. Remember the question at the beginning of the post? "I'm looking for 'X' and I need it done by 'Y'". The most likely place to begin would be a google search. This is a very common occurrence with most buyers as 77 percent begin their business purchases with a google search.

Let's create our example. Eric is an owner of a small bed and breakfast and has just had one of his washers of five years begin to make louder noises than usual. "Is that my washer making that noise? What seems to be the problem?"

He has identified that something is wrong with his washer, but he's not sure what is making the noise (just yet).

Pull away Tip: Understand the problems that your potential customers experience. What problems and needs are they facing? Where are they looking for answers to these needs? Have your top-level content (ebooks, white papers, analyst reports, blog posts) focused on the problems and needs your business can answer to be apart of the initial conversation.



Considering All of Your Options
Once the problem is pinpointed and the need is there, now its time to consider all of your options and get into the specifics. Now that we are moving to identifying exactly what 'X' is, we can also begin to focus on 'Y'.

After Eric takes a quick peek at the washer, he gets to his computer to get information on his problem. He looks up "loud and noisy washer" into google to see if other people have experienced the same issue. At over 678,000 results, a lot of people have experienced this issue!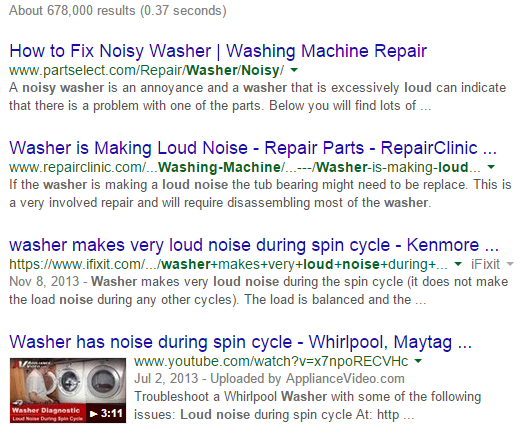 After clicking on one of the results, he finds out that there's more than one reason for his 'loud and noisy washer'. It could be the drain pump, drive belt, drive motor. By considering all of the options, he discovers through his research that the noise only happens after the spin cycle is complete, signaling that the drain pump may be restricted or out of commission.
Pull away Tip: Your buyer is now focused on solidifying his initial problem. This is a great time to have your content (webinars, comparison docs) working double time! Make sure to identify the proper keywords of those initial buyers problems and provide the thought leadership for them! Targeted content to the buyers needs is essential to providing that much needed continued pace down the funnel.


Fully Intent On Making a Purchase
We have a specific need and have now identified the specific problem, now its time to move forward and purchase 'X.' This is also where our 'Y' begins to take shape and gets resolved.

Now that Eric has considered all of his options and has gathered that his issue is the drain pump, he is now ready to buy! Which drain pump should he buy? Where should he go to buy? How is he going to install it (himself or hire a professional)? These are all questions that can potentially run through Eric's head as he's now identifying companies to make a purchase. Based on the recommendation he received in solidifying his problem earlier, he notices that the company that helped solidified his problem has a part locator on its website! Eric can now find the right part and make the order.

Pull away Tip: With the many different choices and options we have today as to where we can buy and how for that matter, we need to keep offers at this stage straight and to the point! "Request a Quote" "Request a Consultation" and "Talk with one of our experts" are great taglines to use on Calls-to-Action throughout your website to continue them towards the point of purchase.

Understanding your buyer's decision making process is an important step moving your company forward. Then and only then can you see your marketing in action!

What parts of the model do you have in place and which parts are you looking to improve?

About the author
Aaron Riddle was formerly a Digital Project Manager at SmartBug Media. He has more than 9 years of marketing and project management experience helping organizations succeed in their digital marketing goals and objectives ranging from not for profits to large technology-based groups and businesses. Read more articles by Aaron Riddle.
Subscribe to get our new blogs delivered right to your inbox
Other insights you might like