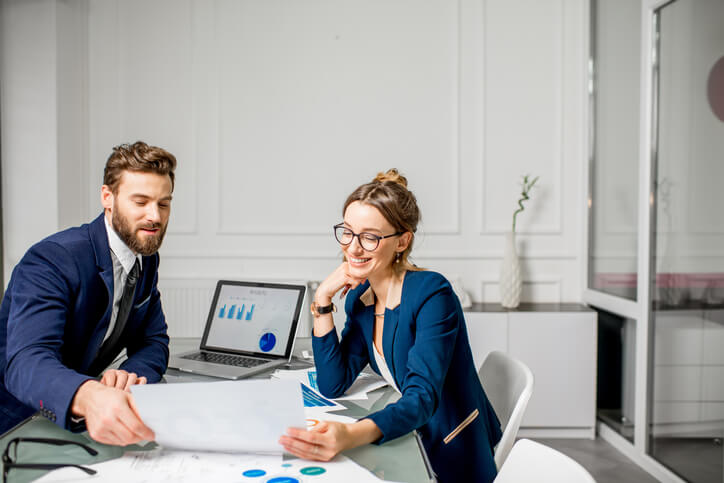 4 Steps to Implement Your Healthcare Marketing Plan Using Inbound Marketing
August 19, 2021
---
By Megan Golden
Are you looking to refresh your healthcare marketing plan with a focus on inbound marketing? Or perhaps you're completely starting from scratch? Either way, when it comes to healthcare marketing, it's crucial to have a well-detailed plan in order to get the results you want.
Whether you're in consumer healthcare marketing or B2B, we've put together five steps to implement your healthcare marketing plan with inbound marketing.


Inbound Healthcare Marketing Plan Step 1: Determine your target market and assess where you currently stand.

Buyer Personas
If you haven't already ironed out your buyer personas, now is the time to do it. According to HubSpot, "Buyer personas are semi-fictional representations of your ideal customers based on data and research." When it comes to inbound marketing, buyer personas help guide content development, determine how to best reach your target audience, and define their interests, needs, and wants.
A good place to start is looking at how your current customers found you and why they chose you by going directly to the source. That's right, it's time to put your interviewing hat on! While you're at it, you should also check with your sales team and other employees who regularly interact with your target audience for the best insights to your personas' habits.

Key Competitors
Once you've clearly defined your target market and built your personas, it's time to look at your key competitors. Assess how you compare to their healthcare marketing plan and their business in general, including the following questions:
What seems to stand out?
How can you do better?
Are there some leads you lost to key competitors? If so, it's time to ask them why they went with a competitor.
You should also ask the same with leads you closed—why did they choose you instead of another group?
It might be useful to do a SWOT (strength, weakness, opportunity, and threat) analysis to determine your strengths and weaknesses compared to your competitors. Where are the gaps in your healthcare marketing plan, and how can you change them into opportunities?



Bonus Prep: Content Audit
Did someone say content audit? If you want a solid inbound marketing plan, you need to assess your current content. Do you have a blog, resource center, or any sales collateral pieces? Time to round them up and see what content meets which persona's needs—if any at all. What stage of the buyer's journey does each piece of content fall in? This will be a clear indication of where you need to create more content.


Inbound Healthcare Marketing Plan Step 2: Set SMART goals.
Goals, goals, goals—and did I mention goals?
The best way to measure the success of your healthcare marketing plan is to set realistic goals from the beginning. What do you want to accomplish with your marketing plan? What key performance indicators (KPIs) can you track monthly, quarterly, and yearly to determine if your plan is working? As you formulate your goals, be sure they're SMART—specific, measurable, achievable, relevant, and time-based.
For inbound marketing, it's important to track organic traffic and conversions from your organic traffic. But you can get more detailed than that. Make sure your goals align with your overall business goals and your sales team's goals, because it's your job to deliver the leads.


Inbound Healthcare Marketing Plan Step 3: Build out your strategies and tactics in detail.
Now it's the fun part! You've identified your personas, what they're interested in, and how to best reach them. You understand where you stand out in the market and where you might fall short. Lastly, you've determined what areas you want to grow and you've developed goals and determined KPIs to help you assess your plan.
Next up: coming up with the plan to help you actually achieve these goals. The best way to do this is to determine a strategy for each goal. Remember your strategy should be the idea or approach that will help you achieve the goals.
Here's an example case study for a hypothetical surgeon:
SMART goal: Increase the number of patients in your hip replacement persona by 15 percent in the next year.
Strategy: Improve the patient experience by helping patients feel more informed when going into appointments and feeling ready for surgery.
Tactics
Write blog posts that outline what hip replacement patients should expect before, during, and after surgery.
Create an "Ultimate Guide to Hip Replacement Surgery" e-book, blog post, or pillar page.
Use video to showcase patient success stories.
Create a monthly webinar where a physician walks through hip replacement surgery FAQs and accepts questions afterwards.
Bonus Strategy: Monthly Mini-Campaigns
Build your marketing plan so that each one of your goals is its own campaign that includes what tactic should be accomplished each month. For example, you know in March you're going to write one blog post, in April you'll publish it and also start the "Ultimate Guide to Hip Replacement Surgery." As you create individual campaigns, include the topics for each blog post, webinar, who the subject matter expert will be, and so forth.


Inbound Healthcare Marketing Plan Step 4: Analyze, review, and refresh often.
We recommend you review your KPIs monthly in order to assess how reasonable your goals are and if your strategy is working.
Perhaps you realize a blog topic is performing really well and decide it might be time to create more content around that same topic, add a new CTA to the blog post, or even put together a webinar or video with the same information. On the other hand, you may notice your webinars don't seem to have many attendees. Do you need a new time or subject matter? Or perhaps your promotion isn't where it should be.
Regularly analyzing how your strategy is performing will allow you to make changes quickly, if needed, and capitalize on what's working well in order to reach your goals on time.

About the author
Megan Golden is an Inbound Marketing Strategist for SmartBug. She has had previous experience with strategic campaign planning, content development, and implementing inbound marketing campaigns. She really enjoys collaborating with coworkers and clients and seeing new ideas develop into successful marketing campaigns. Read more articles by Megan Golden.
Subscribe to get our new blogs delivered right to your inbox
Other insights you might like