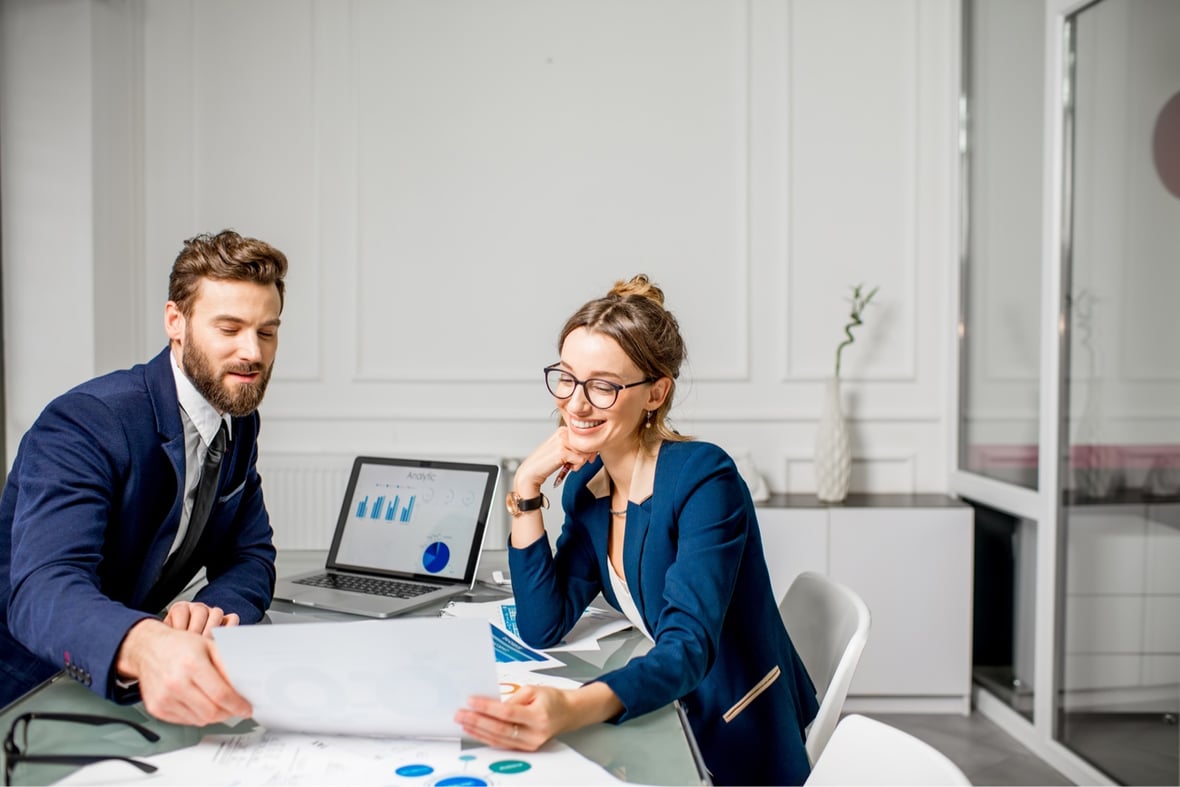 3 Designer and Developer Collaboration Tips for Smooth-Sailing Website Projects
May 17, 2019
---
By Amy Andrews
I'm sure you've experienced the challenges that come with disjointed creative and development teams, especially when you are working on redesigning your website.
When starting your website project, it is important for your designers and developers to work together and help each other through the process to make the website the best it can be. To facilitate this collaboration, your project manager should make sure both are aligned with the project goals and communicating progress toward them at each step of the website design process.
As a developer, I have three tips to help you improve your process and knock that website project out of the park:


1. Schedule a Kickoff Meeting
At the beginning of your website development process, you should schedule a handoff meeting between the designer and developer. As a developer, I can be more efficient if I get some design specs before I start developing. For example, website design mockups, images, fonts, color palette, detailed wireframes, and the sitemap are all helpful for me to give you an accurate timeline on the project and minimize back and forth during development and QA. These items should be reviewed in the kickoff meeting, and any questions about them should be asked at this time.
During the kickoff meeting, it is important for developers to be honest in setting expectations about a design. For example, let the designer know that a section of the website might be easier to code if it was laid out a different way. Remember, complicated code may lead to slower load times, non-mobile friendly layouts, and other SEO detriments. Sometimes, a design looks great, but translating it to code is difficult. Some examples of this are overlapping elements, images that would look too small on mobile or other devices, and items that may look different on mobile, such as slideshows.
It is helpful in the long run to be open and honest with each other, collaborate, and make suggestions on how to make the overall website more effective.


2. Be in Constant Communication
Developers and designers should be in constant communication while working on the project. It is nice to have the designer take a look after I am done developing the homepage and one interior page. This way they can double-check all fonts, colors, and layout to make sure everything looks the way they intended before I build the rest of the website. This saves time during the QA part of the process by fixing any obvious issues before development continues.
Communication at key points in the design and development process can also help ensure consistency from one page to another for a better user experience on your website. This is especially important for major website designs.
3. Review the Final Website Together Before It Goes Live
At the end of the website development process, the designer should review the final website before it goes live and make any suggestions for improvements to the developer. This will also give the chance for the designer and developer to talk once more before the website goes live. Plan extra time after the initial development is complete for updates and improvements to be made to the website.
It is always nice for designers and developers to talk about the website so they can continue to make improvements on the project and plan future collaborative work. In some cases, a post-launch meeting is beneficial to discuss future improvements in your process, especially for growth-driven design projects.
For website projects to be successful, designers and developers need to work together as a team. This will help improve your website development process, the overall success of your project, and your team morale by providing self-improvement and learning opportunities to your team.
As a developer, I love learning new things in the design world so that I can implement them on a website. It is always important to keep up with other areas outside of development so that websites can be modern and new features can be implemented.

About the author
Amy Andrews was formerly a Web Developer at SmartBug Media and is based in Vestal, New York. She has many years experience working for web agencies building websites and loves that it allows her to work remotely with other people around the globe. Read more articles by Amy Andrews.
Subscribe to get our new blogs delivered right to your inbox
Other insights you might like