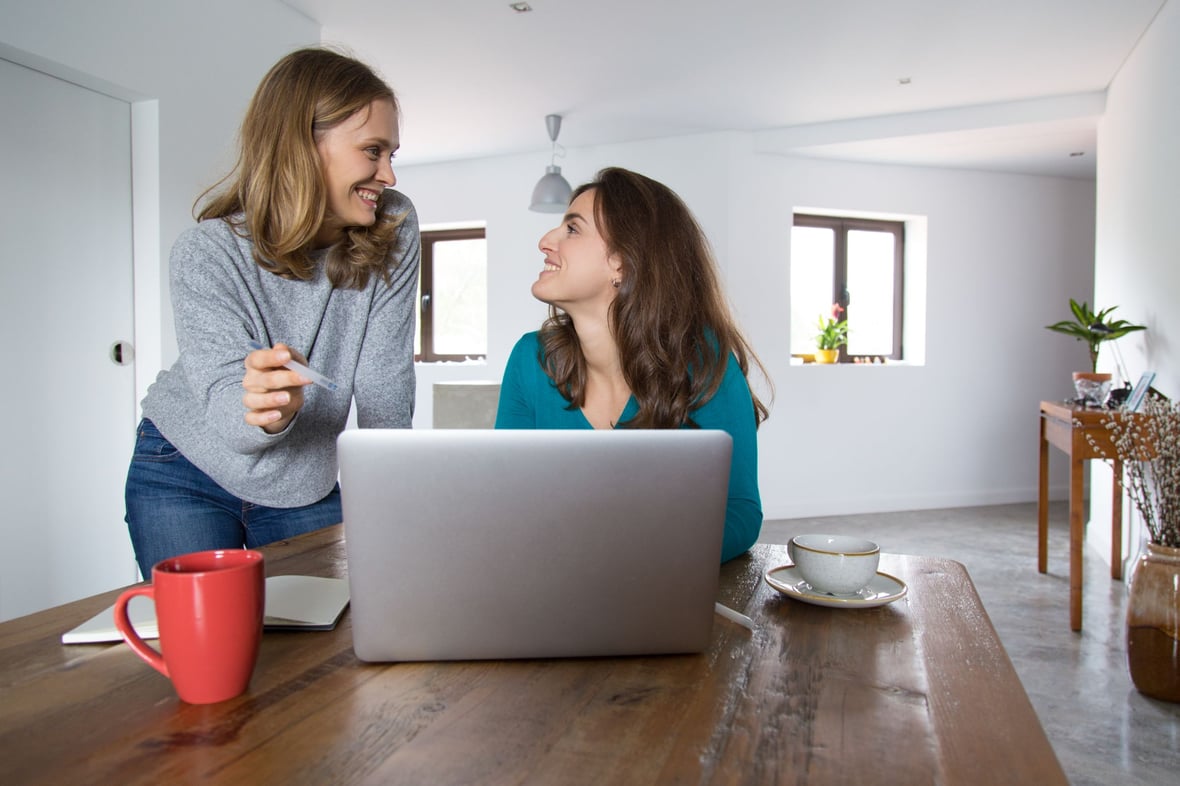 Top 3 On-Demand Sessions You Need To Watch from INBOUND 2020
September 25, 2020
---
By Ale Melara
This year's Inbound looked a bit different, I don't think any of us imagined attending the event through our computer screens and with kids and/or dogs as our background music.
For the first year ever the entire SmartBug team was able to attend the conference allowing us to not just consume amazing content but also create it ourselves.
With so many great content we still weren't able to attend everything live (thank goodness Power Pass Holders can access the sessions for the next year!)
Our experts have compiled Inbound's session highlights, if you missed any, here are our top on-demand sessions for you to watch:
INBOUND Debates: Gated v. Ungated Content
-AJ Beltis, HubSpot and Ashley Faus, Atlassian
Session highlights by SmartBug Ali Wert
The age-old debate of gated versus ungated content is as heated as ever - and INBOUND really captured the heat in this unique debate-style session! I was Team Ashley before it even started, because she completely wow'd me in her INBOUND 2019 session on "The New Rules of Content Strategy." This year's debate was no exception. Here were a few points to consider!
It's about humans

, not about leads.
Is there a limit on the number of times we as marketers need to be reminded about this? (Answer: no, there is not). If your sole focus is on "lead magnets" and capturing "contacts," you may be missing the point.
Ashley pointed out that only 5% of marketing leads are high-quality (per HubSpot's recent survey). And while there was some valuable discussion on what a "lead" is, the point was still made -- our #1 focus in our content marketing should not be on leads, but rather on growing an audience.
Gated content has its place.
The two "contestants" in the debate were not on completely opposite sides, and both agreed that gated content has its place (and so does ungated content). In particular, it may make sense for marketers to gate some of their more bottom-of-the-funnel content that signifies strong buying intent.
Marketers have traditionally been quick to gate top-of-the-funnel content, but this is your content that actually has the greatest potential to expand your audience and reach new fans. Why limit that reach with a gate?
Consider hybrid approaches.
Some of the best suggestions actually came from the lively chat amongst participants, and I particularly appreciated some of the hybrid approaches. For example, you could consider an ungated pillar page but with a gated offer to download the same content as a PDF.
Or (one of my favorite ideas) consider an ungated thought leadership piece, but pair it with a conversational bot that engages the reader with questions around what they're reading -- and leads them towards an opt-in if they're ready.
I think these more nuanced approaches -- as well as actively testing gated vs. ungated vs. hybrid offers -- will serve marketers well as we balance the need for lead generation with the long-term goal of reaching and building valuable audiences through content.
Here's How to Optimize Your Website Like a Pro
-Lukas Pleva, Product Manager at HubSpot
Session highlights by SmartBug Heather Quitos
Website optimization is a valuable component to ensuring the right people are visiting and staying on your website, as well as boosting your company's website in search engine results. Lukas Pleva's session provided insight into the technical aspects to help with website optimization.
Lukas noted four qualities of optimization that companies can focus on that can improve your SEO, reduce your bounce rate, and increase your conversion rate:
Speed - does your site load quickly on all devices?
Secure - is your visitors' data safe?
Mobile-friendly - does your website look good and function on all devices?
SEO-optimized - is your site welcome to both human and robot visitors/
First, check your website to get a baseline of where your site is performing well and where you can improve. You can use HubSpot's tools such as its website grader or code alerts (if you have CMS Hub Enterprise), or free tools such as Google PageSpeed Insights or Pingdom tools.
Lukas mentioned that HubSpot has a number of built-in features in CMS to help with website optimization, from utilizing a global CDN, automatically image resizing, automatic SSL, responsive templates, and sitemap generation, among many others.
Other best practices he gave for website optimization that you can do on your own include:
Consider enabling two-factor authentication for your website editor platform and load your site over https to ensure security.
Compress images before adding them to your website; keep them under 100KB if possible.
Use tag managers to reduce the amount of Javascript on your website, which can significantly reduce load time
Utilize videos instead of GIFs, which can be a heavy load on browsers to load.
Pay attention to your font sizes on mobile layouts - use at least 12 pixel fonts for at least 60 percent of the text on your page.
Implement SEO techniques such as populating image alt text, internal links, and meta descriptions.
Critical Email Marketing Techniques to Crush the Competition
-Jay Schwedelson, CEO Worldata
Session highlight by SmartBug Alexa Domanico, SmartBug

Jay Schwedelson, provided tips to help your organization's email marketing strategy stand out. His session was a refreshing approach on how to make the most out of your company's emails. Here are three things I took away from this session:
1) Subject Lines:
The concept of getting filtered based on words and capitalization from the subject line is outdated. This logic is from 15 years ago. What really matters is the sending reputation of your domain. However, if more than 50% of a subject line is capitalized, that is a trigger, try to stay under a third.
Use Subjectline.com to test your subject line. This site also offers additional content to help your email campaigns.
There are two things that are the secret sauce of email subject lines:

Exclusivity: Is the subject line relaying that the email you sent out isn't for everyone
Urgency: Is the offering for a limited time, even in the event that it isn't
Consistency is wall paper. We are all already bored, spice up your emails! Stop using the same subject line and start switching it up.

Use emojis, brands using emojis in their subject lines have a 17% increase in open rates for B2C and 14% for B2B
7% of subject lines have more than 65 characters. These subject lines are seeing an increase in open rate - 15% for B2B and 19% for B2C
B2B is seeing success in discussing the COVID topic directly, without sugar coating.
"New" in subject line is surging - B2B 17% Open Rate boost and 22% for B2C
2) Email Content
Frequency

Most important email is the first send after the conversion. Your autoresponder should be a great and relevant offer not just another thank you email.
Don't be afraid of email frequency or of sending emails multiple days in a row.

For an offer related email message schedule, increasing the number of emails from 2x to 4x over a two-week period increased the response rate by 64% in B2C and 47% for B2B.
Email offers sent two days in a row vs over four days have a 28% higher response rate in B2C and 24% for B2B. This allows for more offers to get out and more leads/products sold.
Contacts that haven't opened your emails in 18 months are considered a boat anchor and don't care about you.

Open rates up and spam rates lower

Make a great offer to these boat anchors - then those that do click are part of the "happy place". Get more out of this list.
Animated gifs will work well for B2B and B2B
Have your logo at the top of your email go to the offer page not the homepage.

B2C: 27% of ALL clicks are on the logo
B2B: 31% of ALL clicks are on the logo

If you have a thing you want to promote, promote it - strip out the nonsense. Stop with diversions and get to the point.
Last 30 days B2B top email offers:

Virtual Event
Webinar
Free Trial
Whitepaper/Industry Report

Last 30 days B2C top email offers:

Free Shipping
Online Only
Pickup/No Contact Pickup
Gift With Purchase
3) Data & Benchmarking
First thing you have to do is benchmark yourself and understand historical numbers

Start with looking at your data 18 months ago. Database was X, Open Rate, etc. Then look at it every 6 months and compare to before
You constantly are trying to beat your own metrics. No two companies are exactly the same even within the same "industry."
And finally....Don't believe everything you read about email marketing - it is all about testing!
Thank you, Jay Schwedelson for sharing these insightful email marketing tips. Check out @worldata for even more useful information!
We're wrapping up our INBOUND 2020 Session Highlights Blog Series, we hope you enjoyed reading about our favorite INBOUND 2020 sessions as much as we enjoyed writing them. Until next year!

About the author
Ale Melara is a Sr. Content Marketing Manager based out of El Salvador, Central America. Ale is our very first LATAM employee. She's worked remotely for the past 5 years and she's had different roles in sales and marketing. In her free time, she works on creating educational videos around digital marketing for her "Inbound Nomad" social accounts where she promotes traveling the world while being a full-time marketer. Read more articles by Ale Melara.
Subscribe to get our new blogs delivered right to your inbox
Other insights you might like