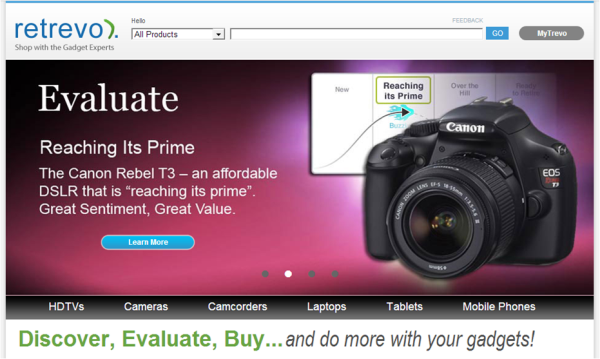 "Get Clicked" 14 Examples of Amazing Calls to Action
November 26, 2012
---
By Ryan Malone
There are examples of amazing calls to action all over the web - and there are MORE examples of boring ones that get no attention. A crucial part of inbound marketing - calls to action - will get your prospects from window shopping to purchasing. The examples below exemplify the best of what a good call to action should be doing.
Showcase Your Value
Your call to action will need effectively to communicate the value of your offer. Value can be pricing, information, services, etc. but the value must be obvious and bold. In this first example, retrevo does bold and obvious well – plus they offer a little education about buying a great camera at the perfect time – the holidays.


It's Urgent!
When a prospect lands on your website you have mere seconds to interest them or they are moving on. This top banner example from Land's End offers a great discount of 30% - but it "ENDS TODAY". This is a great example of urgency, numbers and compelling offers.

You can also create urgency by addressing concerns that brought them to your website in the first place. Healthgrades helps consumers select doctors, dentists and hospitals. Their call to action gets their prospects to read their article and use their research services by planting seeds of doubt.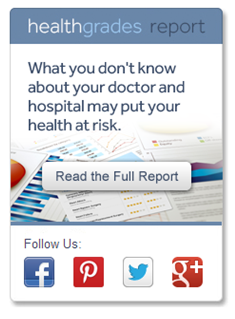 Retrevo scored again with this call to action. They did a great job of showcasing their value and creating a sense of urgency to act because they have "the hottest gadget deals" and "new deals are posted every day".

Make it Easy
Some websites make it too difficult to find their offers, burying them below the fold or on interior pages. This is a great example of ease of use from Dropbox. When you arrive to their home page you have two obvious choices – watch a demo or download the software.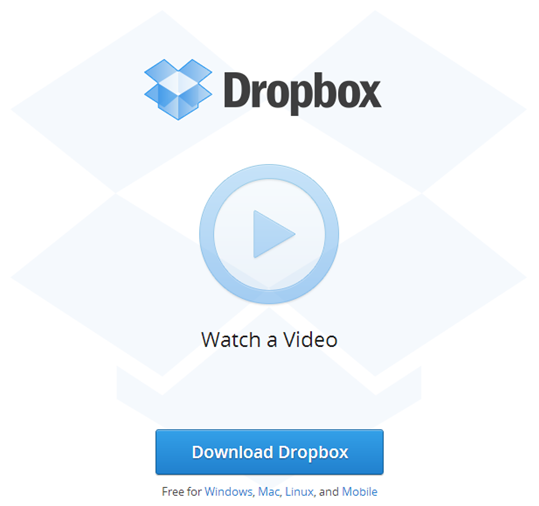 Join.me has great calls to action – front and center. They understand that the first time a user may be visiting them is to participate in a conversation and there is usually a rush to get online. Or their prospect has already been a guest in a conversation and now wants the software for their system.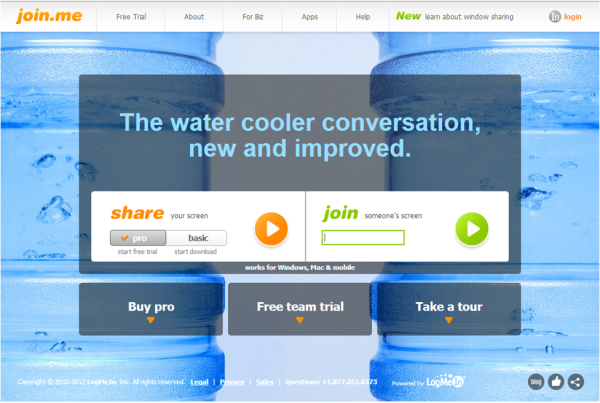 Connect with Them
A call to action with compelling copy that makes a prospect laugh or nod in agreement will create a personal connection and be more successful in getting them to click. Rosetta Stone has perfectly blended their product with humor and holiday shopping.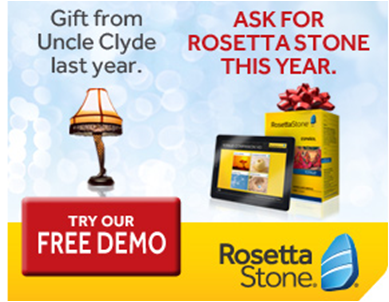 Numbers Count
One way to make your call to action stand out is to use numbers. They break up text heavy elements and catch the reader's eye. While some may feel that Kohl's has TOO many numbers on their home page, slow down and take a moment as you look at the page. Where are your eyes naturally drawn? Yep, it's the numbers.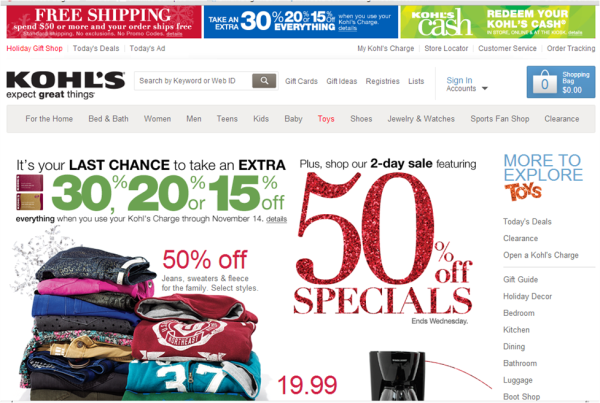 Bonus = Click
When gamers see the banner ad for the newest Assassin's Creed, Call of Duty or Halo, they might be tempted to move on, knowing that they've already preordered it or it's on their holiday list - but wait! A "surprise" trailer?? What?? Click.
This applies to any offer, product or service. Take the time to make your call to action like Activision – the developer of one of the most successful video game series to date – "Call of Duty". Make it compelling enough to stop them in their tracks - like a 14 year old boy the day before his favorite game hits the stores. You'll see the results in your click through rates.

Confidence Shows
People want to be sure that they're subscribing to or buying from the best. They don't want to waste their hard earned time or money. And how are your prospects going to believe that you're the best if you don't TELL THEM? Yes, your testimonials will give you credibility from other sources, but you also need to project your expertise and value. LinkedIn does a great job on its home page of promoting itself and its members.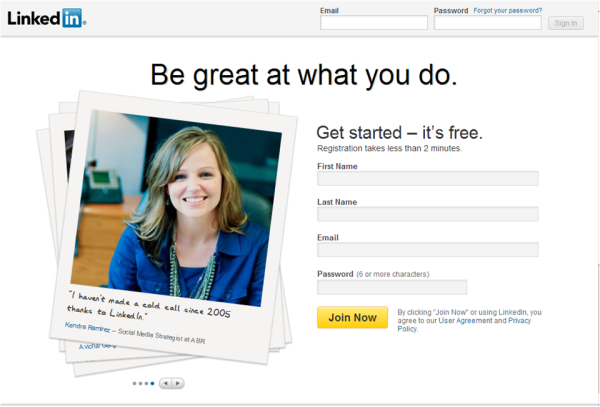 Ask Questions
Give your prospects an "aha!" moment. Get them excited that the website they've landed on "gets" them. When your call to action is centered around a question, prospects are often compelled to answer. Stay.com has captured that feeling completely when they ask "Where do you want to go?"

A Lighter Touch
Depending upon your audience, the loud numbers and flashy videos may deter your prospects rather than bring them into the fold. When you know your customer persona – how they think, what motivates them, how they buy – you can tailor your site to be welcoming and a subtle invitation to learn more with a click.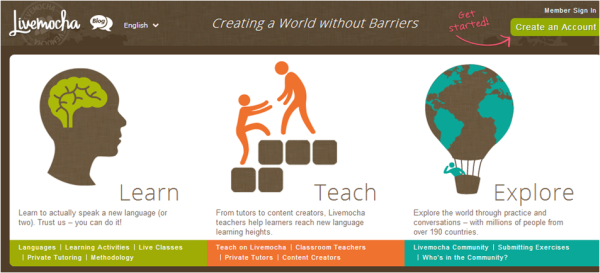 Testify!
Testimonials are one of the most powerful tools any marketer can have available. Whether your kudos come from industry experts, publications or customers they are GOLD! People want to buy from companies that are known and trusted. Post the ones you've received and solicit recommendations from happy customers. Mog and turntable both do an excellent job of placing their testimonials near their calls to action and in the sweet spot of "above the fold".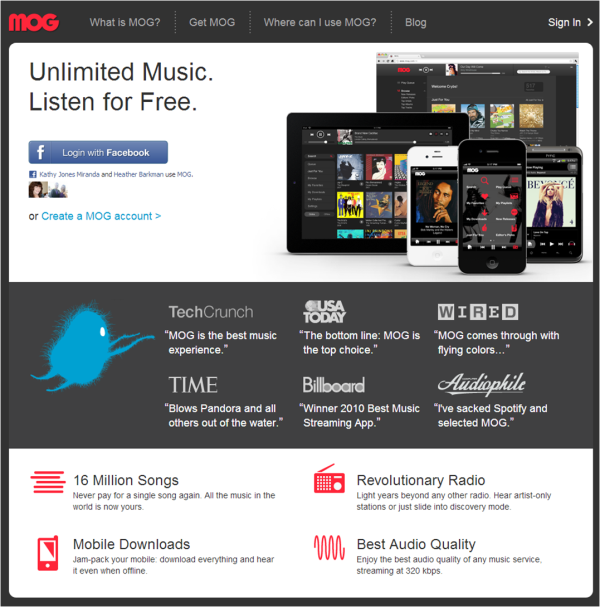 Take the time to create calls to action like these that will create interest and inspire action. Whether you are encouraging them to make a purchase/add to a cart, download a white paper, sign up for a free trial, subscribe to a newsletter or any other action on your website make sure your calls to action stand out.
Share a call to action that has created good traffic for your company! We'd love to see it.

About the author
Ryan Malone is the founder and Chairman of the Board of SmartBug Media and is a veteran of Deloitte & Touche, Seagate and several venture-backed technology companies. When he's not leading SmartBug and helping clients build high-octane marketing organizations, he's loving his wife and daughters and unsuccessfully learning the guitar. Go Terps! Read more articles by Ryan Malone.
Subscribe to get our new blogs delivered right to your inbox
Other insights you might like